As tensions run high in the Middle East following the execution of a prominent Shiite cleric by Saudi Arabia, the president of the Council on Foreign Relations warned that things "are going to get worse."
Appearing on MSNBC's "Morning Joe," diplomat Richard Haass said the escalating tensions as Saudi Arabia cut ties with Iran is a "fault line and it gets more and more pronounced."
"What you're going to see is this is now going to infect every single dispute in the region from Syria to Yemen to internal stability within these countries," Haass said. "So just when you thought the Middle East couldn't get worse, it is now going to enter a new chapter, and it is going to get worse."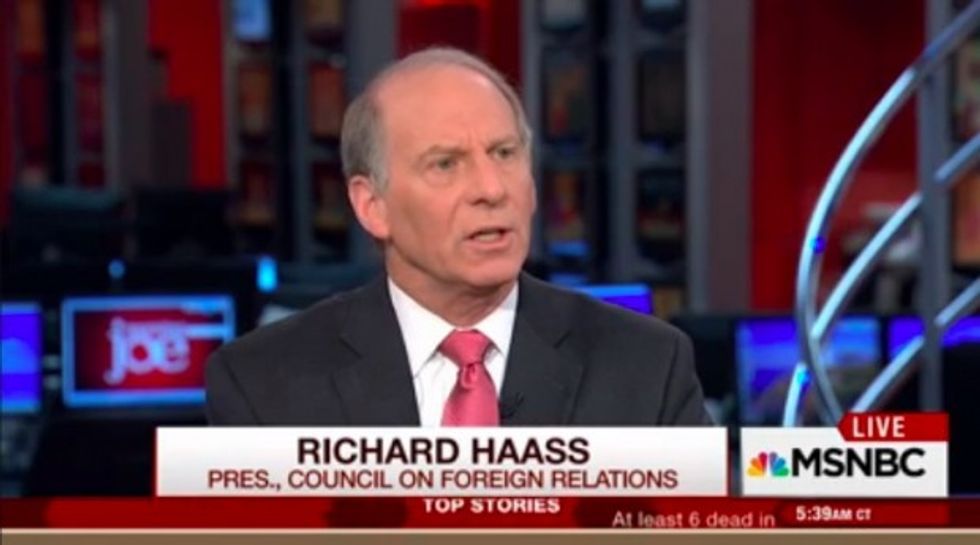 Image source: MSNBC
Saudi Arabia announced Sunday that the country was severing relations with Iran following the mass execution of 47 people, including a prominent Shiite cleric, Nimr al-Nimr. After Saudi Arabia carried out the executions, protesters in Tehran stormed and burned the Saudi embassy.
Haass speculated that Saudi Arabia's execution of the 47 people was not only aimed at the Islamic State but was also a "pushback against Iran."
NBC News' Bill Neely agreed with Haass' speculation that the execution was a message to Iran and added that it was also a message to it's own people.
"Saudi Arabia was sending a message not just to Iran, but also to its own population, once again, that it simply won't tolerate dissent," Neely said.
Watch Haass discuss the latest turmoil in the Middle East with the "Morning Joe" panel below.