Donald Trump on Monday lambasted President Barack Obama for his upcoming executive action on gun control, saying that in the near future, Americans "won't be able to get guns."
"Well, pretty soon, you won't be able to get guns," Trump told Chris Cuomo on CNN's "New Day," adding that the planned action is just "another step in the way of not getting guns."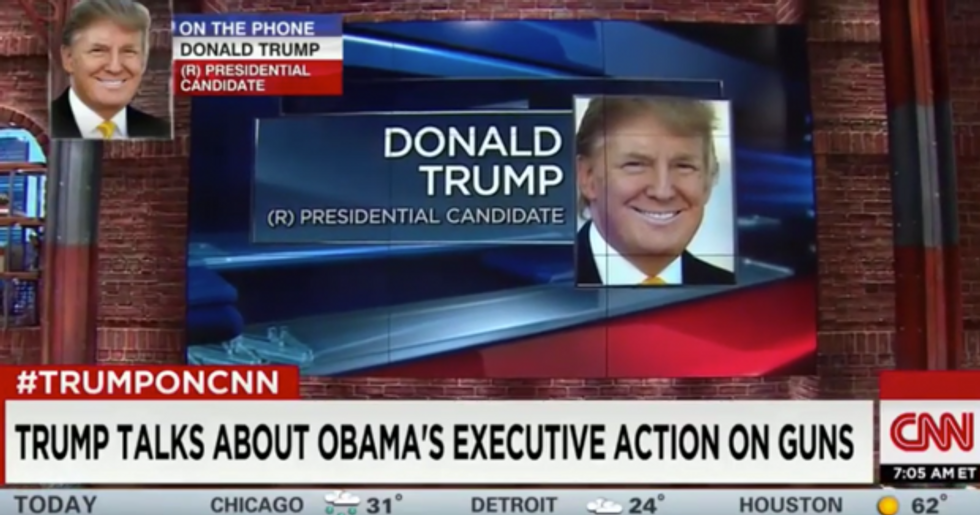 Image source: Youtube/CNN
"What I do see is I do see step by step by step, and then all of a sudden you have no Second Amendment," the billionaire businessman continued. "You'll have steps, these little baby steps, and some of them aren't so baby. Now, in all fairness, I don't know what Obama's proposing, 'cause nobody's really said what he's proposing."
The Republican front-runner went on to say that Obama's approach to the issue is undermining the democratic process, since he is ignoring the elected lawmakers in Congress.
"You know, it's supposed to be negotiated, you're supposed to cajole, get people in a room, you're supposed to deal with them," he said. "You have Republicans, you have Democrats, you have all these people that get elected to do this stuff, and you're supposed to get together and pass a law."
Later in the interview, the real estate mogul wondered aloud why Obama wants to circumvent Congress, asking why the system can't work as designed.
"I want to see why he couldn't get this approved by Congress, why can't he go in and get this approved," Trump said. "You know, you do have to ask that question, 'cause why can't you, if something is so seemingly cut-and-dry as you'd like to say it is, why can't the system work the way it was supposed to be work — the way it was designed."
Obama is set to meet with Attorney General Loretta Lynch on Monday to further discuss his plan.
Watch Trump's interview below. The relevant part begins around 1:35:
—
Follow the author of this story on Twitter and Facebook:
[facebook //www.facebook.com/plugins/like.php?href=