Less than a month from the first presidential primary contest, Florida Sen. Marco Rubio aggressively turned up the heat on his Republican opponents Monday, whom he said advocated "isolationist" policies that would end up "weakening" national defense.
He also called Hillary Clinton a "liar" who would continue Obama administration policies.
Rubio delivered the remarks Monday morning at the American Legion in Hooksett, New Hampshire. Though he did not name names when referring to his GOP rivals, it seemed clear he was referring to real estate billionaire Donald Trump for reaching out to Russian President Vladimir Putin; Texas Sen. Ted Cruz for supporting the sequester budget cuts; and Kentucky Sen. Rand Paul for opposing the ouster of Syrian President Bashar Assad. Meanwhile, both Cruz and Paul voted to weaken the National Security Agency's data-gathering program.
"We have Republican candidates who propose that rulers like Assad and Putin should be partners of the United States and who have voted with Barack Obama and Harry Reid rather than with our men and women in uniform," Rubio said. "We have isolationist candidates who are apparently more passionate about weakening our military and intelligence capabilities than about destroying our enemies. They talk tough, yet they would strip us of the ability to keep our people safe. Words and political stunts cannot ensure our security. ISIS cannot be filibustered."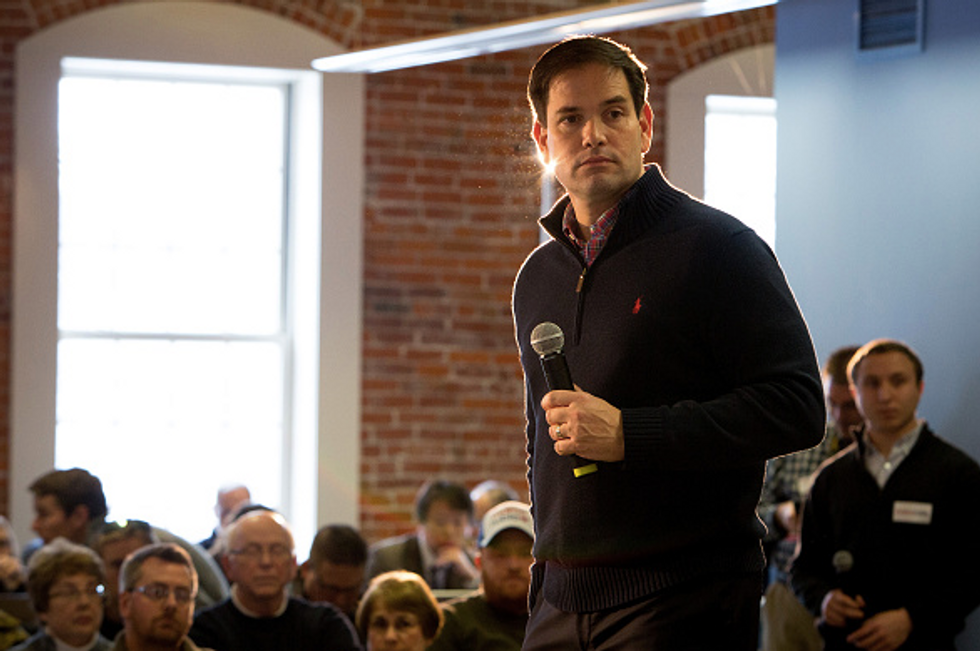 (Scott Morgan/Bloomberg via Getty Images)
Rubio, currently running second behind Trump in New Hampshire, took the most direct aim at Cruz, the frontrunner in Iowa.
"While some claim they would destroy ISIS, that they would make the sands of the Middle East 'glow in the dark,' my question is: with what? Because they certainly can't do it with the oldest and smallest Air Force in the history of this country or with the smallest Army we've had since World War II or with the smallest and oldest Navy we've had since 1915," Rubio said. "Yet these are what we will have thanks to the cuts these candidates have supported and even tried to deepen."
Last month, Cruz said, "We will utterly destroy ISIS. We will carpet-bomb them into oblivion. I don't know if sand can glow in the dark, but we're going to find out."
Rubio said he had a record of being ahead of matters on national security, having advocated for more aggressive intervention in both Libya and Syria.
"While ISIS was rising, and many in Washington were hesitating, hoping the problem would magically disappear, I went down to the Senate floor and said, 'If we do not confront and defeat ISIL now, we will have to do so later, and it will take a lot longer, it will be much costlier and even more painful.' That has also proven true," Rubio told the New Hampshire crowd.
He also slammed Clinton, the Democratic front-runner, for her record as secretary of state.
"The very person who stood by while the conflict in Syria became the worst humanitarian crisis in a generation, who pushed the reset button with Russia even as Putin assaulted the sovereignty of his neighbors, and who resorted to half-measures in Libya instead of doing what it would take to prevent terrorists from taking hold — terrorists who ultimately took the lives of four Americans in Benghazi," Rubio said of Clinton.
"Not only is Hillary Clinton incompetent, she's also a liar," Rubio continued. "While she was leading the public and the families of the fallen to believe the attack in Benghazi happened because of a YouTube video, we now know she was admitting in private emails that it was the result of terrorism. She lied to our faces. No one in the mainstream media has the courage to call her out for it. If I am our nominee, voters will be reminded of it time and time again."