College football is an expensive operation, but many people, especially fans of national championship contenders Clemson and Alabama, would argue that it is not optional.
Drexel University President John Fry thinks his school gets on just fine without the added distraction of football and all the bills that come with it.
Fry wrote a Monday op-ed for the Wall Street Journal titled "We're Glad We Say No to College Football" in which he called the choice not to have a football program "a major strategic advantage for Drexel."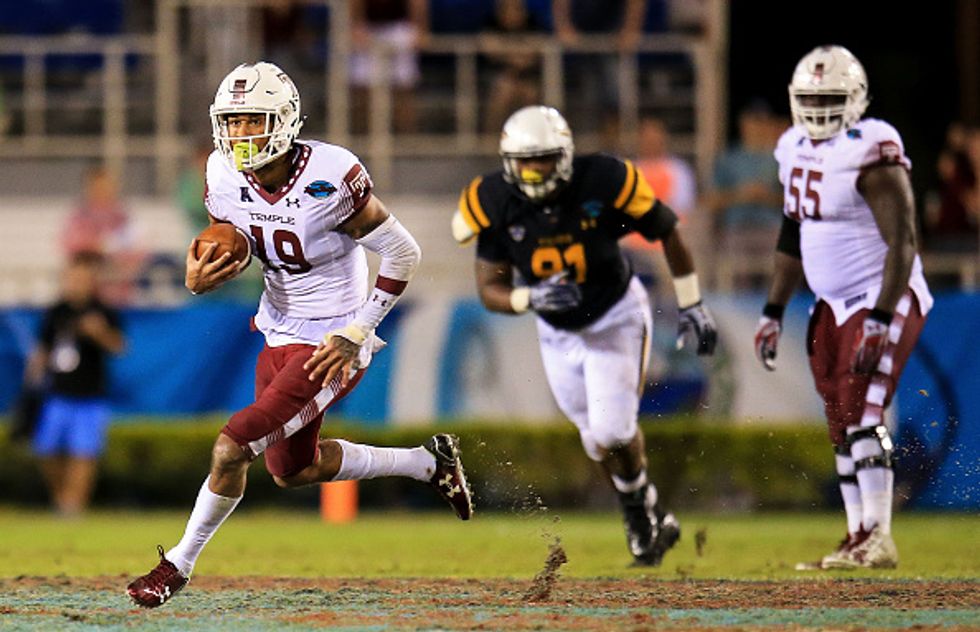 Robby Anderson (19) of the Temple Owls runs during the second half of the game against the Toledo Rockets at FAU Stadium Dec. 22, 2015, in Boca Raton, Florida. (Rob Foldy/Getty Images)
"Our Division I athletic programs create a strong sense of pride on campus," he wrote. "But we focus entirely and exclusively on our mission: delivering a high-quality education for all students. More universities should feel welcome to join us."
He noted that most colleges spend more than they make on their football programs, depleting their financial reservoirs. Fry explained that only 20 percent of the 130 schools in the top division of college football had a positive operating margin and reprimanded the campus football culture for prioritizing football financially and consequently depriving other academic departments of those resources.
The Philadelphia Business Journal called the timing of Fry's op-ed "curious" and mentioned that Temple, another major Philadelphia university, has recently increased its involvement in the college football franchise.
Temple football had a 10-4 record in 2015 and even nabbed an ESPN "College GameDay" appearance during their strong season, which sparked a discussion regarding plans for a new football stadium. Temple currently leases Lincoln Financial Field from the Philadelphia Eagles, and the administration is seriously considering investing in a 35,000-seat stadium on their North Philadelphia campus.
Plans to build a new stadium first emerged last year, but Mayor Jim Kenney tabled the proposal for a new stadium, Philadelphia Business Journal reported. Halfway through last season, Temple had an average of 10,000 more fans than usual attend home football games, according to the Journal. Temple University also witnessed sales of its on-site merchandise double, proving that a successful team has lucrative potential, especially when you add an arena full of cheering, paying spectators.
Though Drexel and Temple couldn't be much closer geographically, Fry indicated that their priorities couldn't be further opposed.