SIOUX CENTER, Iowa — Republican presidential candidate Ted Cruz refused to say an unkind word about Donald Trump during a media availability Tuesday night — frustrating reporters, who wanted the Texas senator's in-person response to more closely resemble a snarky tweet he had sent just minutes before.
Hours earlier, Trump had appeared to call into question Cruz's U.S. citizenship, saying that the Canada-born politician could get caught up in a legal challenge at the start of his tenure.
Cruz responded by tweeting a link to a YouTube video of "Happy Days" character Fonzie "jumping the shark."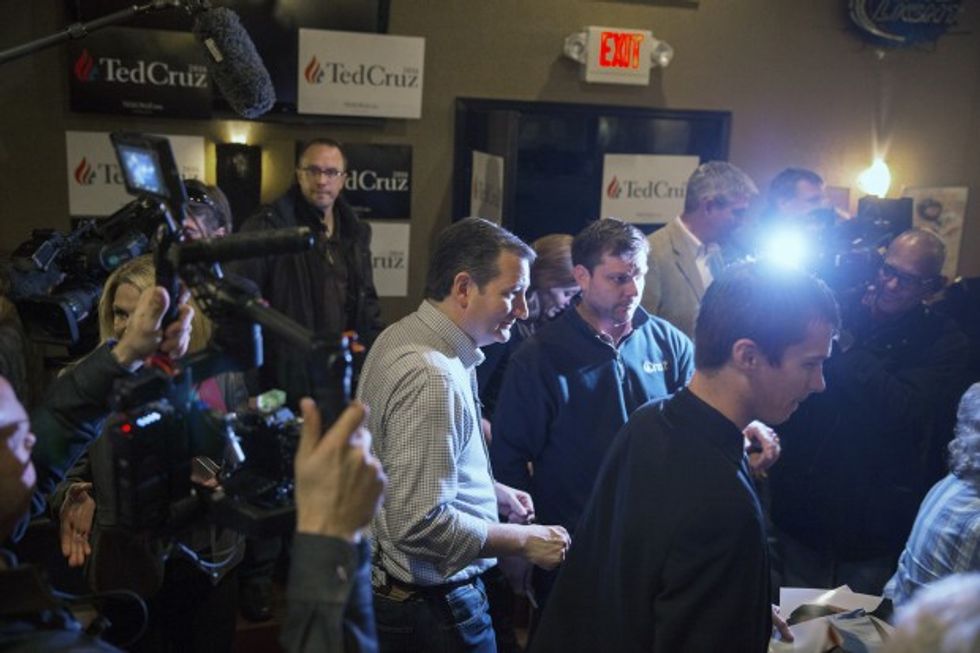 Aaron P. Bernstein/Getty Images
But his tone in person was markedly different — Cruz refused to take any swipes at Trump during a short news conference that focused exclusively on the latest example of tension between the two.
"Well I tweeted out a response to Donald Trump's recent question about the natural-born citizenship, with a link to Fonzie jumping the shark, and I think I'm going to let my response state itself," Cruz said before his town hall campaign event at Dordt College.
One reporter asked if Trump's attacks on Cruz's citizenship and faith amounted to "coded racism."
Cruz replied that he planned to "stick with Fonzie jumping the shark," and would "let the rest of y'all battle it out" to determine the meaning of Trump's criticisms.
The Texas senator, who has leapfrogged to the front of the pack in Iowa, said that his position on immigration is that the U.S. needs to "enforce the law," meaning that any illegal immigrants who have been deported should not be eligible to return to the U.S. Pushed for how that differs from Trump's, Cruz said: "I'll let Donald speak for his own position, but what I can say is we need to enforce the law."
Then another reporter piled on, asking: "You can't suggest that you still have a good relationship, that you like Donald Trump, can you? He's taken this to a very personal level. This is something that you've put your family forward, you've put your life on the line here for this job, in running for it, you can't say that you continue to actually support and like the guy, can you?"
But Cruz wouldn't bite.
"Absolutely, I like Donald Trump, I like everybody on the Republican side who's running for president," he said. "And you guys have seen, as others have thrown rocks, as others have tossed insults, I haven't reciprocated and I don't intend to start now."
Cruz said that the American people "could not care less about a bunch of politicians bickering like schoolchildren," but instead want to focus on real solutions to their problems.
Another reporter jumped in: "He's questioned your ethnicity recently, he's questioned your faith, now he's questioning your ability to run for president. Isn't this just playing into the Democrats' playbook that the Republican party is defined by this?"
At this point, Cruz turned his criticism to the media.
"With all respect, our good friends here in the media are playing into the Democrats' playbook," he said. "How about we talk about the real challenges facing this country? How about we talk about the rise of radical Islamic terrorism—"
Here's where it got ugly. A number of reporters jumped in, arguing that Cruz hadn't answered the question. "You're mocking him on Twitter, sir," one argued. "It sounds like you're deflecting," another said.
Cruz pushed back, saying that he was trying to answer the question, not engage in a debate.
"I'm going to answer your question — you don't get to give the answer, you just get to ask the question," Cruz said. "What the American people are interested in is not bickering and back-and-forth. ... We're seeing radical Islamic terrorism on the rise, we're seeing the safety and security of American citizens jeopardized."
This race will come down to which candidate Americans feel has the judgment to be a good commander-in-chief, he added.
"One of the things that the media loves to do is to gaze at their navels for hours on end, by a tweet from Donald Trump or from me or from anybody else — who cares?" he said.
At this point, the audio is almost impossible to distinguish due to the chorus of journalists clamoring for a better answer.
Cruz got in one final point over the noise, saying: "The best way to respond to this kind of attack is to laugh it off and move on to the issues that matter."
"Is it not mockery, though?" a final reporter asked, but the question remained unanswered as Cruz headed out to the town hall stage.
—