According to the first national presidential poll of 2016, billionaire businessman Donald Trump still reigns supreme among Republicans.
The poll, which was conducted by NBC News/Survey Monkey, found that 35 percent of Republican-leaning registered voters are still on the Trump bandwagon. The poll found that 18 percent of Republicans are supporting Texas Sen. Ted Cruz.
Florida Sen. Marco Rubio followed Cruz in third, with 13 percent. Retired neurosurgeon Ben Carson was fourth with 9 percent, while former Florida Gov. Jeb Bush rounded out the top five with 6 percent.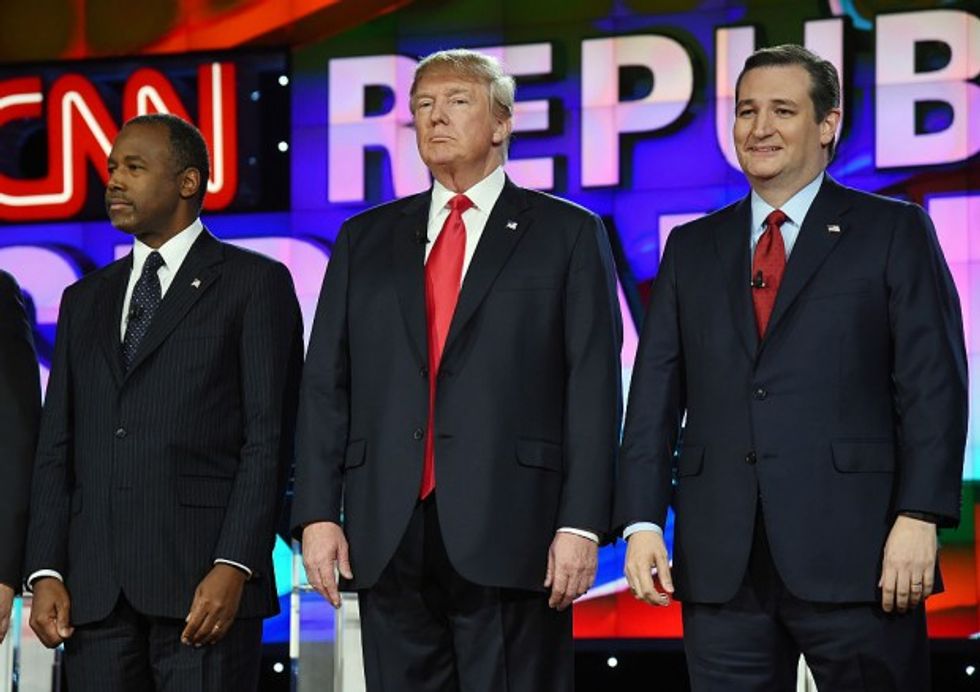 Republican presidential candidates on stage during the CNN presidential debate in Las Vegas, Dec. 15. (Getty Images/Ethan Miller)
New Jersey Gov. Chris Christie followed with 4 percent, while former Hewlett-Packard CEO Carly Fiorina garnered 3 percent, good enough for seventh place.
Kentucky Sen. Rand Paul, Ohio Gov. John Kasich and former Arkansas Gov. Mike Huckabee each tied with 2 percent. Former Pennsylvania Sen. Rick Santorum was the remaining candidate to receive any support — just one percentage point.
Former Virginia Gov. Jim Gilmore did not receive any support in the poll.
In addition to leading in overall support, Trump is also defeating his counterparts among men, women, evangelicals and the "very conservative" voting blocs. Trump supporters are also most certain that they will vote for him in the primaries.
Fifty-one percent of Trump supporters said they will "absolutely" vote for Trump, compared to just 36 percent of Cruz supporters and 26 percent of Rubio supporters. However, 85 percent of Cruz supporters said they are either "absolutely certain" or that there is a "large chance" they will vote for Cruz, compared to 84 percent of Trump supporters who said the same.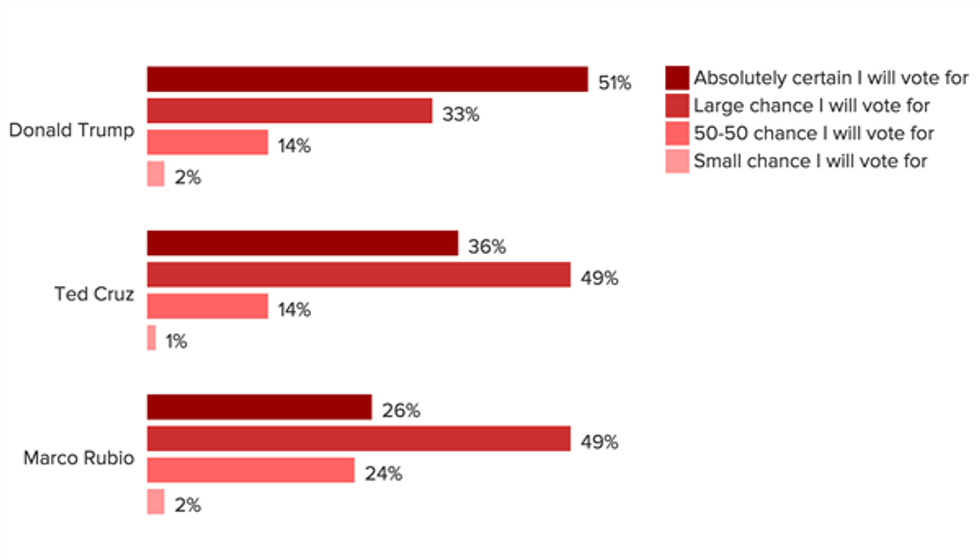 Image source: NBC News/Survey Monkey
The survey of 949 registered Republican voters was conducted between Dec. 28 - Jan. 3. It has a margin of error of +/- 3.7 percent.
—
Follow the author of this story on Twitter and Facebook:
[facebook //www.facebook.com/plugins/like.php?href=