Aaron and Melissa Klein, owners of the now-shuttered Sweet Cakes by Melissa bakery in Oregon, recently sat down to read a series of "mean tweets" that were written about them, at moments laughing at the harsh and comical terms used to describe them.
The Kleins once again made headlines last month after being forced to pay out a $136,927.07 judgement to a lesbian couple who complained after the bakers declined to make them a wedding cake; those funds are currently sitting in an account while the Kleins appeal the ruling.
"Suck it, homophobic bakers," Melissa Klein said, reading one of the tweets aloud and responding with surprised laughter.
Another tweet read, "You know Jesus is slacking off when Satan has to step in to shut down the haters and bigots," to which she responded, "Oh, wow."
Watch the Kleins read some of these so-called "mean tweets" below:
This, of course, isn't the first time that the husband and wife have faced harsh criticism since declining to make a wedding cake for lesbian couple Rachel Cryer-Bowman and Laurel Bowman-Cryer back in 2013.
That said, Melissa Klein explained in the video — produced by the Daily Signal — how her reaction to these harsh rebukes has evolved over the past three years.
"It really hurt ... really bad, like hearing the names that people would call," she said, saying that they have been called some names that are so harsh that she won't repeat them.
Today, though, Klein said that she finds herself saddened for the individuals who are sending those messages, often praying for them after she sees their public rebukes.
"Now when I read it, I actually hurt for them," she said.
Aaron Klein, too, said that his perspective has changed, as time has forged on.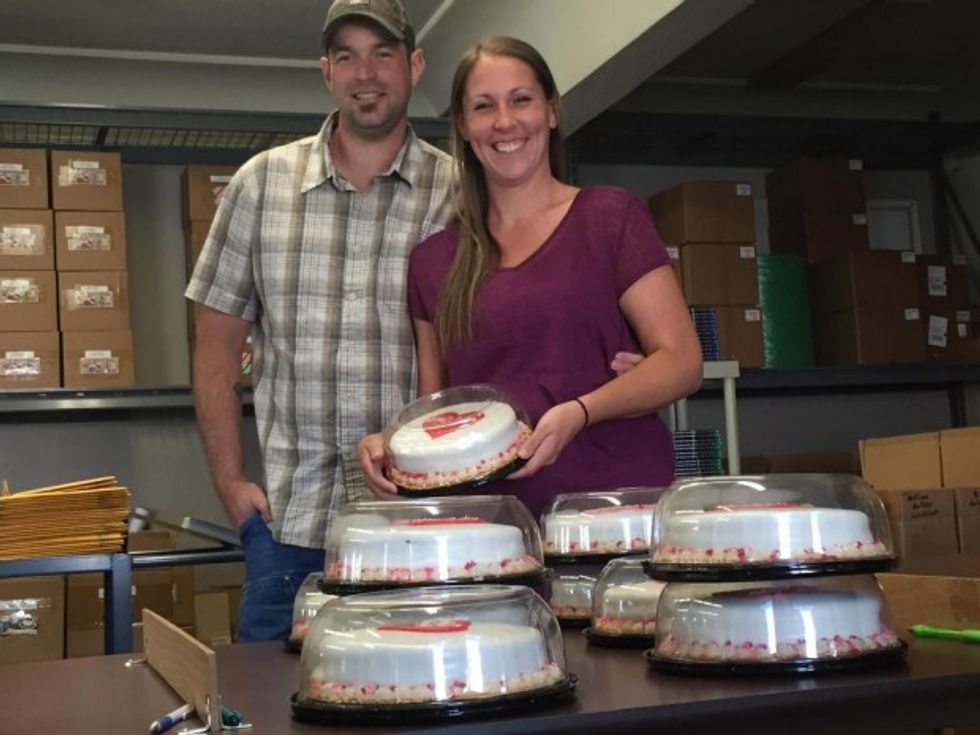 Aaron and Melissa Klein are sending cakes to gay and lesbian groups (Melissa Klein)
"You start to realize they're coming from a place of ignorance," he said. "It's not a place of knowledge of who you are. It's not a place of knowledge of what the situation actually is."
As TheBlaze previously reported, lawyer Tyler Smith, who is representing the Kleins, recently told The Church Boys podcast that the family will continue its quest for religious liberty, saying that he believes that the government's "abuse of power" has been the most shocking element of the ongoing case.
"[The most shocking component is] the abuse of the power of the government to go and prosecute this case, prosecuting it directly, contrary to what's asserted by the Kleins as their religious practices and their beliefs," Smith said. "And that being completely ignored by the state agency, when they're prosecuting based on a statutory classification that this is now a protected status under a statute, when the Kleins have clearly protected constitutional rights that should supersede that and be more protected than a statutory right."
Listen to Smith discuss the Kleins' case below:
(H/T: Daily Signal)
--
Follow the author of this story on Twitter and Facebook: