The battle over "In God We Trust" continues, as atheist activists continue to actively push back against sheriffs and police chiefs who have opted to post decals featuring the nation's motto on government-owned patrol vehicles.
But rather than back down, one city in Louisiana is ramping up its efforts to display the popular proclamation, affixing it to not only police cars, but also to fire trucks, and public works vehicles, KPLC-TV reported.
The decals, which are not being funded with taxpayer dollars and will be purchased with money raised by the community, will be placed on 200 city-owned vehicles in Lake Charles, Louisiana, over the next two weeks.
Photo credit: ShutterStock.com
This comes despite nationwide pushback from the Freedom From Religion Foundation, an atheist group that claims that placement of the decals on government-owned property is a violation of the separation of church and state.
Others, though, clearly disagree.
"I think when the citizens of Lake Charles see such stickers displayed on our vehicles they have a feel of trust in the elected officials," Rodney Geyen said, the councilman who sponsored the measure, told KPLC-TV. "We all have our own individual choices to make when it comes down to religion. We are not trying to promote a religion as such. We are simply promoting the national motto."
The move comes after the Lake Charles City Council voted on Nov. 4 to unanimously approve Ordinance No. 17408, allowing the decals to be placed on vehicles; it also permits signs featuring the motto to be displayed inside city buildings, according to the Orange Leader.
As TheBlaze previously reported, there have been numerous battles over "In God We Trust" decals, with the Freedom From Religion Foundation continuing to push back against communities where these decals have been placed on police vehicles.
It is unclear if the activist organization is currently aware of what is unfolding in Lake Charles.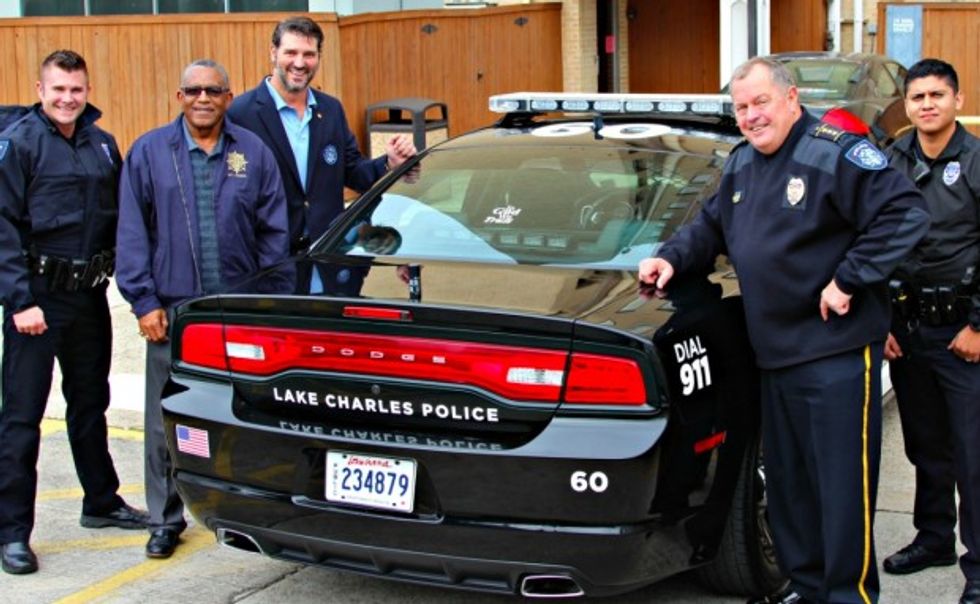 Lake Charles City Council Vice President Rodney Geyen and City Council Member John Ieyoub (second and third from left) (City of Lake Charles)
Dan Barker, co-president of the atheist group, told TheBlaze in August that the Freedom From Religion Foundation "would love to sue over a case" involving the "In God We Trust" decals. The group has sent letters to sheriffs offices across America demanding the removal of the decals.
"We can't predict what we'll do next," he said, speaking of a specific case in Walton County, Florida. "Even if we wanted to sue we have to have a plaintiff there who's willing to sign on."
(H/T: KPLC-TV)
--
Follow the author of this story on Twitter and Facebook: