Greece's Aegean Airlines offered two Arab passengers a free hotel stay and tickets on an alternate flight from Athens to Tel Aviv after Jewish Israeli passengers demanded they be removed from the aircraft, fearing they might be terrorists, according to Israel Radio.
The airline said one of the Arab passengers on the Sunday flight had an Israeli passport and the other an Israeli residence permit, both of whom eventually agreed to disembark.
One of the protesting passengers said Wednesday that it was their behavior, not ethnicity, that elicited other travelers' fears.
The airline said that at first a small group of protesting passengers stood up in their seats so as to prevent the flight from taking off.
"An initially small group of passengers very vocally and persistently asked for two other Israeli passengers to be checked for security issues," Aegean said in a statement quoted in the Times of Israel.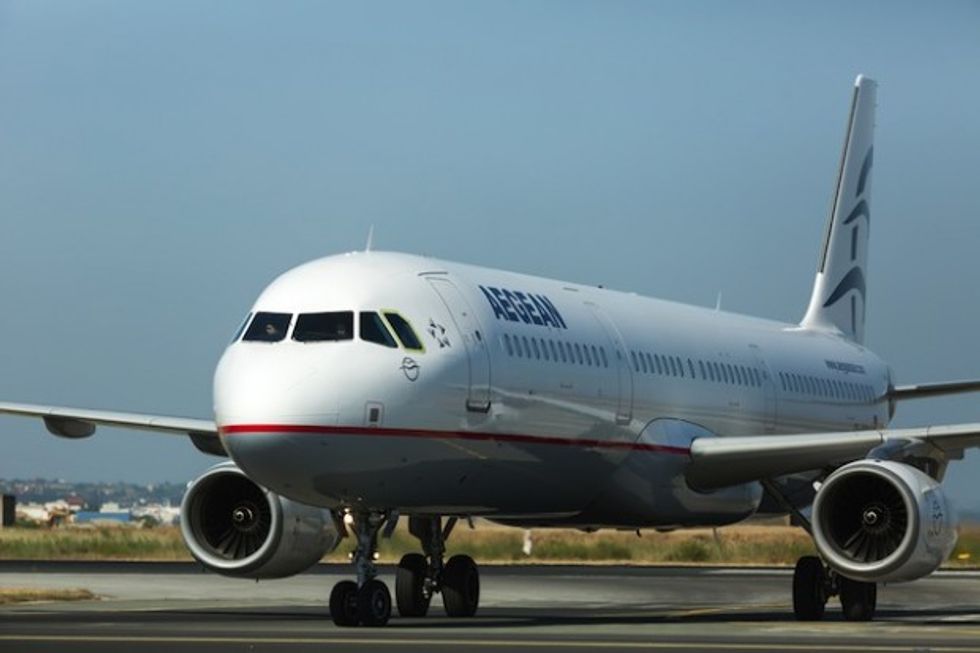 Aegean Airlines said that it was "unfortunate" that passengers "were possibly racially profiling the customers." (Photo credit: Shutterstock/Ververidis Vasilis)
Israel's Ha'aretz reported that the pilot called airport police who checked the identifying documents of the two passengers and found nothing wrong. However, despite crew assurances, the protest had by then spread, the airline said.
"It started with 3-4 people and by the end there were 60-70 people standing up, demanding that the pair disembark," a company spokeswoman said.
"But by that stage, the two men were in a poor state and wanted to leave themselves," she added.
The Arab passengers were given a free hotel stay and seats on a flight the following day, and their luggage was taken out of the hold, the Times reported.
According to the airline's account, the pilot announced that any other passenger who did not feel safe flying could disembark but would not be compensated.
"While it is indeed unfortunate that they were possibly racially profiling the customers, indeed their fellow Israelis … safety must be first," Aegean said.
However, a passenger who was identified only as Nissim told Israel Army Radio Wednesday that it wasn't racial profiling but their behavior that got the passengers worried.
In particular, one of the two Arab passengers "looked off and his body language was very threatening," Nissim said, adding, "He had a penetrating and scary look."
"We're entitled to express our concerns," he said according to the Times' translation. "No one raised [the Arab passengers'] ethnicity or was racist; we expressed our concerns in an objective way, just like when you see someone suspicious in the street and you're alert. In the case of a flight there is no second chance. It was not a small group of barbarians and racists as they tried to frame us [in the press]. If God forbid something would have happened they would give us a medal."
"There was not a single passenger who got up and gave an opposite opinion," he asserted. "That means everyone felt the same way."
The flight was delayed about two hours.
"We thank again the two passengers that agreed to disembark for their understanding and collaboration and we apologize for the whole episode," the airline said.
Israelis have been on edge following four months of nearly daily stabbing, shooting and car-ramming attacks by Palestinians.
Israeli police announced that the main suspect in Friday's deadly shooting attacks in Tel Aviv that killed three is an Arab Muslim citizen of Israel who is still at large. One of those killed was an Israeli-Arab taxi driver.