Two years ago, Iranian authorities illegally confiscated a plot of property belonging to an Iranian Assyrian church. Soon the church will be converted into an Islamic mosque, Iran's state-controlled newspaper reported.
The Assyrian International News Agency revealed Sunday that the Chaldean Catholic Church in Western Tehran, the venue's original owner, has issued multiple pleas to recover the stolen property, but the complaints "have fallen on deaf ears."
A member of the regime's Majlis (Parliament), Jonathan Bet-Kelia, was quoted in the Iranian newspaper Sharq saying that he had reached out to Ali Younesi, special assistant to the regime's President Hassan Rouhani on ethnic minorities affairs, on the matter. Younesi, a former minister of intelligence and security who is allegedly responsible for ordering numerous arrests and assassinations of dissidents, told Bet-Kelia that nothing could be done about it.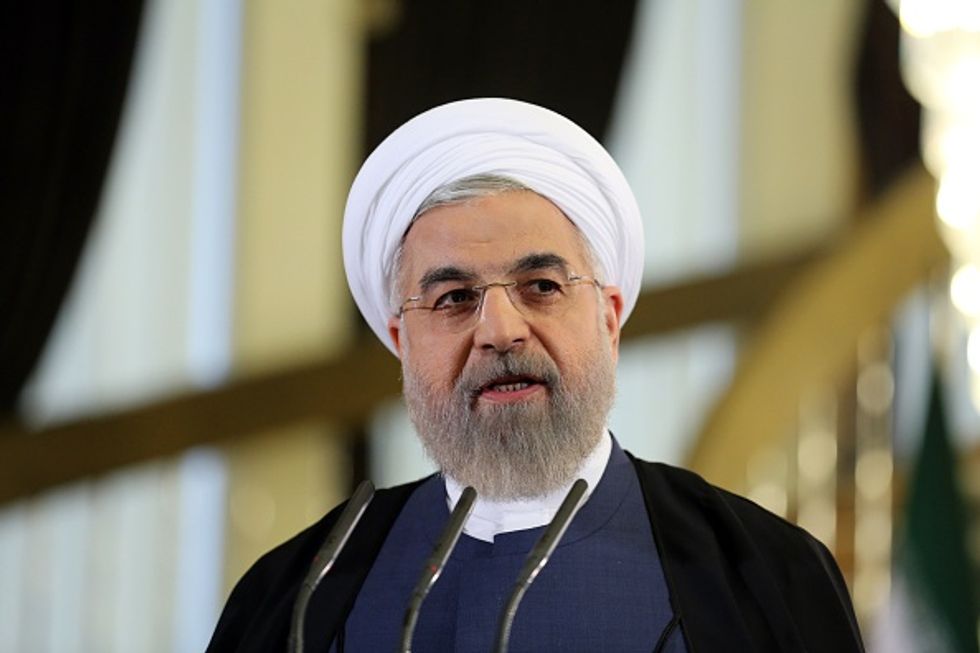 Iranian President Hassan Rouhani's regime has openly admitted to usurping the formerly Christian parish grounds of Chaldean Catholic Church for the purpose of converting the property into a center for Islamic prayers. (Atta Kenare/AFP/Getty Images)
Iran's Shiite Muslim ruling clerics have an extensive track record of oppressing religious minorities like Christians and even Sunni Muslims and depriving them of basic rights.
Back in July 2015, the regime demolished a Sunni prayer hall in the capital Tehran, the AINA reported. The "Pounak" prayer hall, as it was called, was raided and destroyed by government officials in Tehran, backed by "state suppressive forces." According to the AINA, officials also searched the grounds of the mosque's Sunni imam Abdullah Moussa-Zadeh and seized his mobile phone. Earlier in the year, Tehran officials had shut down the Pounak prayer hall, placing seals on its entrance. Though the municipality later removed the seals, Sunni Muslims were blocked from praying in the center.
The prayer hall's destruction drew immediate criticisms from Iranian Sunni leaders. Mowlavi Abdulhamid, the Sunni imam in the city of Zahedan in southeastern Iran, sent letters of protest to the mullahs' Supreme Leader Ali Khamenei and to Hassan Rouhani condemning the raid. In his letter to Rouhani, Abdulhamid wrote, "Intolerance towards even a single ordinary prayer hall and its destruction in a city that does not allow Sunnis to build a mosque … not only hurts the sentiments of Iran's Sunni community, but also offends all Muslims of the world."
The regime has openly admitted to usurping the formerly Christian parish grounds of Chaldean Catholic Church for the purpose of converting them into a center for Islamic prayers.
"The brazen admission displays first and foremost the discriminatory and sectarian policies of the regime vis-a-vis Iran's religious minorities," Ali Safavi of the Foreign Affairs Committee of the National Council of Resistance of Iran (NCRI) said. "At the same time, it speaks to the failure of Western policy to accommodate the regime in the futile hope that it will promote moderation and tolerance on the domestic front."