Democratic National Committee Chairwoman Debbie Wasserman Shultz has made a "huge mistake" by limiting debate among the 2016 Democratic presidential hopefuls, according to one of the three remaining candidates.
Former Maryland Gov. Martin O'Malley (D) has consistently vocalized his criticism of how Shultz has handled the 2016 Democratic primary — particularly the lackluster and limited debates. With the NH1 News forum less than a month a way, an event the O'Malley camp is attempting to turn into a debate, the campaign is attempting to rope fellow Democratic candidate Vermont Sen. Bernie Sanders into the fight.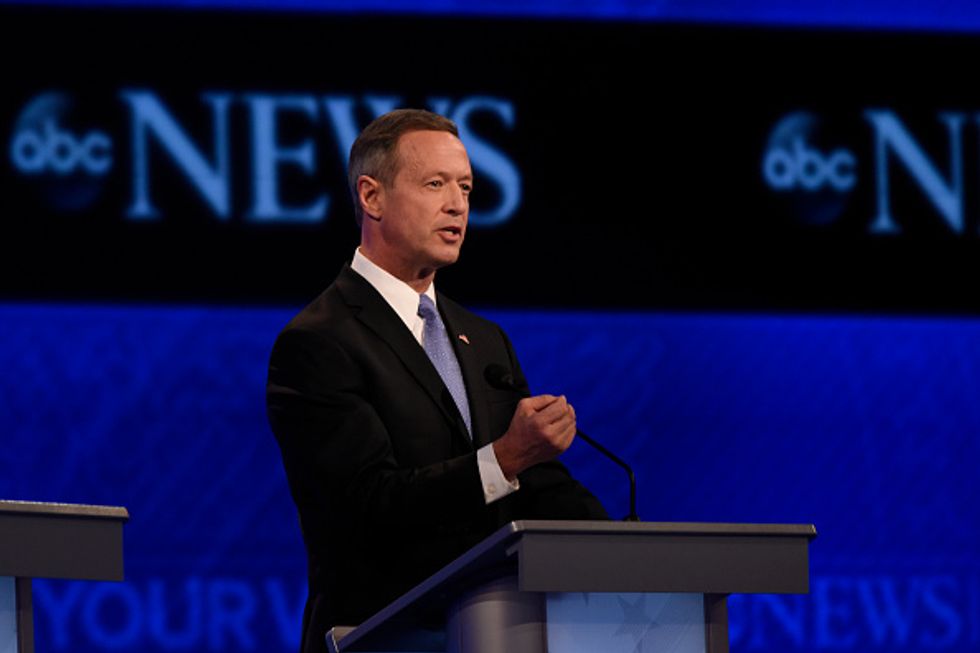 Democratic presidential candidate former Maryland Gov. Martin O'Malley at the ABC News Democratic presidential debate at St. Anselm College in Manchester, New Hampshire. (Ida Mae Astute/ABC via Getty Images)
Matthew Sheaff, O'Malley's deputy state director in New Hampshire, told TheBlaze that while Wasserman Shultz has said she won't budge on her decision not to add any more debates, including in the Granite State, the campaign wants to hold Sanders accountable. Sanders, too, has called for more debates and asserted that if Democratic presidential front-runner Hillary Clinton were the one calling for more debates, the DNC would oblige.
Sheaff said that O'Malley's campaign has sent emails to the Sanders camp to ask for help in bringing about more debates — but to no avail.
"Sen. Sanders won't commit to changing the forum into a debate. He says there should be more debates, but we're continuing to push because we think it's the right thing to do," Sheaff told TheBlaze.
While the campaign tries to force Sanders' hand, it's the DNC chairwoman who is on the receiving end of most of the criticism, since, according to O'Malley's campaign, her unwavering stance against more debates isn't in response to what the party's voters wants — it's to protect Clinton.
"In my opinion, and in O'Malley's, too, I believe that she thought it was in the best interest of the Democratic Party to try to help Secretary Clinton and limit debate and limit the opportunities for national exposure for the other candidates," Sheaff said. 
"The debate process is so important for voters here in New Hampshire, because they want the candidates side-by-side, and they feel that it's kind of a first-in-the-nation primary tradition," he continued.
"You see that the supporters of Secretary Clinton and Sanders and our supporters," Sheaff added, "they just respect the primary tradition and do what they've always done."
Viewership for the Democratic debates has been dismal, as only 8.5 million people tuned in to view the Saturday night CBS debate in November and 6.7 million people watched the Saturday ABC debate in December — held the weekend before Christmas.
In comparison, 18 million people watched the CNN GOP presidential debate held in December on a weeknight.
"I think it was a huge mistake," Sheaff said. "President Obama has done amazing things and made a lot of progress, and I think it's our responsibility as Democrats to promote his progress, defend his record and talk about how we're going to build off it. When we're ceding the television airwaves to the Republicans who just constantly slam him, it's a huge mistake."
Progressive group Roots Action seems to agree with Sheaff's contention that Wasserman Shultz has made a "huge mistake." According to a petition on its website, more than 26,000 people have signed their names to call for the removal of the DNC chair.