House Republicans once considered Ben Carson to replace former House Speaker John Boehner (R-Ohio), the Republican presidential candidate revealed in an interview with The Hill on Thursday.
According to Carson, those vetting him for the job were looking for someone with "some spine and some backbone."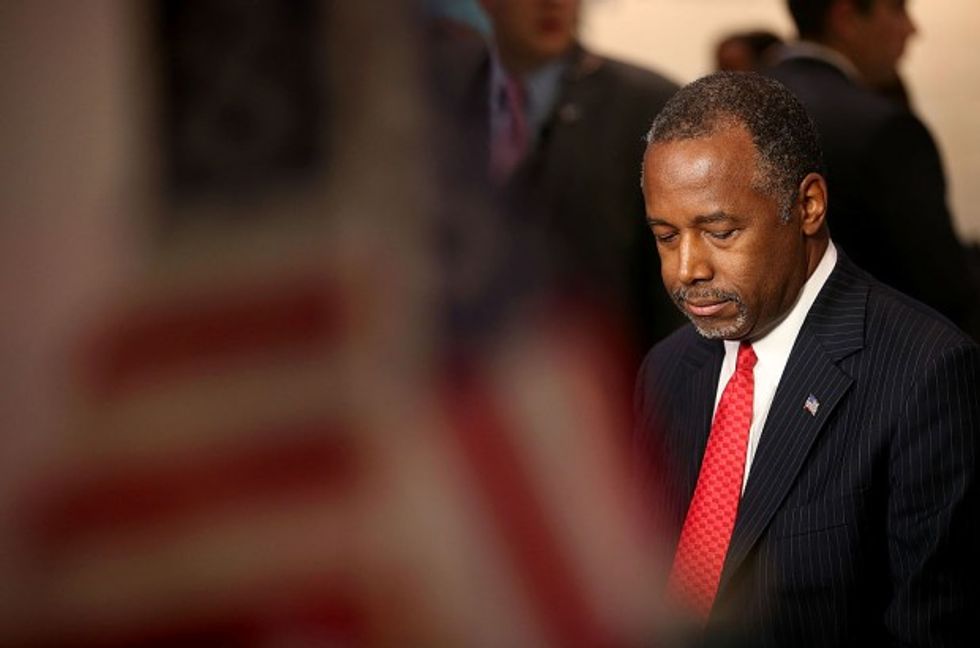 Ben Carson prepares for a television interview before the start of the CNN Republican presidential debate in Las Vegas Dec. 15, 2015. (Getty Images/Justin Sullivan)
"They were looking for an alternative, they were looking for someone strong and courageous who might really be able to add some spine and some backbone," Carson told The Hill. "I was very flattered that there were several members that thought I'd fit the bill very well, but I think it played out correctly the way that it did."
According to The Hill, which spoke with other House members close to the situation, Carson even flew up to Capitol Hill to meet with those courting him. Their plan was to put Carson at the helm of the House once they ousted Boehner in 2015.
However, Carson turned down the offer, because he was gearing up for his presidential campaign — and a job in the House would have "ruined" his White House aspirations.
"It would have pretty much ruined my presidential bid," the retired neurosurgeon said. "It would have been very difficult to do my job as the speaker of the House while running for president. You've seen how difficult a time Sen. Rubio is having fulfilling his senatorial obligations. The speaker of the House has even more obligations."
Though he wasn't the Republican to replace Boehner, Carson told The Hill that the "jury is still out" on whether new House Speaker Paul Ryan (R-Wis.) is the right man for the job. Carson did note, however, that he is "very optimistic" about Ryan.
(H/T: The Hill)
—
Follow the author of this story on Twitter and Facebook:
[facebook //www.facebook.com/plugins/like.php?href=