One Boston rail commuter wrote an open letter to the man he sat next to on the train, telling him in an article published on Saturday that he was "the gun owner you hate" as he revealed that he carried his semiautomatic pistol during his commute that day.
In the piece published in the Boston Globe, "A. Linden" noted that he had sat down beside a man who was in the midst of a "spirited phone conversation." As Linden sat quietly beside him, the man reportedly proceeded to rail against the "murderous NRA" and "bloodthirsty gun nuts" who caused schools to "run red with blood.," as well as against the republicans who opposed President Barack Obama's call for "sensible gun control," and the "inbred redneck politicians" who have "infiltrated Capitol Hill."
"I found myself amazed at the irony of the situation," Linden wrote. "While you were spewing your venom, I sat quietly next to you with my National Rifle Association membership card in my wallet and my 9mm pistol in its holster. You were only 12 inches away from my legally owned semiautomatic pistol."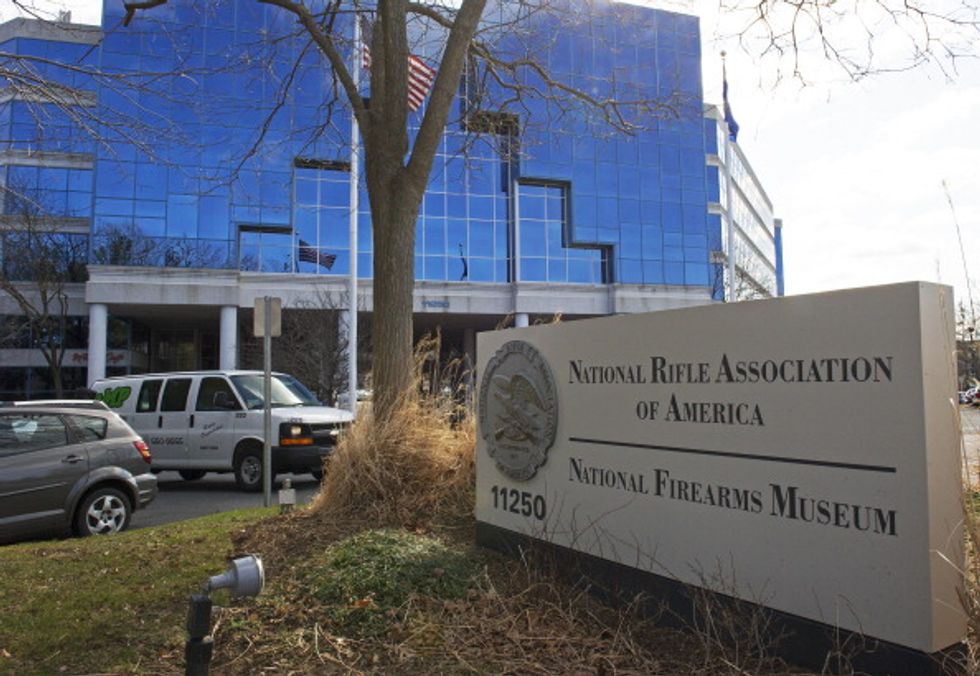 The National Rifle Association(NRA) headquarters is seen March 14, 2013, in Fairfax, Virginia. AFP Photo/Paul J. Richards (Photo credit should read PAUL J. RICHARDS/AFP/Getty Images)
Linden argued that he must not have looked much like a "bloodthirsty gun nut," or else the man would have been able to see past his "disguise" — a Patriots' hat and fleece coat.
But above all else, Linden said he wanted to ensure that the man beside him — for all his anger and strong opinions — knew one thing: that if an armed criminal had walked on that train, Linden was prepared and able to defend the lives of the people beside him.
"Although you may hate me, a gun owner, I would risk my life for you," Linden wrote. "Opinions and ideologies make a pretty thin shield against the bullets of a madman. Your liberal self-righteousness and ignorance may have made you feel superior and comfortable, but during that 40-minute train ride to Boston, my gun kept you safe."
Linden's letter comes almost a week after Obama's executive order concerning further firearm regulations, as well as a few days after another opinion writer voiced her opposing views in the Baltimore Sun.
"I'm less afraid of the criminals wielding guns in Baltimore … than I am by those permitted gun owners," editorial page deputy editor Tricia Bishop wrote.
—
Follow Kathryn Blackhurst (@kablackhurst) on Twitter