A prominent Tunisian Muslim cleric took the opportunity of his speech at a New Jersey mosque to blast Muslims for an alleged lack of industriousness and supposed high rates of illiteracy as he heaped praise on the U.S for its productivity and acceptance of different religions, including Islam.
Abdelfattah Mourou — a co-founder of the Islamist Ennahdha Party who also currently serves as vice president of the Tunisian Parliament — added that American Muslims play a unique role as "a beacon and a model" for other Muslims.
"Your prophet left you as a power in this world, as 'the best nation that ever appeared in this world,'" the cleric said but then lamented that much has changed since Islam was at the forefront of math and science.
"Where is your knowledge and lore today, oh Muslims? … Thirty percent of Muslims can't read or write. We cannot take pride in a single university in the [Muslim] world for producing minds that move the world forward. We are a nation that does not read or write," Mourou said, according to a translation by the Middle East Media Research Institute.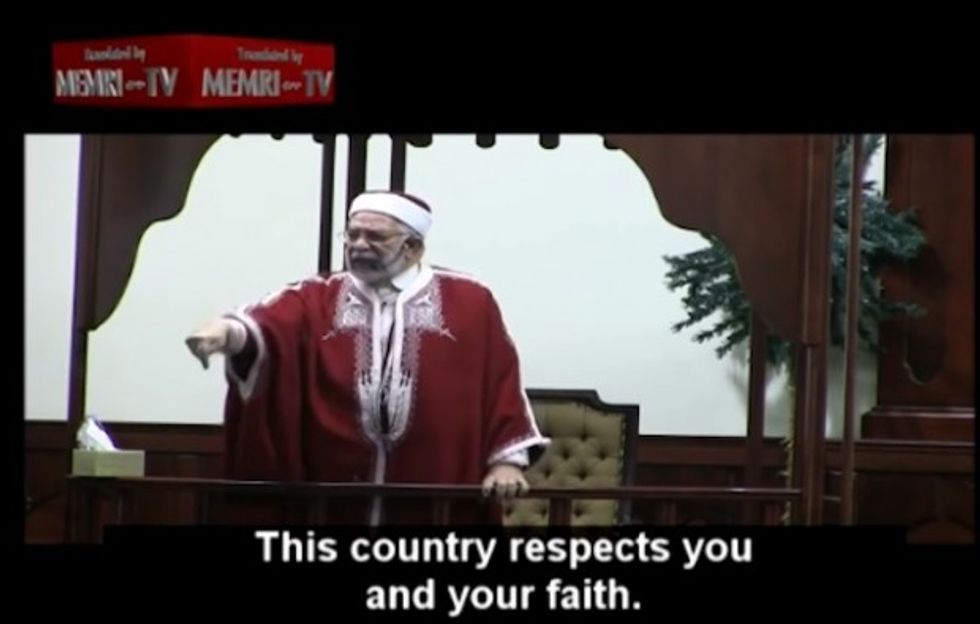 Muslim cleric and Vice President of the Tunisian Parliament Abdelfattah Mourou told a New Jersey congregation that Muslims should play an active role in the U.S., which "respects you and your faith." (Image source: MEMRI)
The Muslim cleric made a special appeal to U.S.-born Muslims in the congregation to engage in decision-making in the U.S.
"Make yourselves full citizens of this country. … This country respects you and your faith," he said during his Jan. 1 talk at the Islamic Center of Passaic County in Patterson, New Jersey. "Practice your faith but exercise your citizenship as well."
Lambasting those who complain about people who curse Muslims and "say all kinds of things about us," Mourou said, "[Y]ou have forgotten to join the decision-making. You live in a country in which citizenship means participation and action."
The Islamist politician said that even while they embrace their citizenship, Muslims should be mindful of other faiths.
"You have the right to be full citizens, but you must respect those who differ from you in their religion, in their political inclination, in their choices, because citizenship is a mosaic that brings together a variety of colors. It is your duty to be one of those colors, to be a prominent color," he said.
Mourou extended a special prayer for the U.S.: "[Oh Allah] protect this country with its Muslims and non-Muslims. Do not let them experience evil or hostility, oh Lord of the worlds. Make our countries safe along with all the other countries so we are not stricken with evil. … We do not wish evil upon ourselves or upon others."
The cleric said that American Muslims can be a model to Muslims around the world.
"I believe that you have a role to play. You should be able to instill new hope, to serve as a beacon and a model for our nation in slumber far away," he said.
"Play an active role in society," he urged fellow Muslims. "Don't be a burden on it."