Ahead of Thursday's Republican debate, Ben Carson said Tuesday morning that his debate strategy will include not being as "polite" as he has been in past debates.
Speaking to Alisyn Camerota on CNN's "New Day," Carson said that he plans to "insinuate himself" more, instead of only speaking up when asked a question by a debate moderator.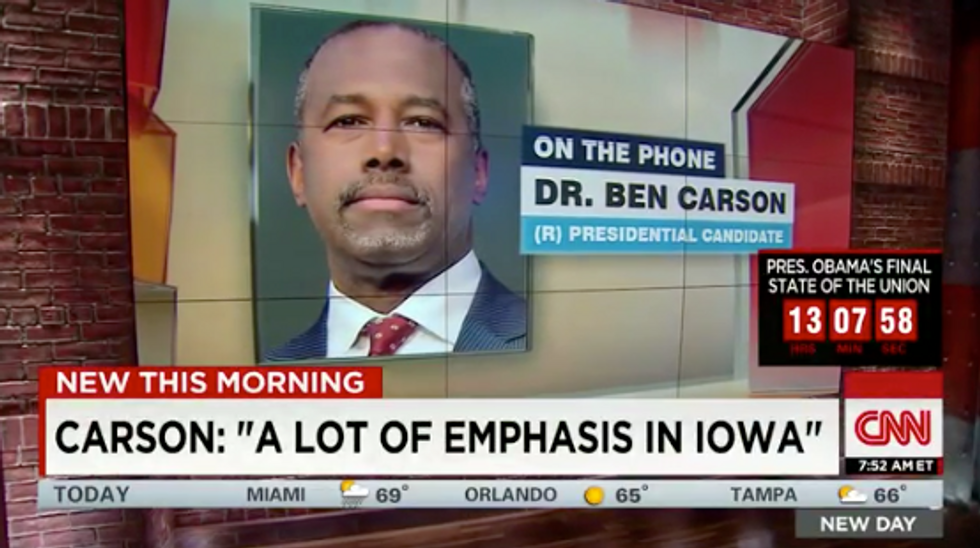 Image via Twitter/NewDay
"Well, you're gonna see me being not quite so polite, as to never say anything, unless somebody asks me something," Carson said. "I will insinuate myself where insinuation needs to be had."
"And I think you'll see a lot more energy behind the responses, because, again, I don't have that weight on my shoulders now," he added. "I have a very vibrant organization that truly provides the kind of information and the help that is needed."
Carson has been criticized by many over the course of his campaign who say that he is too low-energy and too soft-spoken to be the Republican nominee, let alone the commander in chief. The retired neurosurgeon has also received lots of heat for his lack of foreign policy experience and knowledge.
That criticism, however, has motivated Carson to sharpen his expertise in that area. During his interview on "New Day," Carson announced the release of his campaign's official foreign policy plan. The plan is appropriately titled, "Prescription for a Safer, Stronger America."
"I thought it was very important to release this now," Carson told Camerota, "because at the State of the Union address tonight, we're going to be given a very rosy picture of what's going on, and the fact of the matter is, America is now at great risk."
"Our adversaries no longer fear us, our allies don't trust us, and we have to really bring our strength back — I think that's so important," Carson added. "So, I'm talking about the many elements of a stronger defense, and a clear and credible foreign policy."
What's @RealBenCarson's plan for the next #GOPDebate? "Me not being quite so polite" https://t.co/k8NeL4idjS

— New Day (@NewDay) January 12, 2016
—
Follow the author of this story on Twitter and Facebook:
[facebook //www.facebook.com/plugins/like.php?href=