Without any assurance from President Barack Obama that the U.S. is safe, Rep. Tom Emmer (R-Minn.) said that it was "difficult" to listen to his State of the Union address — or as he called it, State of the Union "lecture."
In an interview with TheBlaze following Obama's final State of the Union address, Emmer said he was "disappointed" that Obama did not dedicate more time during his speech on national security issues — more specifically, reassuring the American people that the country was safe from terrorists organizations such as the Islamic State.
"I wanted to hear that he was going to take the reigns as the commander in chief and make sure that Americans knew first and foremost that our federal government, our president, the commander in chief, is going to make sure that Americans in our homeland our safe," Emmer said Tuesday night. "He kind of shadowboxed with the topic."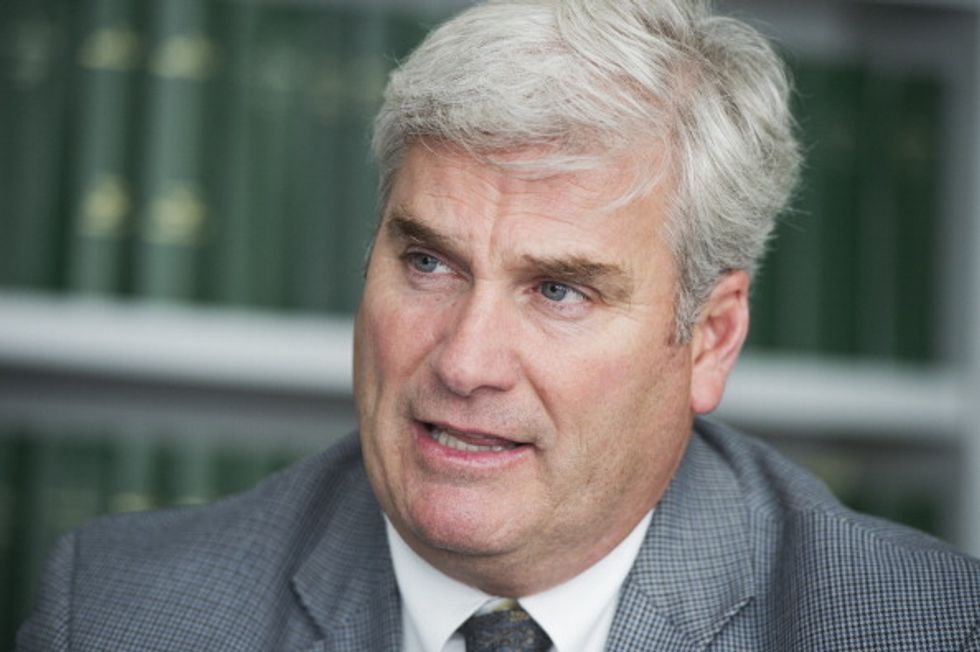 Tom Emmer, R-Minn., is interviewed in Roll Call's Washington office. (Photo By Tom Williams/CQ Roll Call)
"Instead, he once again, without using the term 'jayvee team,' he tried to tell us that America's stature in the world has never been greater," the congressman continued. "I question that seriously when we have a president who makes red lines that he doesn't enforce, when we have a president who withdraws from different parts of the world and allows the Taliban to resurrect, allows al Qaeda to start to resurrect, allows ISIS or Daesh to get stronger by the day, allows Iran, the chief sponsor of terrorism to fire missiles within a 1,000 yards plus of one of our ships and does nothing in response."
Emmer said that while he tends to disagree with Obama on a political standpoint — unsurprisingly — he still expected more charisma from the known orator. Instead, Emmer said he was "rather flat" in his speech which was "long on rhetoric and extremely thin on substance."
The Minnesota representative further criticized Obama for almost "lecturing" during his address.
"He seemed to break into a lecture as opposed to a State of the Union address, and it was almost a lecture to Congress and the American people," Emmer said. "'If you don't agree with me on certain things — for instance, my view on climate change and energy — well then, you're going to be very lonely and you're very foolish.' He didn't use the term foolish, but that was the implied."
During Obama's speech, the president said that anyone who wished to dispute "the science around climate change" would "be pretty lonely, because you'll be debating our military, most of America's business leaders, the majority of the American people, almost the entire scientific community and 200 nations around the world who agree it's a problem and intend to solve it."
On foreign policy, Emmer said Obama sounded more as though he was the leader of the United Nations — not the United States.
"That's not a very hopeful message," Emmer said. "Again, it was very disappointing to me that as commander in chief, with all of the tools at his disposal — I mean, he talks about America being the strongest nation on the face of the planet, but then it's very hollow because there's no substance to it since he's not telling us what we're going to do to make sure we protect America and our people."
Part of that strategy, according to Emmer, is defeating the Islamic State, which he referred to as "Daesh."
"It was amazing to me that [Obama] downplayed the strength of Daesh — and I prefer to call ISIS Daesh because as I understand it, it translates into fraud. These people that call themselves the Islamic State, they want to make this about religion, but that's fraud. That's not about religion," he said. "These are animals, these are cold-blooded killers that are doing what people who have sought power over other people have been doing since the beginning of time, and they just use religion as their excuse. I just wanted to hear the president tell us we are going to terminate these people, we are going to make sure we do everything in our power to protect the American people and our homeland."