Glenn Beck revealed Wednesday morning the one line in particular from President Barack Obama's State of the Union address that he found "stunning," and it had to do with World War III.
"But as we focus on destroying ISIL, over-the-top claims that this is World War III just play into their hands," Obama said Tuesday night. "Masses of fighters on the back of pickup trucks and twisted souls plotting in apartments or garages pose an enormous danger to civilians and must be stopped."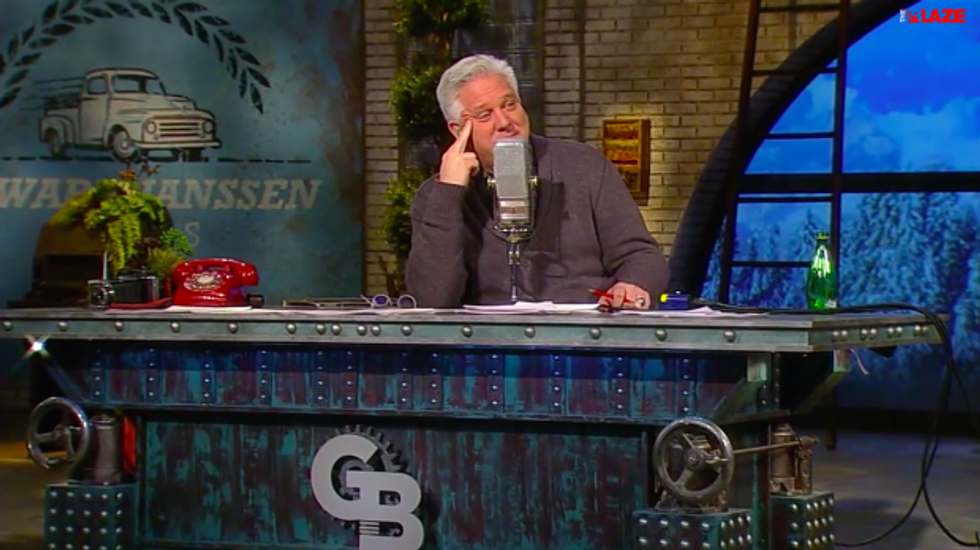 Glenn Beck discusses President Obama's State of the Union Address Jan. 13. (Image source: TheBlaze TV)
The reason Beck said he found the comment so shocking is because, based on his estimation, the president only "mocks" a particular belief or position when he is wrong.
"The president says, 'It's definitely not going to happen.' I think that is all the evidence that you need that it is definitely going to happen," Beck said on The Glenn Beck Radio Program.
Beck then listed a host of issues on which he believes Obama has been wrong.
"I'm trying to make a case that if he mocks you — not if he disagrees with you — if he mocks you when it comes to global conflict, you can take that to the bank, that the opposite is going to happen," Beck claimed. "He is so off the — here's one: Islam is a religion of peace. No, I'm sorry. Muslim Brotherhood is largely secular."
"If he comes out and says that and you disagree and then he starts to paint you as a conspiracy theorist or something like that and he mocks you, you can take it to the bank that that is going to happen," the radio host added.
Beck went on to say he thinks that is the case with Obama's comments on World War III. In fact, he believes the president's statement on the potential global war means it's "definitely going to happen."
"I think that is all the evidence that you need that it is definitely going to happen. I've never seen a man more wrong when it comes to what the world is going to do and what our enemies are going to do," Beck said.
"He is either the most unlucky guy, or he is absolutely brilliant and lying to you because he's on the wrong side," he concluded.
Complimentary Clip from TheBlaze TV The full episode of The Glenn Beck Program, along with many other live-streaming shows and thousands of hours of on-demand content, is available on just about any digital device. Click here to watch every Glenn Beck episode from the past 30 days for just $1!
—
Follow the author of this story on Twitter: