Just days away from Republican presidential candidate Donald Trump's speech at Liberty University, college President Jerry Falwell Jr. said that protesters can do what they want, but they are "making fools of themselves."
The administration has received some pushback from students who are frustrated with the timing of the billionaire's upcoming visit, Jan. 18, which is also Martin Luther King Jr. Day.
"I said, 'No, it can't be,'" Eli McGowan, a law student at Liberty University, told the News & Advance upon learning that Trump would be speaking on MLK Day. "I double checked and triple checked. Immediately, it struck me as inappropriate and a lot of my friends as well."
According to McGowan, he and some of his like-minded peers are planning a peaceful demonstration outside the security parameters of the Vines Center, the arena where Trump will deliver his speech. The students say that they plan to carry signs emblazoned with quotes by King and will sing songs about equality and God's love.
McGowan told the News & Advance that he does not object to Trump addressing the student body but only takes issue with the fact that his talk coincides with MLK Day.
When asked about the scheduling choice, Falwell says it was a purposeful decision.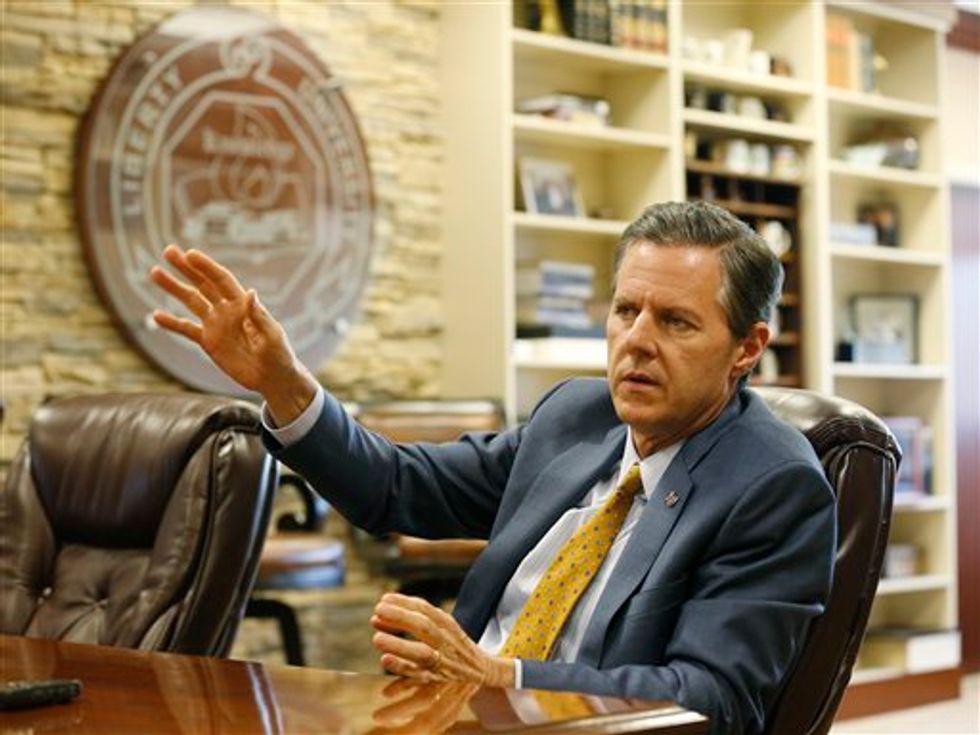 Jerry Falwell Jr., April 21, 2015. (AP Photo/Steve Helber)
"We chose that day so that Mr. Trump would have the opportunity to recognize and honor Dr. King on MLK Day," the university president said.
Falwell equated Trump's speech to when GOP hopeful Ben Carson spoke during the university's convocation, which was on Veteran's Day. He said Carson paid tribute to veterans even though he is not a veteran.
Similarly, Falwell says that Trump will pay tribute to King, "even though the keynote speaker is not a civil rights expert."
That answer, however, was likely unsatisfactory to McGowan, who published a Facebook post that outlined about one dozen issues on which he believes Trump's view is counter to King's.
Falwell responded to McGowen's frustrations and intentions to protest with strong words, saying he's more than welcome, but, essentially, said it was not worth it because only a few students would support the protesting.
"They can do what they want outside, but they are going to be making fools of themselves," Falwell said, pointing out that bags and signs will not be allowed into the Vines Center in order to help speed up the process of ushering students into the arena.
There will be heated tents outside, though, for students as they wait to get into the arena.
Trump joins several other presidential candidates who have addressed Liberty students, including Carson, Vermont Sen. Bernie Sanders (I), former Florida Gov. Jeb Bush (R), and Texas Sen. Ted Cruz (R).
(H/T: News & Advance)
—
Follow the author of this story on Twitter: