Just 18 days before the 2008 Iowa caucus, Hillary Clinton held a four-point lead over insurgent Democratic candidate Barack Obama. Eight years later, she is neck and neck with Vermont Sen. Bernie Sanders.
"I still have 2008 PTSD, and I'm feeling a lot of it right now," one Iowa Clinton supporter told Mashable. "These polls have closed up. His fervent support is not something she's matching. … Things seem to be a little off the rails."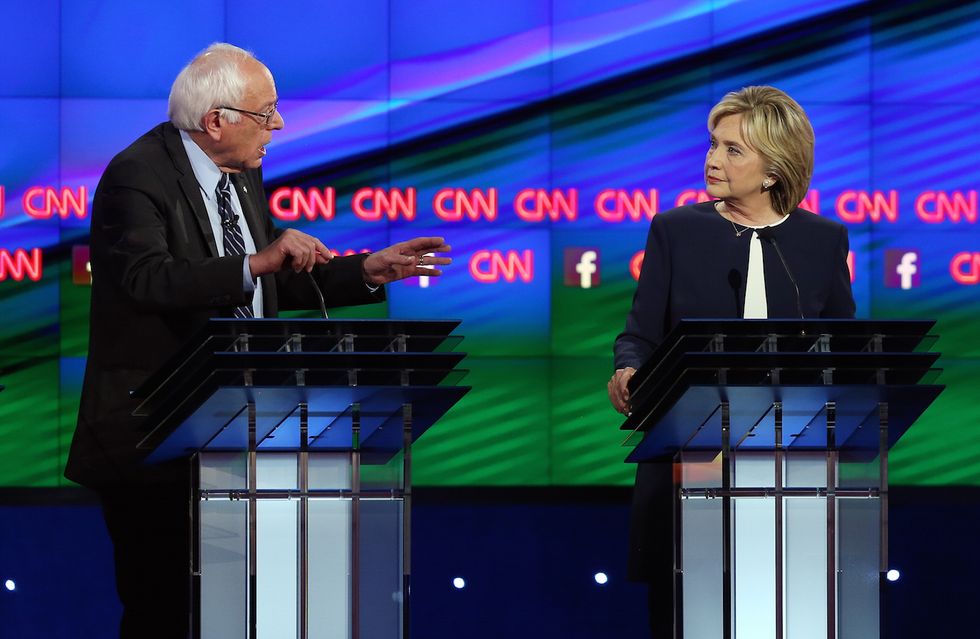 Vermont Sen. Bernie Sanders addresses Hillary Clinton during a Democratic presidential debate on CNN. (Joe Raedle/Getty Images)
A Des Moines/Bloomberg News poll found Clinton leading in Iowa by two points. But the American Research Group poll showed Sanders leading Clinton by three points.
Most polls are within the margin of error. Meanwhile, Sanders holds a clear lead in New Hampshire.
"I have a buddy who was with Obama last time who has been sending around links to recent stories and polling data that read the exact same as at this point in 2007 and 2008," John Davis, a Clinton backer who was former Rep. Bruce Braley's (D-Iowa) chief of staff, told Mashable.
Clinton has turned up the heat on Sanders, attacking him for his past positions supporting gun rights and for wanting to overhaul Obamacare and change it to a single-payer system.
Washington Post columnist Chris Cilliza wrote that Sanders could win both early states, adding that some Clinton supporters are prepared for that.
There are many Democrats who think that Clinton will be the nominee no matter what happens in Iowa and New Hampshire. That Sanders' inability to win over African-American and Hispanic voters will doom him when the primary race moves to the south and west. …

Politics is a changeable business. History has shown that how one state votes influences how the states that follow it in the primary process vote. That's why losing Iowa and New Hampshire, which now seems possible if not likely, is a nightmare scenario for Clinton. And one that should make her very nervous.
(H/T: Epoch Times)