Lt. David Nartker is a 27-year-old Navy commander who graduated from the U.S. Naval Academy in 2011 where he studied aerospace engineering. He grew up in Naperville, Illinois, and was a standout student at private Catholic schools before heading to Annapolis.
"He's very proud of the United States," Nartker's mother Darlene told the Capital Gazette, "and believes that the country needs to be defended by people who really care."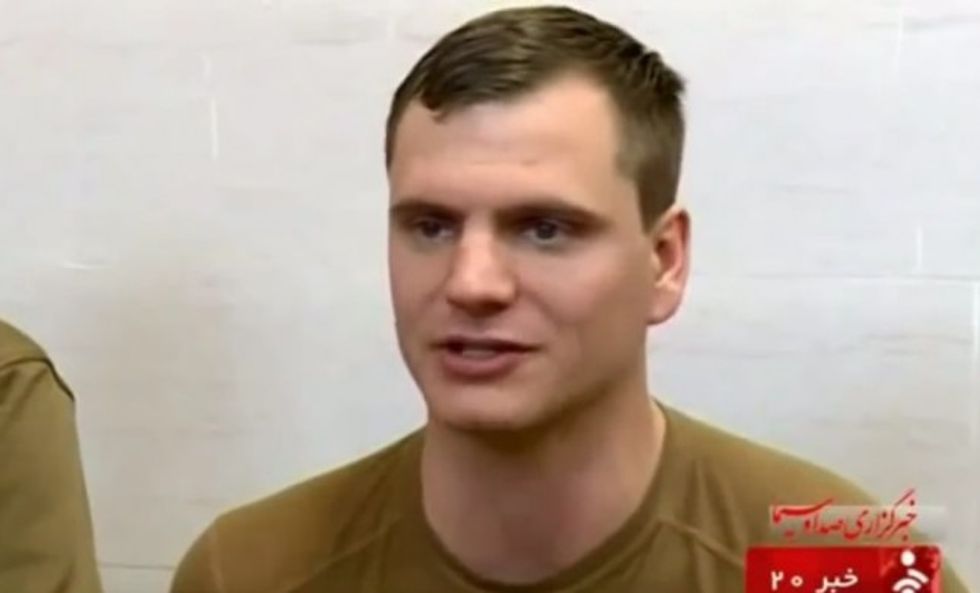 Captured sailor identified as Lt. David Nartker (Image source: YouTube)
All of which intensifies curiosity over what was behind Nartker's videotaped apology to his Iranian captors after he and nine other U.S. sailors drifted into the nation's waters Tuesday before being released a day later — as well as if Nartker will face consequences for what some are saying is a breach of basic military protocol.
"It was a mistake," Nartker said in a video that aired on Iranian TV. "That was our fault and we apologize for our mistake." He added, The Iranian behavior was fantastic while we were here. We thank you very much for your hospitality and your assistance."
Article V of the Code of Conduct for Members of the United States Armed Forces reads: "When questioned, should I become a prisoner of war, I am required to give name, rank, service number and date of birth. I will evade answering further questions to the utmost of my ability. I will make no oral or written statements disloyal to my country and its allies or harmful to their cause."
Ralph Peters, a retired lieutenant colonel and Fox News strategic analyst, told Newsmax that Nartker should be punished for what he said on camera.
"He wasn't being tortured, but this is what our military has come to," Peters told host Steve Malzberg. "That was aid and comfort to the enemy. He should be court-martialed." Peters, noting the code of conduct is to be memorized, added that "you don't make buddy buddies with your captors ... they're sailors. They're supposed to do their duty."
Ex-Navy Commander Christopher Harmer told CNN Wednesday afternoon he's "really upset, really disappointed" over the apology, adding that "whether they intended to or not, they are representing the United States Navy, and by that, an extension of the U.S. government."
Vice President Joe Biden told "CBS This Morning" the U.S. issued no apology: "There's nothing to apologize for."
Secretary of State John Kerry on Wednesday thanked Iran: "All indications suggest or tell us that our sailors were well taken care of, provided with blankets and food and assisted with their return to the fleet earlier today, and I think we can all imagine how a similar situation might have played out three or four years ago, and in fact it is clear that today this kind of issue was able to be peacefully resolved and officially resolved, and that is a testament to the critical role that diplomacy plays in keeping our country safe, secure and strong."
Shortly afterward, Iran released images of the captured sailors as well as the video.
Iran state TV releases images of the 10 U.S. Navy sailors who were held by Iran yesterday https://t.co/PQH21JeRHX pic.twitter.com/6hYCqtERKg

— Dan Linden (@DanLinden) January 13, 2016
The U.S. Central Command said the video "appears to be authentic, but we cannot speak to the conditions of the situation or what the crew was experiencing at the time," adding that the crew was going through "the reintegration process and we will continue to investigate this incident."
Darlene Nartker confirmed to the Capital Gazette that her son is the sailor speaking in video; William Nartker, his father, confirmed the same to the Chicago Tribune, which added that the Navy only would say Thursday that the sailor in the clip is a captain of a Riverine Command Boat in the Gulf.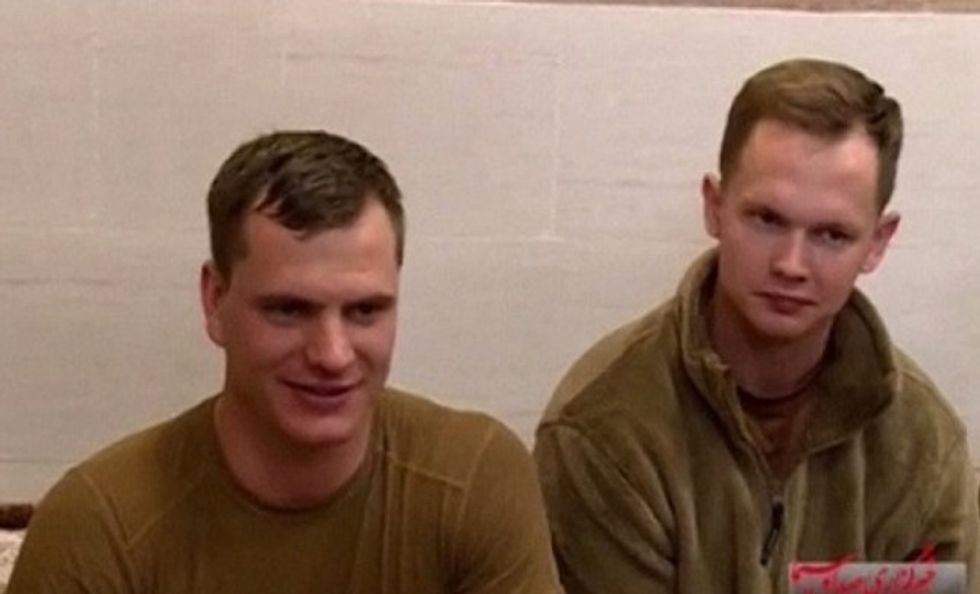 Image source: Reuters
More from the Tribune, which said Nartker attended St. Raphael Grade School in Naperville and then graduated from Benet Academy in Lisle in 2007:
St. Raphael physical education teacher Diane Cook said she was shocked to see a former student among the sailors being held captive by the Iranians. "I knew he was in the Navy. That was his dream," said Cook of David Nartker, who she said never missed 7:30 a.m. Sunday mass.

Cook said Nartker participated in sports at St. Raphael and "always was respectful and poised." She said that same calm, respect and poise she saw in Nartker as a boy came through in the video. [...]

Benet Academy Principal Stephen Marth described Nartker as a "really civically responsible young man" and "mature beyond his years."

"He was a fine young man who took an honors sequence in school," Marth said. He said throughout high school Nartker was devoted to public service, even joining other students in founding the school's law club as an upperclassman.

Nartker also was active in the music program as an underclassman and was involved in sports throughout high school, including cross-country and his passion, hockey, Marth said.
Cmdr. John Schofield, a Naval Academy spokesman, told the Gazette that specialized fleet training, such as that regarding capture, depends on fleet warfare designations.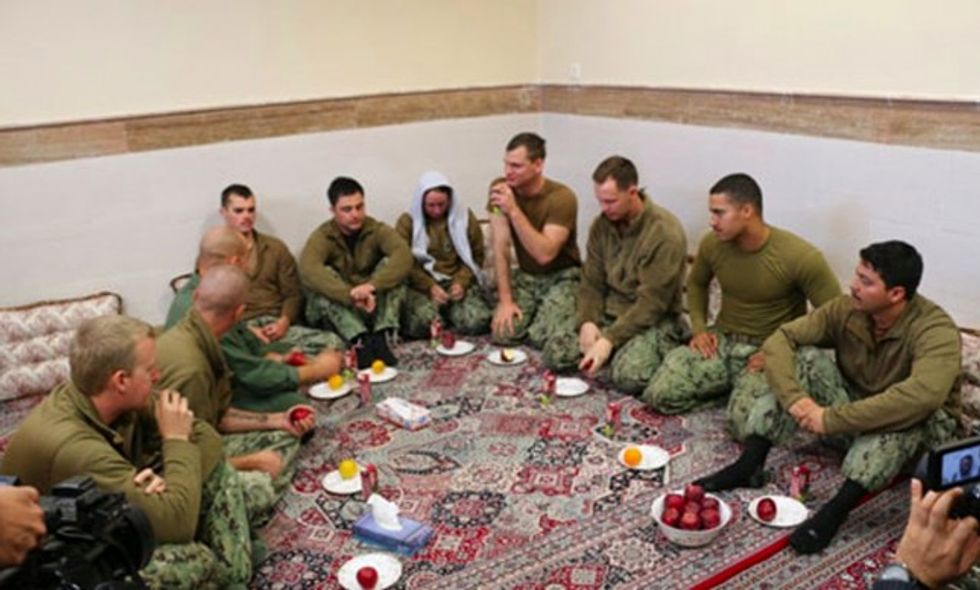 This picture released by the Iranian Revolutionary Guards on Wednesday, Jan. 13, 2016, shows detained American Navy sailors in an undisclosed location in Iran. Less than a day after 10 U.S. Navy sailors were detained in Iran when their boats drifted into Iranian waters, they and their vessels were back safely Wednesday with the American fleet. (Image source: Sepahnews via AP)
"Training for those specific designations does not take place at commissioning accession sources like the Naval Academy," he said. "The Naval Academy trains and educates all of its students morally, mentally and physically to become officers of character and consequence."
Darlene Nartker told the Gazette that said her son always wanted to be in the Navy and "takes responsibility very seriously. That's always been a characteristic of him."
This post has been updated.
(H/T: Daily Mail)