© 2023 Blaze Media LLC. All rights reserved.
Glenn Beck Apologizes for Saying Donald Trump Voted for Obama...But, Still Believes Trump Did Just That
"Do I believe Donald Trump voted for Barack Obama in 2008? Yes. Yes, I do."
Monday morning, Glenn Beck opened his nationally syndicated radio show apologizing to Donald Trump.
In his Monday apology to Trump, Beck pointed to a fake tweet as the reason he initially believed Trump voted for Obama. Rumored to have come from Trump in 2012, the counterfeit Twitter post read, "I always vote for the winners. Congratulations to My Friend @BarackObama."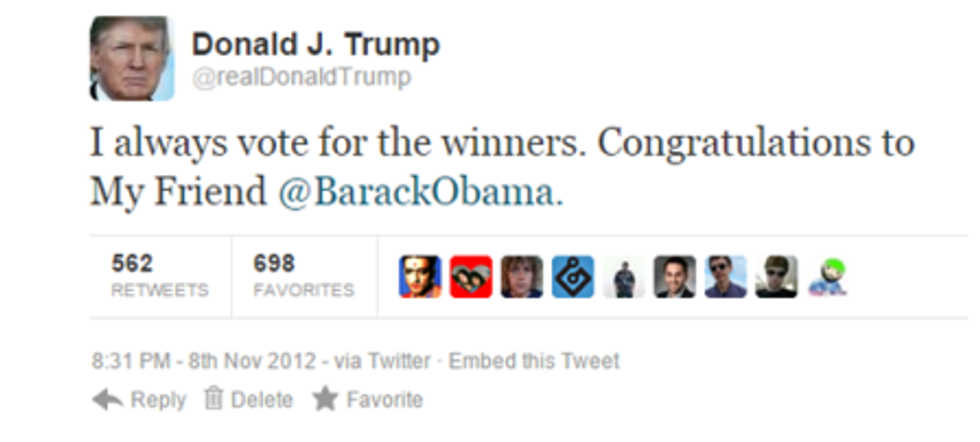 Image source: Twitter
The apology from Beck followed a weekend where the talk show host and the GOP frontrunner exchanged critical statements.
It started on Friday night when Beck appeared on Bill O'Reilly's show on Fox News.
Beck and O'Reilly were talking about Donald Trump's lead in the GOP primary battle. As O'Reilly was defending Trump, Beck interjected, "He voted for Obama in '08, come on Bill."
Beck's charge that Trump voted for Obama in 2008 triggered a reaction from Trump at a campaign event the next day.
During a Saturday rally in Portsmouth, New Hampshire, Trump unleashed a personal attack on Beck, calling the talk show host and entrepreneur a "dopey guy" who "looks like hell."
Trump said his anger was brought about by Beck's claim that the GOP candidate had voted for Obama in the past.
"The thing that bothered me, he said, 'Donald Trump voted for Barack Obama,'" Trump said at the campaign rally. "Me!"
Watch Trump bash Beck.
While Beck did apologize to Trump for re-tweeting the fake post, he also presented a detailed and footnoted,
seventeen-point case
supporting his belief that Donald Trump did vote for President Obama. "Do I believe Donald Trump voted for Barack Obama in 2008? Yes. Yes, I do," Beck wrote.
Listen to the segment courtesy of TheBlaze Radio.
—
Follow the author of this story on Twitter and Facebook:
Want to leave a tip?
We answer to you. Help keep our content free of advertisers and big tech censorship by leaving a tip today.
more stories
Sign up for the Blaze newsletter
By signing up, you agree to our
Privacy Policy
and
Terms of Use
, and agree to receive content that may sometimes include advertisements. You may opt out at any time.