Leading James Madison expert, Dr. Colleen A. Sheehan of Villanova University, recently sat down with TheBlaze to discuss her favorite founding father and how she thinks Americans could learn from him.
When Sheehan began her study of the founders in college, she was first intrigued by the impressive orator and francophile, Thomas Jefferson. But it was her in-depth study of Jefferson that originally led her to Madison.
"Madison was the more profound thinker," Sheehan said. "He really thought through the questions associated with the American republic."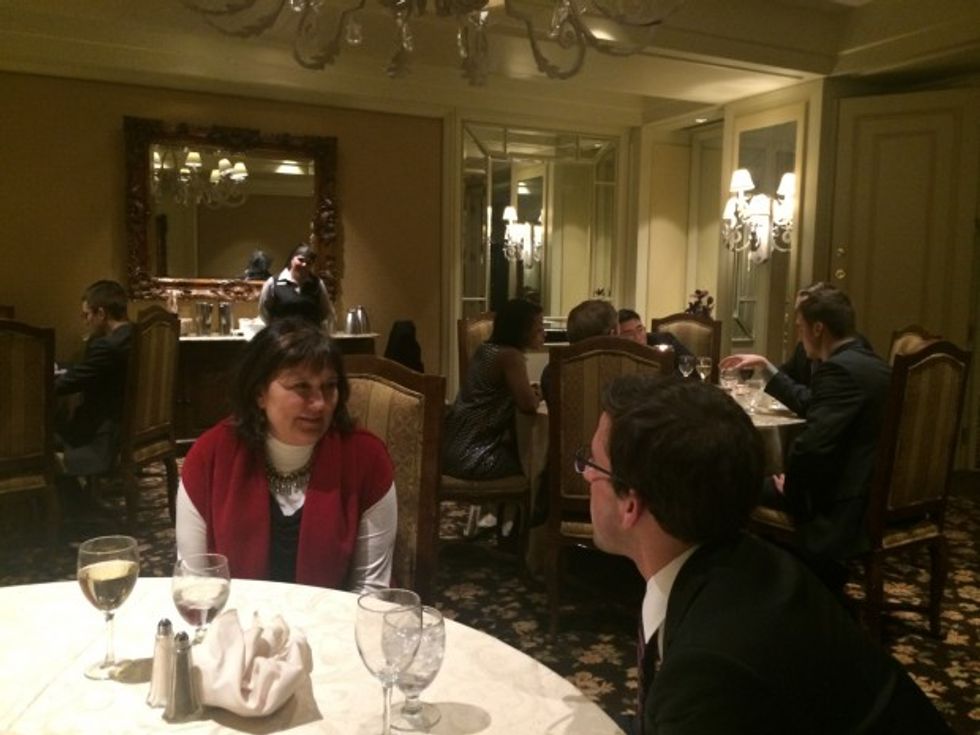 Dr. Colleen A. Sheehan of Villanova University speaks to a student at the Intercollegiate Studies Institute's Federalism and Constitutionalism colloquium in Philadelphia on January 16, 2015. Photo by Carly Hoilman
Sheehan's doctoral thesis was on the first party system in America, and particularly the clash between Madison and Hamilton. She wanted to know why the clash existed— was it a pride thing or a difference in personality? Madison and Hamilton claimed that it wasn't, but that it was a matter of principle. Sheehan wanted to see if that was true. Ultimately, she found that it was just as the two had claimed.
Sheehan shared that what helped her really understand Madison was examining what he was reading: books Jefferson had been sending him from France. Popular theory in Europe at the time had to do with ideas regarding public opinion.
"Madison believed that the people were the legitimate rulers and that they had to be obeyed," Sheehan said. "He thought that Hamilton was ignoring the Constitution as ratified by the sovereign public, by the people."
Sheehan explained that though the people are fundamentally sovereign, "they delegate certain enumerated powers to the national government. Others are reserved to the states, or to the people."
Since America's various governing bodies represent "attributes of sovereignty," Sheehan explained that it can be a frightening thing when one body attempts to co-opt the freedoms of another.
"And that is why when the Supreme Court ignores the text and meaning of the Constitution, it is undermining the very basis of free government," she said. "They put themselves in a position higher than the people."
Sheehan called the way the Supreme Court has handled cases lately "a crying shame."
"We have people on the Supreme Court that either don't understand or don't care about the Constitution," she said. "That's not only frustrating – it's sad."
Credit: Tim Sloan/Getty Images
Sheehan lamented that American "law schools, for the most part, don't have serious courses on jurisprudence or the Constitution anymore."
She said that students should at least be familiar with the Constitution and study the founding documents "because they're not only students, they're citizens, and this is a country 'by and for the people.'"
"If the citizens don't understand what is required to preserve the political order, then it won't be preserved," she said. "Madison once said that in a country like ours, 'liberty and learning lean on each other,' and you can't have liberty without understanding what it means and how to protect it."
Though Madison is her favorite founder, Sheehan didn't have any trouble thinking of a key downfall he had.
"His greatest weakness was that he was not a good orator," she said.
Sheehan explained that when Madison would address a large crowd, people would constantly ask him to speak up. One Frenchman even referred to him as "Mr. Mutterson."
Another weakness, according to Sheehan, is that Madison was "shy." He was still effective, but unlike Jefferson, his effectiveness came less from personality and more from "doing his homework."
Of course, Madison had many strengths, which Sheehan referred to as "strengths of head and heart." He was smart, studious and really cared about issues.
Sheehan noted that Madison remained a bachelor until he was in his forties, partly because he was shy, but also because he made the founding his primary vocation.
"He would get himself sick," she said. "He would work so hard, stay up so late and just not give up on it. His friends were always telling him to take a break."
Another strength of Madison's was that of vision. Sheehan said that Madison studied ancient Greek philosophy and political philosophy.
"He had a vision for a land of self-governed people, and he was absolutely dedicated to trying to find a way to make republican self-government work and to demonstrate that the people were actually capable of governing themselves."
Sheehan's 'The Mind of James Madison' is about how Madison figured out a way to find success in the experiment of self-government.
"It's not enough for him to have citizens who are merely commercial trading partners," she said. "He wants to find a way to bring back the classical idea of liberty of the citizen."
Sheehan concluded her statements on Madison with a quote from the man himself:
"Such is a government [America] for which philosophy has been searching and humanity been sighing from the most remote ages. Such are the governments for which it is the glory of America to have invented and our unrivaled happiness to possess."
__
Front page photo via Shuttershock