Iowa Gov. Terry Branstad sought to quell Republican presidential candidate Ted Cruz's momentum in his state Tuesday, warning voters that the Texas senator's opposition to the Renewable Fuel Standard will harm jobs in Iowa.
Cruz has led a number of recent polls in the early state, but businessman Donald Trump remains almost neck-and-neck with his 2016 rival going into the Feb. 1 caucuses.
Branstad, a Republican, said he won't endorse any candidate.
But when reporters asked him at the Iowa Renewable Fuels Summit in Altoona on Tuesday if he wants Cruz to be defeated, Branstad said: "Yes."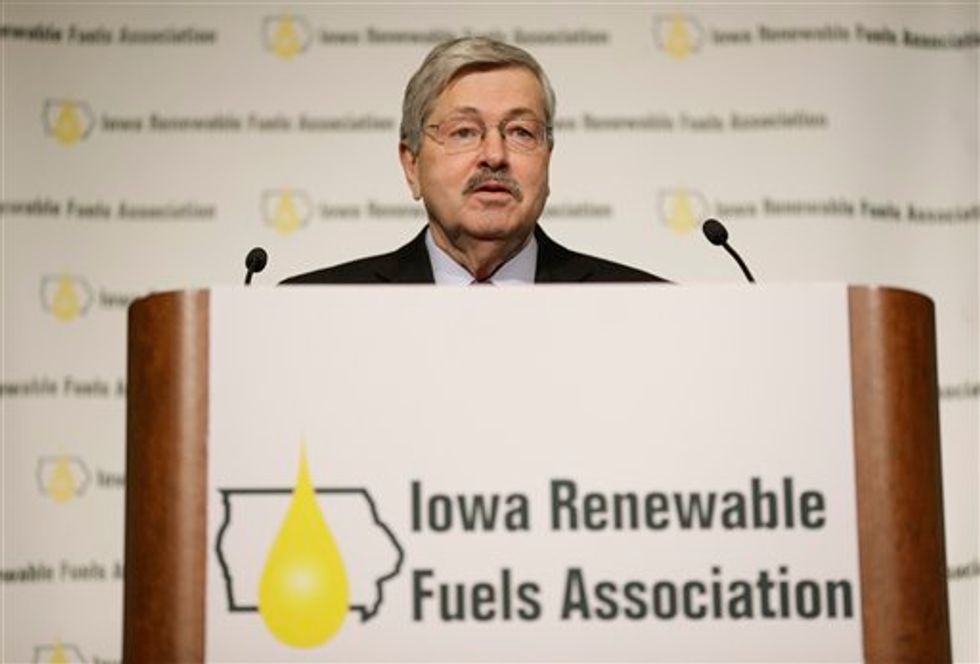 Iowa Republican Gov. Terry Branstad speaks during the Iowa Renewable Fuels Association Summit in 2014. (AP/Charlie Neibergall)
Iowa is a top provider of renewable fuels, and Cruz has pushed back against government subsidies for alternative fuels, including ethanol, and against the federally imposed Renewable Fuel Standard for the U.S. fuel supply.
"What we're trying to do is educate the people in the state of Iowa. [Cruz] is the biggest opponent of renewable fuels," Branstad said, according to the Des Moines Register. "He actually introduced a bill in 2013 to immediately eliminate the Renewable Fuel Standard. He's heavily financed by Big Oil. So we think once Iowans realize that fact, they might find other things attractive but he could be very damaging to our state."
Cruz fielded questions on his bus tour through Iowa this month over bills he sponsored in 2013 and 2014 that would phase out the RFS over five years — a position he defended even in front of hostile Iowa questioners.
But that position means Cruz is "diametrically opposed to what we really care about," Branstad said Tuesday.