Just a week after President Barack Obama boasted about slashing the federal deficit, the nonpartisan Congressional Budget Office estimates that deficit will rise in 2016.
"The deficit projected by CBO would increase debt held by the public to 76 percent of GDP by the end of 2016, the agency estimates — about 2 percentage points higher than it was last year and higher than it has been since the years immediately following World War II," the CBO report released Tuesday revealed.
The CBO estimates that the budget deficit will increase to $544 billion in 2016 -- up from $439 billion in 2015.
"If current laws generally remained unchanged, the deficit would grow over the next 10 years, and by 2026 it would be considerably larger than its average over the past 50 years, CBO projects," the CBO report says. "Debt held by the public would also grow significantly from its already high level."
Obama and numerous other administration officials have touted the shrinking budget deficit. Much of that decrease occurred after the budget sequester, which implemented across-the-board budget cuts.
"Our auto industry just had its best year ever," Obama said during the State of the Union address. "That's just part of a manufacturing surge that's created nearly 900,000 new jobs in the past six years, and we've done all this while cutting our deficits by almost three-quarters."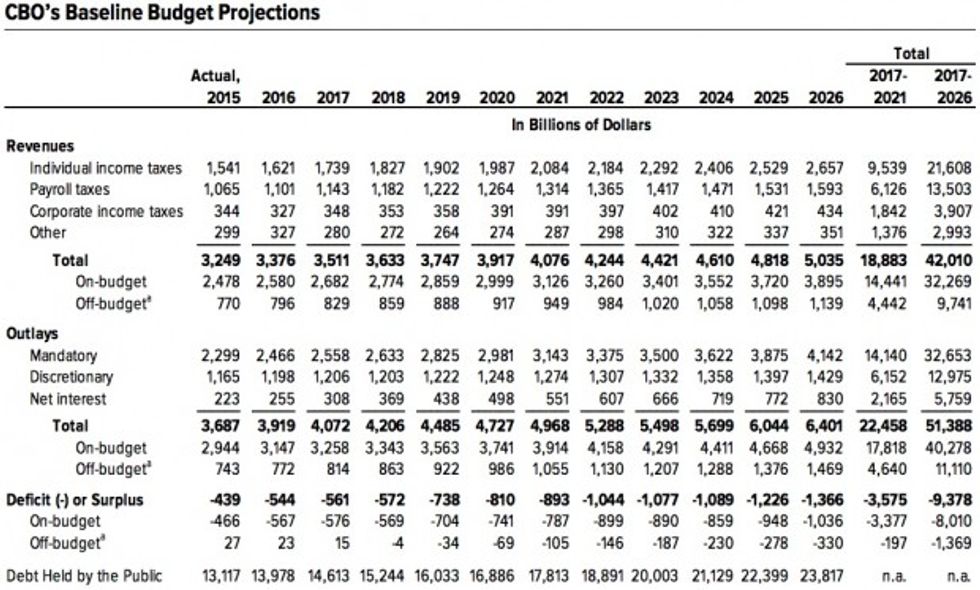 Image source: Congressional Budget Office
The $544 billion is about $105 billion more than the CBO projected in August because of taxing and spending bills passed since that time. The deficit will be 2.9 percent of the gross domestic product this year. This is the first time the deficit has risen in relation to the size of the economy since 2009, according to the CBO.
"The budget deficit increases modestly through 2018 but then starts to rise more sharply, reaching $1.4 trillion in 2026," the CBO report continues. "As a percentage of GDP, the deficit remains at roughly 2.9 percent through 2018, starts to rise, and reaches 4.9 percent by the end of the 10-year projection period. The projected cumulative deficit between 2017 and 2026 is $9.4 trillion."