Israeli Prime Minister Benjamin Netanyahu's office slammed an accusation leveled by U.S. Ambassador to Israel Dan Shapiro who suggested Israel has two standards of law in the West Bank, one for Israelis and one for Palestinians.
The Jerusalem Post described Shapiro's public lashing of Israel as "uncharacteristically sharp."
"As Israel's devoted friend and its most stalwart partner, we also believe Israel must develop stronger, more credible responses to questions about the rule of law in the West Bank," Shapiro said Monday at a conference sponsored by Israel's Institute for National Security Studies.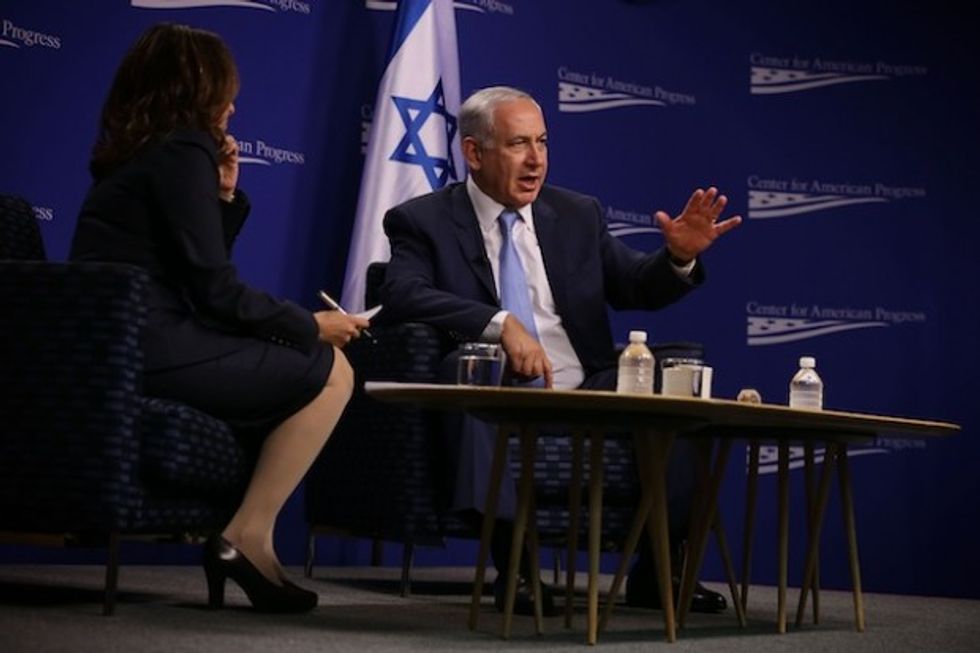 Benjamin Netanyahu's office issued a sharp response to criticism voiced by the U.S. ambassador to Israel. (Alex Wong/Getty Images)
While he commended Israel for indicting Israelis suspected of involvement in an arson attack that killed a Palestinian family, Shapiro went on to say said, "Still, too many attacks on Palestinians lack a vigorous investigation or response by Israeli authorities; too much vigilantism goes unchecked; and at times there seem to be two standards of adherence to the rule of law: one for Israelis and another for Palestinians."
Following the ambassador's speech, Netanyahu's office issued a statement saying Shapiro's words were "unacceptable and incorrect" and hinted the accusations were particularly distasteful given that they were delivered the day an Israeli woman murdered by a Palestinian was buried.
"The words of the ambassador, on a day in which a murdered mother of six is buried and on a day in which a pregnant woman is stabbed, are unacceptable and incorrect," the statement said.
"Israel enforces the law for Israelis and Palestinians. The Palestinian Authority is the one responsible for the diplomatic freeze, and continues to incite and refuse talks," Netanyahu's office added.
Dafna Meir, a 38-year-old mother of six, was stabbed to death in front of three of her children by a Palestinian assailant who attacked her in her home. Israeli media reported Tuesday that the suspect in the killing, a Palestinian teenager, was caught by security forces after a two-day manhunt. A second Israeli woman, who is pregnant, was stabbed and wounded by another Palestinian teenage assailant Monday.
In his speech, the ambassador also said the Obama administration was "perplexed by Israel's strategy on settlements. This government and previous Israeli governments have repeatedly expressed their support for a negotiated two-state solution — a solution that would involve both mutual recognition and separation.  Yet separation will become more and more difficult if Israel plans to continue to expand the footprint of settlements."
He further asserted that while Jewish settler outposts were "being legalized," Palestinian development has been restricted.
Shapiro called recent Palestinian terrorist attacks "vicious" and noted he has attended funerals and made condolence calls to the families of the victims. He also addressed the killing of the mother of six in her home Sunday and the stabbing of the young pregnant woman Monday, calling them "barbaric acts of terrorism."
Shapiro said, "In the face of such outrages, the United States condemns unequivocally these barbaric acts of terrorism, as we believe all others should do; we offer support and sympathy to the bereaved families and the wounded, and assistance to families of American citizen victims of terror; and, we are committed to do everything we can, and call on all others to do everything they can, to bring an end to the violence and help restore security and stability."