The Senate voted 58-36 to confirm an Obama judicial nominee whose writings as a law student attacked both former President Ronald Reagan and former Chief Justice William Rehnquist, as well as as the concept of property rights.
Asked about the writings during her confirmation hearing, Minnesota state Supreme Court Justice Wilhelmina Marie Wright, nominated by President Barack Obama to be a federal judge for the U.S. District of Minnesota, said her viewpoints were "inartful" and made before "all of the training and experience that I have now."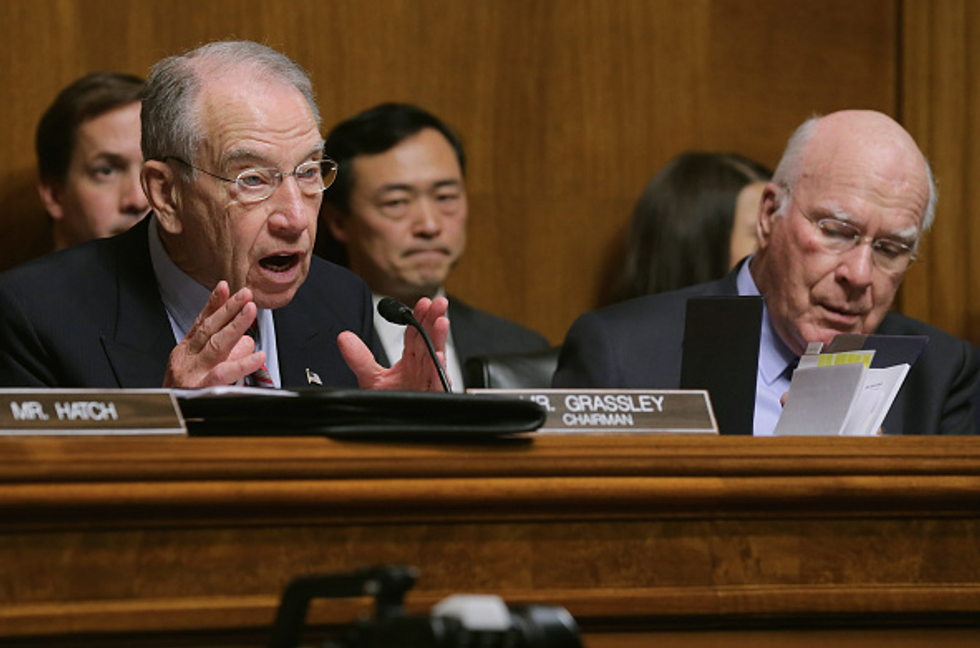 Senate Judicary Committee Chairman Charles Grassley (R-IA) and ranking member Sen. Patrick Leahy (D-VT). (Chip Somodevilla/Getty Images)
The conservative advocacy group Heritage Action urged Senate Republicans to block the nomination, asserting, "Confirming Justice Wright to a lifetime appointment on the United States District Court for the District of Minnesota is also the wrong response to this President's recent overreach."
MN Supreme Court Justice Wilhelmina Wright confirmed to be a U.S. District Court Judge. She was a Dayton appointee to the Supremes.

— Rachel Stassen-Berger (@Rachel Stassen-Berger)1453245645.0
Wright participated in writhing a 1989 article in the University of California Los Angeles Law Review that said:
The practice of American racism is based on two principles: the sanctity of property and the belief in the hierarchy of races. The first of these principles is firmly protected by the words and action of the Constitution; the second is proscribed by the words of the instrument, but not by its effect. History shows that when these two principles are juxtaposed (which happens constantly), property rights are given absolute priority.
"Modem America has publicly rejected the notion that it is okay to advocate racial supremacy, that is, to argue that the life, liberty, and property of whites are worth more than the life, liberty, and property of blacks," her article went on to say. "The liberal conception we face today is, however, equally damaging and little discussed: that property is worth more than life or liberty. The fact that whites own the vast majority of what Americans define as property does not usually enter this argument, and it therefore appears non-racist."
The Senate just confirmed Wilhelmina Wright as the first Black woman to serve as a federal judge in MN #courtsmatter https://t.co/nLRSTIae4m

— The Leadership Conference (@The Leadership Conference)1453245257.0
Hans von Spakovsky, former Federal Election Commission member and former Justice Department attorney, recently criticized the Republican-controled Senate for plans to confirm Wright's nomination, raising some of her writings in a post on the Conservative Review website.
The office of Senate Judiciary Committee Chairman Charles Grassley (R-Iowa) did not respond to TheBlaze Tuesday.
In her writing, Wright also accused Rehnquist and Regan of "aiding white people [who] are running and hiding" from desegregated public schools, the Daily Signal reported.
"Their mad scramble is aided by a Chief Justice who owned racially restrictive property and a Presidential administration that believes bigotry, poverty, and poor educational opportunities for most public school students are the unavoidable fruits of a 'thriving' free market economy," Wright wrote for the UCLA Law Review.
The Senate Judiciary Committee approved her nomination in December by a voice vote. Obama nominated her to the federal judgeship in April.
"I am proud to nominate Justice Wilhelmina Marie Wright to serve on the United States District Court bench," Obama said after making the nomination. "She has a long and distinguished record of service, and I am confident she will serve on the federal bench with distinction."