Darrian Amaker is a victim of domestic abuse with a survivor's spirit. The singer, photographer and writer posted a video to Facebook over the weekend that details the pain she experienced at the hands of a loved one.
In the video, recorded in a hospital room, Amaker sings about a woman "with a wounded spirit."
The post's description recalls an episode that occurred around Thanksgiving that left Amaker hospitalized for four days.
"He had planned it out," she wrote. "I was supposed to die."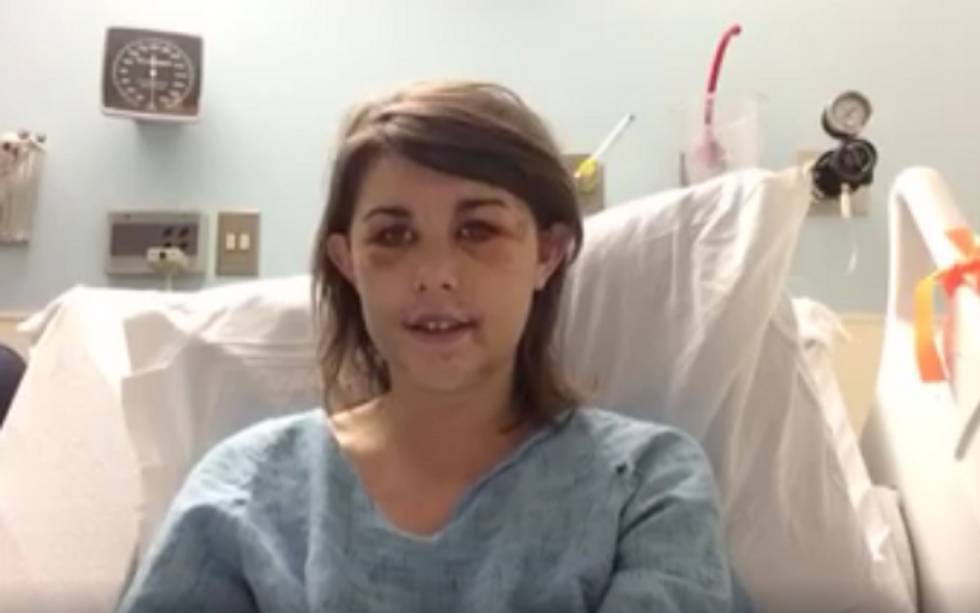 Image via Darrian Amaker/Facebook

She described recovering in her hospital bed with "eyes swollen shut" after an attack that lasted 10 hours, "wondering why, wondering why."
Amaker shared that her former partner was charged with six felonies by a grand jury, but the man she described as her "Love-no-longer" left her with lasting injuries.
"I asked my doctor why I look different in the mirror, assuming it's a psychological consequence of savagery," she wrote. "Softly she remarked that all of my bones are bruised, quarter-inch ridges that I can feel — my face is different, it's one-half inch wider now."
Though Amaker said that she doesn't typically record videos of herself, this video was "the only thing" she wanted to do while she was recovering.
"I insisted — it felt important and a small triumph to make something, salvage anything from my shipwrecked heart," she wrote.
She concluded the post with a message about the pervading problem of domestic abuse and an exhortation for people everywhere: "We the humans must be better, kinder, stronger. We the loving must not tolerate abuse. We the living must facilitate life."
Amaker posted her video on the National Coalition Against Domestic Violence Facebook page, and it has been shared more than 500 times. Many Facebook users commented on the post, sharing their own stories of survival.
"I've seen the devil many times but the most permanent image was my ex husband's hands sealing out the air in my throat," one wrote. "The only thought I had was my two children."
Watch Darrian's moving video here: