A Pennsylvania man faces multiple charges after he allegedly left his three sons — ages 7, 4 and 9 months — in a car during freezing temperatures while he was inside his friend's house watching a football game.
He then allegedly argued with and assaulted police as they questioned him about his 4-year-old son, who was found outside without a coat, socks or shoes.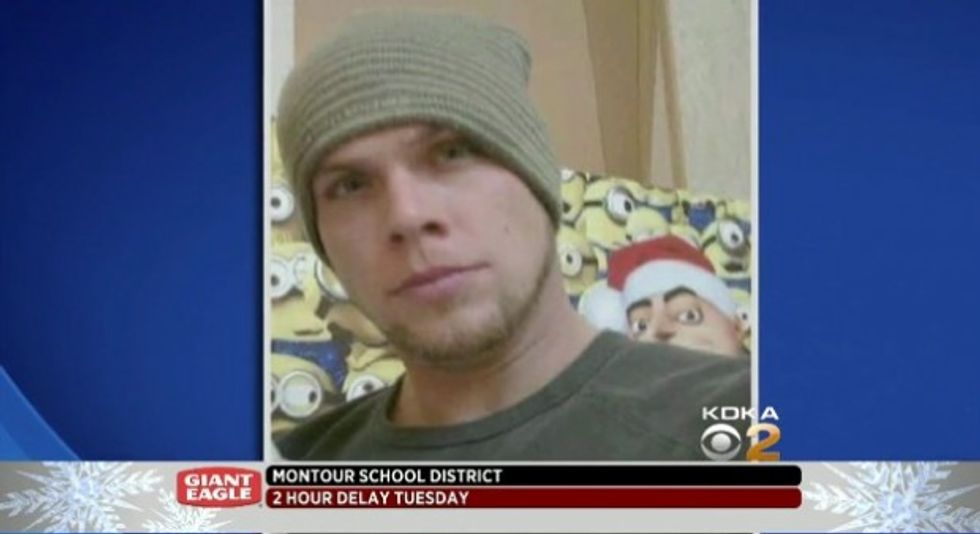 James Grusofski, 33. (Image source: KDKA-TV)
James Grusofski, 33, of Washington County returned to his vehicle Saturday after an unknown amount of time and drove home only to find that his 4-year-old was no longer in the car, police told the Observer-Reporter.
The boy was discovered at around 9:45 p.m. after a witness heard him yelling. The temperatures that night were in the 30s.
When officers arrived, they were unable to locate the boy's parents, so they took the child back to the police station and notified Washington County Children and Youth Services.
About a half hour after the boy was discovered, his mother and grandmother reported him missing, the Observer-Reporter said. When they arrived at the station, they told police the father had plans to watch a game at a friend's home and leave the three children in the car.
When Grusofski came to the police station, he reportedly admitted to drinking that evening.
After police told him he would face charges, Grusofski reportedly tried to punch two officers, telling them he was not going to be arrested. Police then used a taser and took him into custody.
Grusofski was taken to Washington Hospital for evaluation. The charges against him include endangering the welfare of children, aggravated assault on a police officer and resisting arrest.
Renee Scholato, who has lived near Grusofski, his fiancee and their kids for many years, told KDKA-TV they seem like responsible parents.
"It is very surprising this would happen," Scholato told the station. "They were always outside with their children, and they always do things with their children when he's off work. I see them in the backyard."