Secretary of State John Kerry said Thursday that some of the $55 billion in sanctions relief for Iran will likely fund acts of terrorism, and the White House later backed him up on that point.
However, they both defended the Iran nuclear deal on the grounds that it keeps a check on Iran.
CNBC's Andrew Ross Sorkin asked, "Do you believe that any of that $55 billion ends up in the hands of terrorists?"
Kerry answered that "some of it" will go to the Iran Revolutionary Guard Corps, which the U.S. government recognizes as a terrorist group.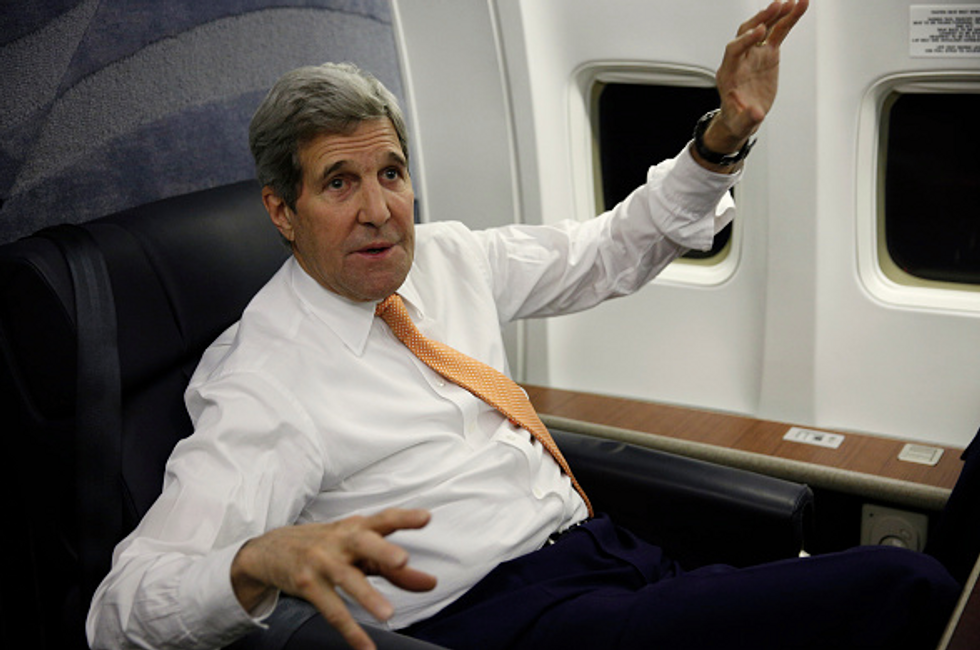 Secretary of State John Kerry speaks to journalists about his negotiations with Iran upon his arrival from Vienna at Joint Base Andrews in Washington, D.C.,  Jan. 17. (Kevin Lamarque/AFP/Getty Images)
"I'm not going to sit here and tell you that every component of that could be prevented, but I can tell you this, right now, we are not seeing the early delivery of funds going to that kind of endeavor at this point in time," Kerry said. "I'm sure at some point some of it will, but that has never made the difference of what is happening there."
Kerry added that Iran spends $15 million on the military, compared to Saudi Arabia, which spends $80 billion per year and the "entire gulf state community spends $130 billion a year on defense."
Just days after President Barack Obama announced sanctions relief and a settlement of litigation with the government of Iran, the Iranian government announced it would increase spending by 15 percent on the Revolutionary Guard and would double intelligence spending.
"The only observation we've made on how they would spend the money is the observation from the secretary of state that it certainly seems possible, if not likely, that they will use some of those funds to support acts of terrorisms," White House press secretary Josh Earnest added later in the day. "That possibility certainly exists."
Still, Earnest insisted the Iran nuclear deal makes the world safer.
"That is precisely why we have implemented an agreement to prevent Iran from obtaining a nuclear weapon," Earnest said. "As dangerous as their ongoing support for terrorism is, it would be even more dangerous, even catastrophic if Iran had access to a nuclear weapon and they don't right now because we successfully implemented this agreement to caused them to dismantle their centrifuges, to ship out 98 percent of their enriched uranium stock pile and to agree to a whole set of intrusive inspections that will verify their ongoing compliance with the agreement."
Republican National Committee Chairman Reince Priebus blasted the admission by Kerry and shifted some of the blame for the Iran deal to Democratic presidential front-runner Hillary Clinton.
"Secretary Kerry admitted what we suspected all along — that the nuclear deal Hillary Clinton spearheaded with Iran is a giant stimulus bill for radical Islamic terrorists," Priebus said. "Hillary Clinton should explain why she thinks an agreement that helps arm terrorists is such a diplomatic coup, especially when it makes America and our allies like Israel less safe. ... With Clinton defending this disastrous deal, and Bernie Sanders wanting to normalize relations with Iran, it's clearer than ever that it will take a Republican president to ensure Iran never acquires a nuclear weapon and that we have a foreign policy that puts the national security interests of the United States and our allies first."