Former Alaska Gov. Sarah Palin has come under fire for remarks she made in defense of her son at a rally Wednesday for Republican presidential candidate Donald Trump — but during an interview with CNN's Don Lemon Wednesday evening, Trump said she discussed her son at his suggestion.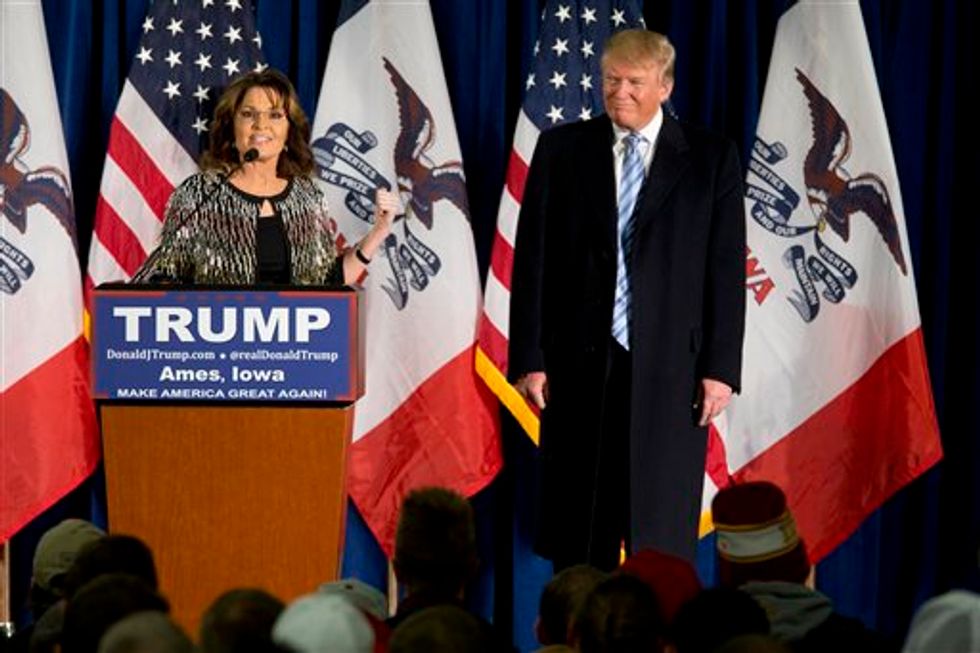 Former Alaska Gov. Sarah Palin, left, endorses Republican presidential candidate Donald Trump Tuesday in Ames, Iowa. (AP/Mary Altaffer)
Track Palin was arrested Monday evening at his parents' Wasilla, Alaska, home where he currently lives, in a domestic violence case.
During the CNN interview, Trump said he urged Palin to discuss it.
"I thought it would be appropriate," Trump said. "There was tremendous press, and I think it's something that's very important to discuss — not even for her son, but for so many other sons and daughters that are coming back from the Middle East, where they have, you know, traumatic problems."
"I actually suggested it," he added. "I said, 'I think it would be a great forum,' and I know she started the dialogue. I think it's a very important dialogue."
When asked if he believes it was fair for Palin to allude to President Barack Obama when discussing her son's PTSD, Trump said, "Oh, I think so."
"Look, you know, everything starts at the top. He's the president," Trump said. "And I think you can certainly do that."
During the rally, Palin discussed her son's arrest, which she called the "elephant in the room."
"My son, like so many others, they come back a bit different, they come back hardened," Palin said. "They come back wondering if there is that respect for what it is that their fellow soldiers and airmen and every other member of the military so sacrificially have given to this country, and that starts from the top. It's a shame that our military personnel even have to wonder, if they have to question if they're respected anymore."
"Our vets and you deserve a commander in chief who will respect what it is that our forces go through, and would never leave them behind," she added.