Justin Anderson, an Iraq War veteran from Omaha, Nebraska, is not finished serving his fellow citizens. The amputee has found a way to alleviate his neighbors of the burden of heavy Omaha snowfall — all while confined to a wheelchair.
Last winter, Anderson converted his off-road wheelchair into a one-man snow plow. He added a blade to the front and used the chair's on-the-fly tilt as a lever to adjust the blade as he pushed snow.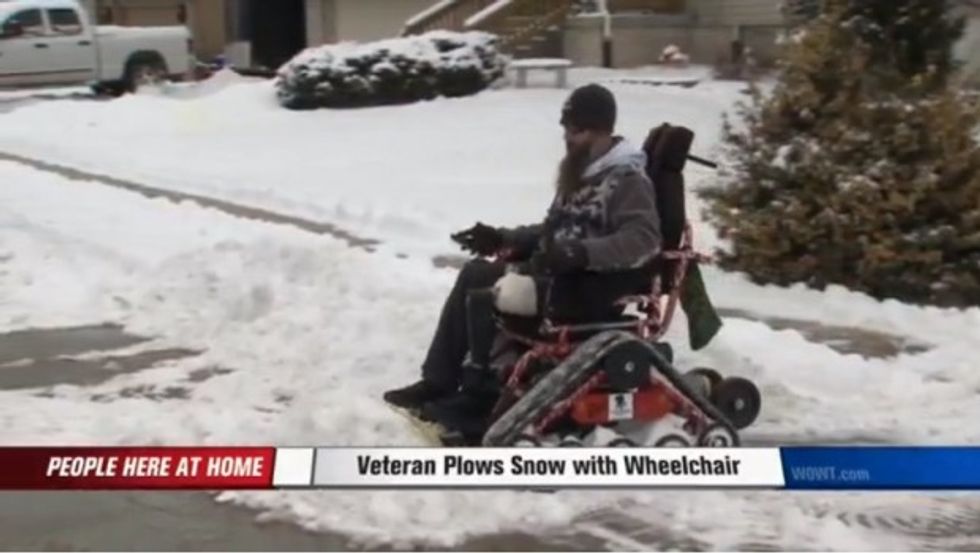 Image source: WOWT-TV
"I don't want kids or parents having to go through the snow and possibly trip or hurt themselves," Anderson told WOWT-TV. "I had a half-dozen people stop to take a picture because they hadn't seen a chair like this before."
But Anderson's make-shift plow isn't about the recognition, but rather the sense of duty he feels toward his neighbors.
"It's very gratifying. It's nice to know you're appreciated. But even if I didn't get any response from anyone, or nobody said 'thank you,' I'd still do it," Anderson told WOWT.
Anderson said the community of Omaha offered him much support after his leg amputation and a bout with brain cancer.
"This is my way of giving back," he said.
Now, every time it snows in Omaha, Anderson takes to the streets.
Anderson received his chair from the Independence Fund, a charity that supplies wheelchairs and adapted bikes to disabled veterans. He told WOWT that he has some more modifications for his chair-turned-snow-plow in the works.
Watch here:
(H/T: WOWT-TV)