Republican presidential candidates Donald Trump and Texas Sen. Ted Cruz escalated their rivalry Friday, taking their war to the airwaves with new ads.
On Friday, both candidates released new television ads attacking one another for positions they hold. Trump attacked Cruz for his position on immigration, while Cruz went after Trump's use of eminent domain.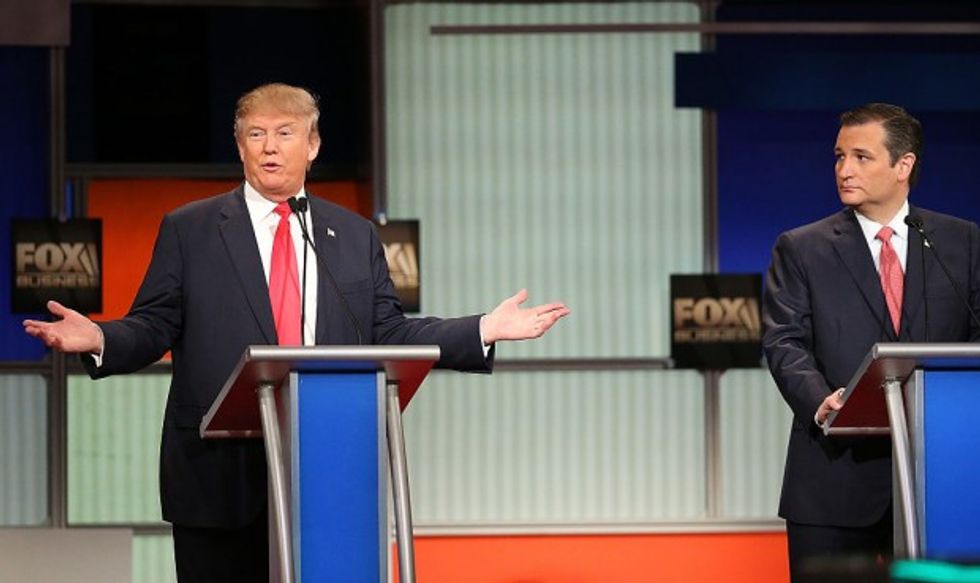 Donald Trump and Ted Cruz participate in the Fox Business Network Republican presidential debate at the North Charleston Coliseum and Performing Arts Center Jan. 14. (Getty Images/Scott Olson)
In Trump's 60-second ad, "pro-immigration" and "pro-amnesty" chyrons roll onto the screen, spliced among clips from an interview Cruz did with Fox News' Bret Baier in December and statements Cruz made during Senate Judiciary Committee hearings on immigration in 2013. The ad sought to create a sense of confusion on where Cruz stands on the issue.
"What is he talking about?" the ad asks.
The ad then shifts to an interview with Trump, where the billionaire businessman is explaining and defending his position on immigration.
In Cruz's 30-second ad, the senator eviscerates Trump for his use of eminent domain. A voice-over explains the purpose of eminent domain as "a fancy term for politicians seizing private property to enrich the fat cats who bankroll them — like Trump."
The ad then cuts to a clip from a Trump interview in which he declared that eminent domain is "wonderful." The ad then tells the story of a time Trump reportedly used eminent domain to seize a woman's property so that he could build a limousine parking lot.
"Trump won't change the system," the ad concludes. "He's what's wrong with it."
Trump and Cruz have been going back-and-forth over the last week. Trump has gone so far as to say that Cruz is "worse than Hillary," slamming the Texas senator for his Canadian birth and his Wall Street loans.
Cruz, on the other hand, blasted Trump earlier in the week for now being the GOP's establishment candidate — a statement with which Trump seemed to agree.
The first votes in the Republican nomination battle will happen in just over a week at the Feb. 1  Iowa caucuses.
—
Follow the author of this story on Twitter and Facebook:
[facebook //www.facebook.com/plugins/like.php?href=