Glenn Beck says many in the press have it wrong for reporting that, during his endorsement of Texas Sen. Ted Cruz, he suggested that he would vote for Democratic presidential hopeful Sen. Bernie Sanders over GOP front-runner Donald Trump.
The media report that he prefers Sanders over Trump was likely inspired by this quote from Beck's endorsement speech at a Cruz rally in Iowa over the weekend:
Honesty, faith and truth are basic requirements. And quite honestly, I have to tell you, this probably isn't going to go over very well, that's why I like Bernie Sanders.
Beck took to the airwaves Monday morning to set the record straight, making it clear that he doesn't support the self-avowed Democratic socialist.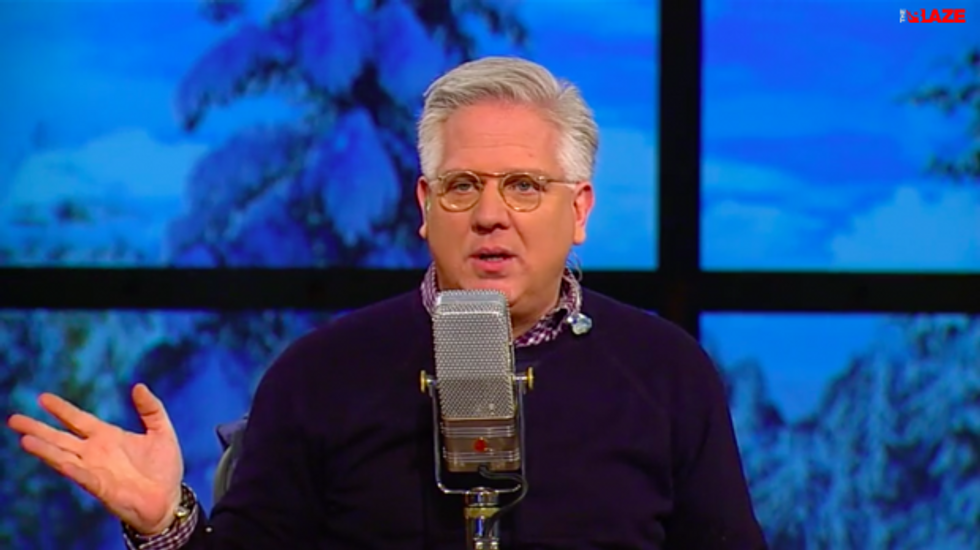 Glenn Beck discusses Vermont Sen. Bernie Sanders during his eponymous radio program Monday. (Image source: TheBlaze TV)
"The press is reporting that I like Bernie Sanders over Donald Trump. No. Would I vote for Bernie Sanders over Donald Trump? No, I wouldn't," Beck said on The Glenn Beck Radio Program. "[D]o I think Bernie Sanders will be better for the country than Donald Trump? No, I think they're both a disaster."
The radio show host said he would vote third party if the general election were between Sanders and Trump.
Beck did, however, say that he believes the election should be between Sanders and Cruz, because he says both senators are "honest men" — a case he made earlier Monday morning in an interview with CNN's Chris Cuomo.
"Bernie Sanders is at least honest about who he is — and I've said this for years. I actually have respect for Bernie Sanders because he's not afraid to say, 'I'm a socialist,'" Beck said on CNN, adding that he "vehemently" disagrees with the senator's worldview.
"[Cruz and Sanders] should be the two candidates in the United States of America, and let the people decide. Are we going socialist, or back to the Constitution — that is a fair and honest debate," he continued.
On his radio program, Beck said it should be Sanders over Democratic front-runner Hillary Clinton or Maryland Gov. Martin O'Malley who receives the Democratic nomination because both Clinton and O'Malley "will play around the corner and say, 'We're not socialists at all.'"
Beck said that, if Clinton denies being socialist, she's lying.
"She's lying to you, and let's be really, really clear, the truth matters," he said.
Complimentary Clip from TheBlaze TV The full episode of The Glenn Beck Program, along with many other live-streaming shows and thousands of hours of on-demand content, is available on just about any digital device. Click here to watch every Glenn Beck episode from the past 30 days for just $1!
—
Follow the author of this story on Twitter: