A pair of pro-Ted Cruz super PACs pledged Wednesday evening to donate $1.5 million to veterans charities if Republican frontrunner Donald Trump accepted Cruz's invitation to a one-on-one debate.
The principal donors of the Keep the Promise I and II super PACs said in a statement that they were offering Trump a "truly fantastic deal" if he agreed to a one hour, one-on-one Iowa debate with Cruz before Sunday.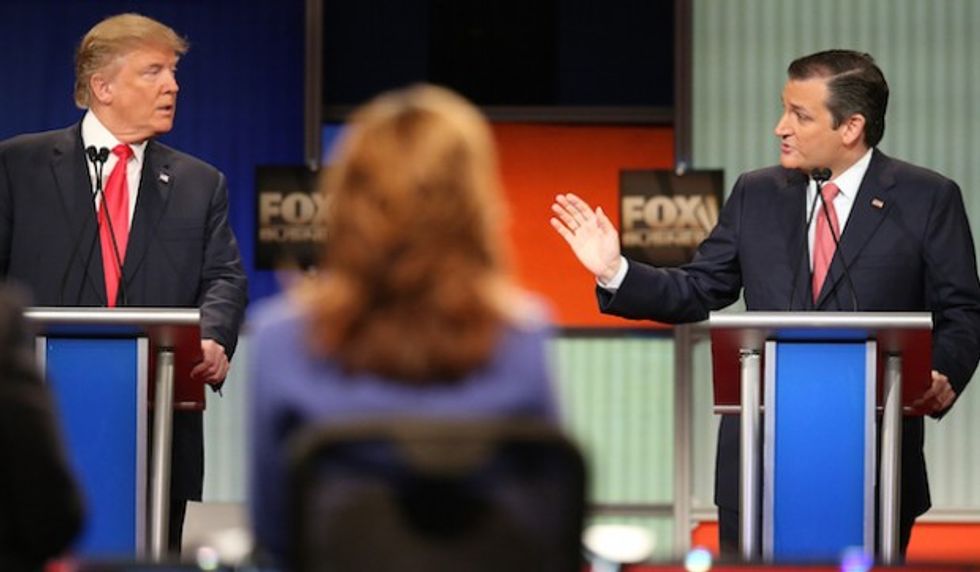 Photo by Scott Olson/Getty Images
"Senator Cruz and Mr. Trump both respect the veterans and hold them in the highest regard but Senator Cruz respects the process and we are calling on Mr. Trump to do the same and debates are the purest form of democracy," the donors said in a joint statement.
"Iowans - and Americans - deserve to hear from the frontrunners in this 'two-man race' one last time," the statement continued. "Not only would this be a heck of a debate, but it would also be a terrific opportunity to generate millions of dollars for the veterans."
Cruz wrote Trump a formal letter Wednesday challenging him to a "mano a mano" debate. The Texas senator said a time and location had already been reserved in Sioux City for Saturday at 8:00 p.m.
So far, Trump has not directly responded to the invite.
Trump sent shockwaves rippling through the political community when he announced Tuesday he would not participate in the Fox News debate — the final debate for Monday's Iowa caucus. The billionaire said he would instead host an event aimed at raising money for veterans.
—
Follow the author of this story on Twitter and Facebook: