Republican presidential candidate Donald Trump is viewed as the least religious presidential candidate, edging out Democratic contenders Hillary Clinton and Bernie Sanders as having the lowest perceived faith devotion, according to a new poll from the Pew Research Center.
Trump has certainly had some notable slip-ups while discussing and addressing religion on the campaign trail, but that hasn't stopped him from defying the odds by successfully courting many religious Americans; this research only adds to the intrigue surrounding that dynamic.
One of the conundrums that has astounded political observers is Trump's strong standing among evangelicals, as he has attracted support from people like Pastor Robert Jeffress of First Baptist Church in Dallas, Texas, and even received an endorsement this week from Liberty University President Jerry Falwell Jr., among others.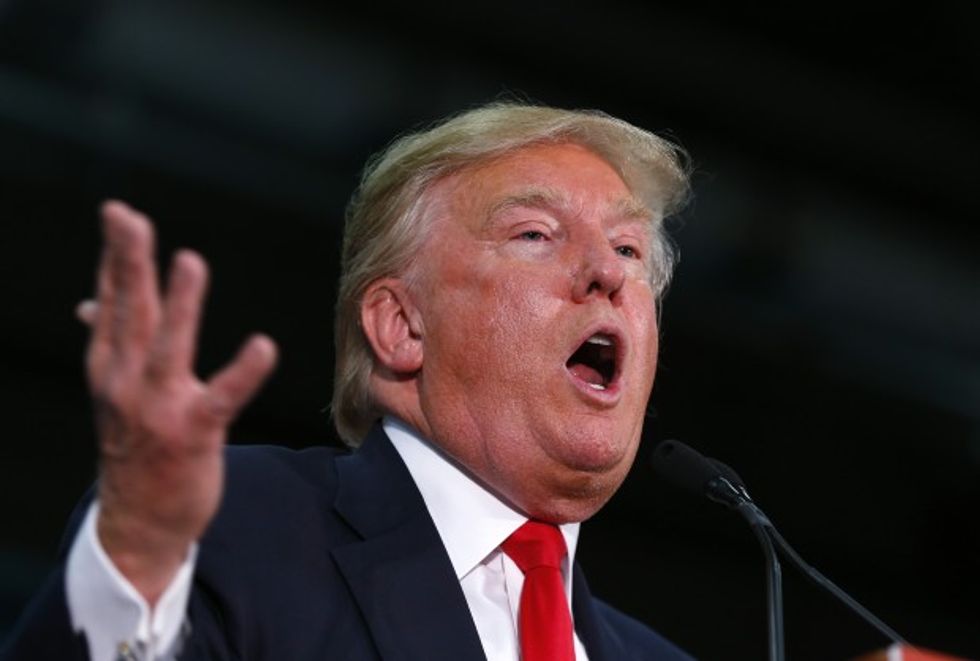 Republican presidential candidate Donald Trump speaks during a campaign event at the University of Iowa Field House, Tuesday, Jan. 26, 2016 in Iowa City, Iowa. (AP Photo/Paul Sancya)
Traditionally, many Americans have indicated that a candidate's religiosity is an important attribute in their voting decisions. But support for Trump is unusually high, even among those who would seemingly want to see a candidate overtly align with their faith view.
Despite routinely describing his Christian faith on the campaign trail and pledging that, if elected, he would be the "greatest representative of the Christians they've had in a long time," Americans actually view Trump as the least religious among both Republican and Democratic candidates, according to the Pew Research Center poll that was released on Wednesday.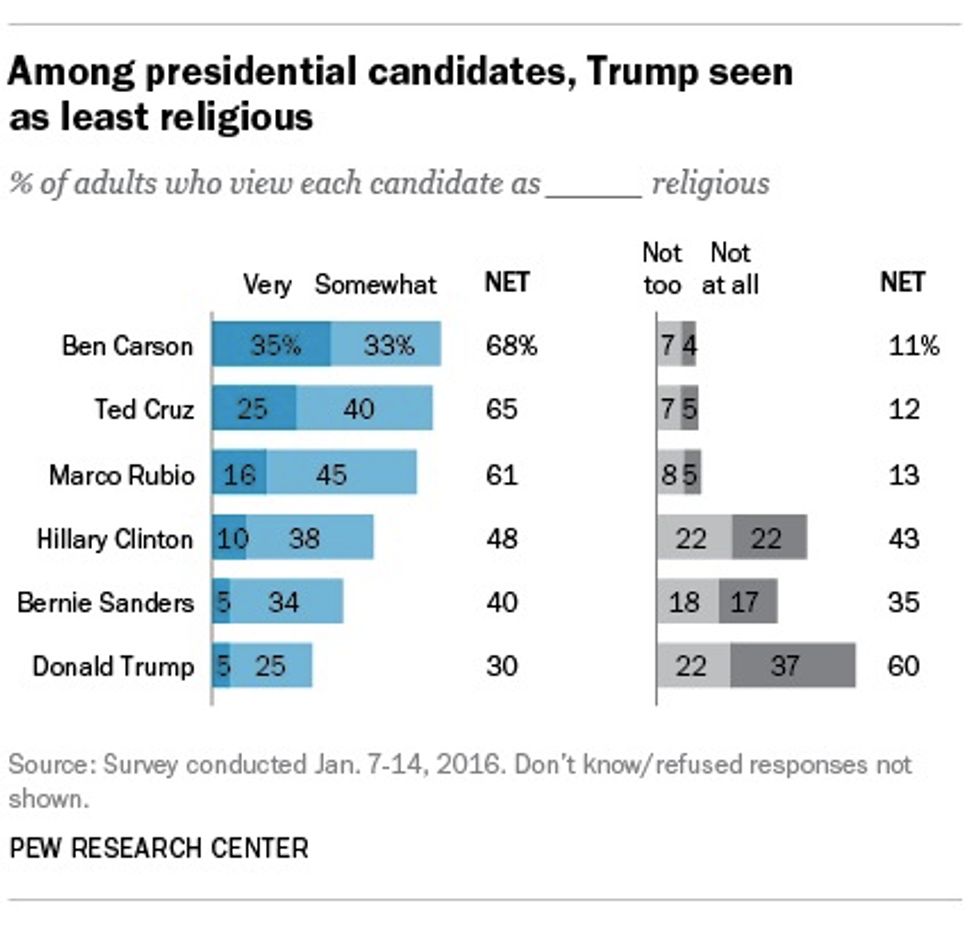 Pew Research Center
While 68 percent of Americans view Ben Carson as "very" or "somewhat" religious, with 65 percent saying the same of Ted Cruz, and 61 percent positing the same of Marco Rubio, just 30 percent of U.S. adults believe that Trump is a "religious person," with 60 percent saying that he is "not too" or "not at all" religious, according to Pew.
This is notable, especially considering that 48 percent of adults see Democratic candidate Hillary Clinton as a religious person, with 40 percent seeing Bernie Sanders, too, as "very" or "somewhat" religious. This comes after Sanders avoided answering Jimmy Kimmel when he directly asked the candidate last October if he believes in God.
So, while Trump — who recently spoke to scores of Christian students at Liberty University, a prominent evangelical college — has spoken quite a bit about faith, he still falls lowest among all candidates when it comes to the public perception that he is a religious individual.
"While the conventional wisdom in American politics has long been that someone who is not religious cannot be elected president of the United States, a new Pew Research Center survey finds that one of the candidates who is widely viewed by Republicans as a potentially 'good' or 'great' president, Donald Trump, is not widely seen as a religious person, even by those in his own party," reads a statement from Pew.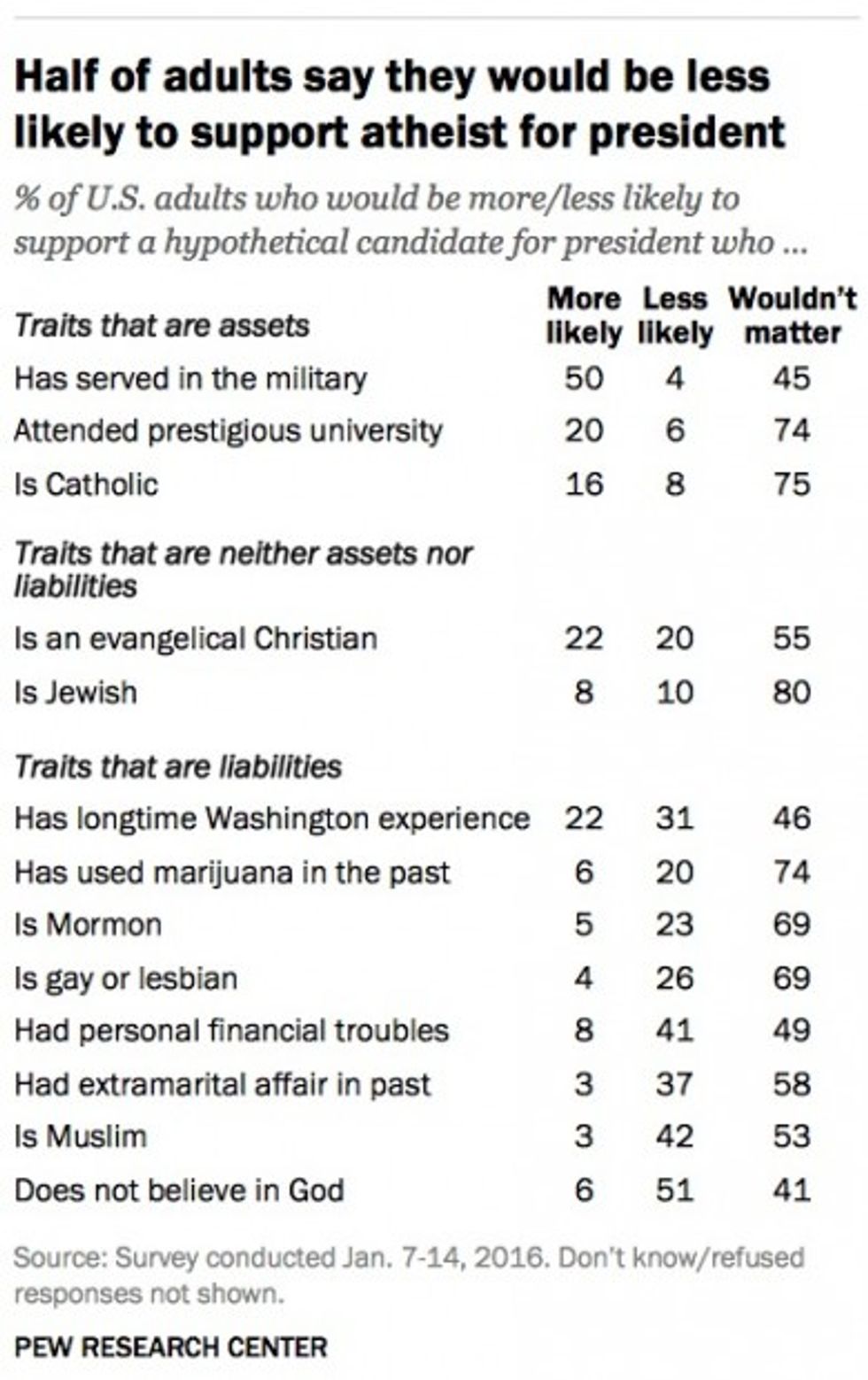 Pew Research Center
Atheism is still the most unpalatable attribute among general voters, with 51 percent of U.S. adults saying that they are less likely to vote for a candidate who does not believe in God; this is by no means to imply that Trump is an atheist, with the statistic being shared to show just how prevalent religious sensibilities remain in the American political sphere.
Likewise, 51 percent said that it is "very" or "somewhat" important to elect a president who agrees with their religious perspective; more specifically, 64 percent of Republicans or Republican-leaning Americans said the same.
Trump is tied with Carson as being either a "great" or "good" presidential option among white evangelical Protestants, with Cruz coming in third at 49 percent.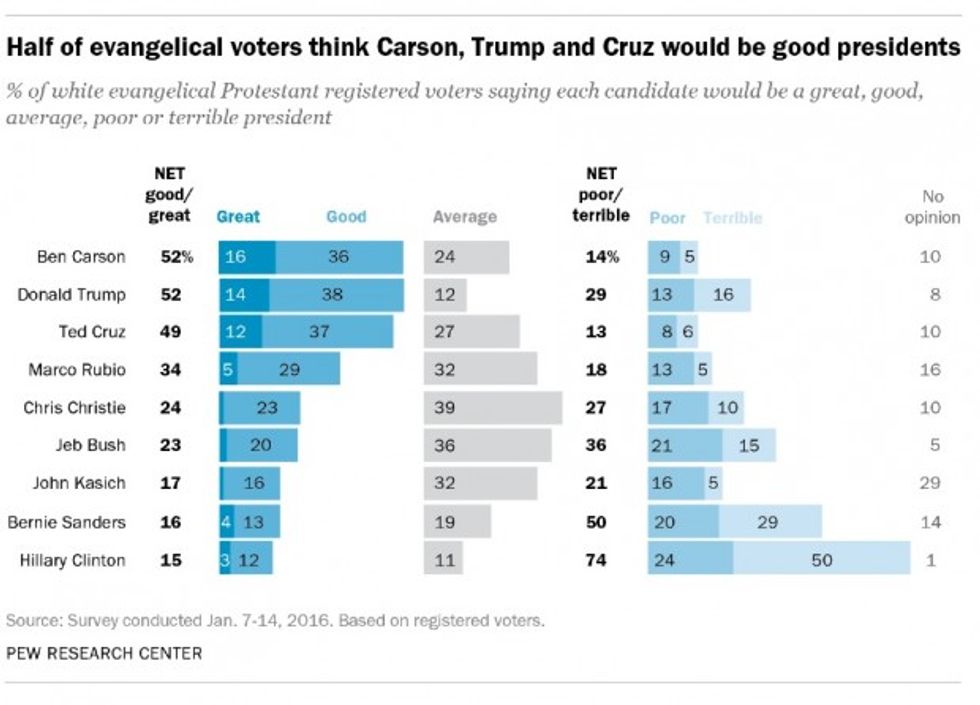 Pew Research Center
This comes after a recent New York Times/CBS News poll found that Trump by far has the largest share of evangelical supporters — 42 percent — out of any other candidate, with Ted Cruz coming in second with 25 percent.
The Pew Research Center study was conducted from Jan. 7-15, 2016, among 2,009 U.S. adults. Read the entire report here.