Republican presidential candidate Ted Cruz said late Tuesday that Donald Trump's fear of defending his positions and actions is the reason behind the billionaire's boycott of Thursday's Fox News debate, not Megyn Kelly's presence.
Speaking to Fox News host Sean Hannity, the Texas senator said that he doesn't think the boycott has anything to do with Kelly — one of the debate's three moderators — at all.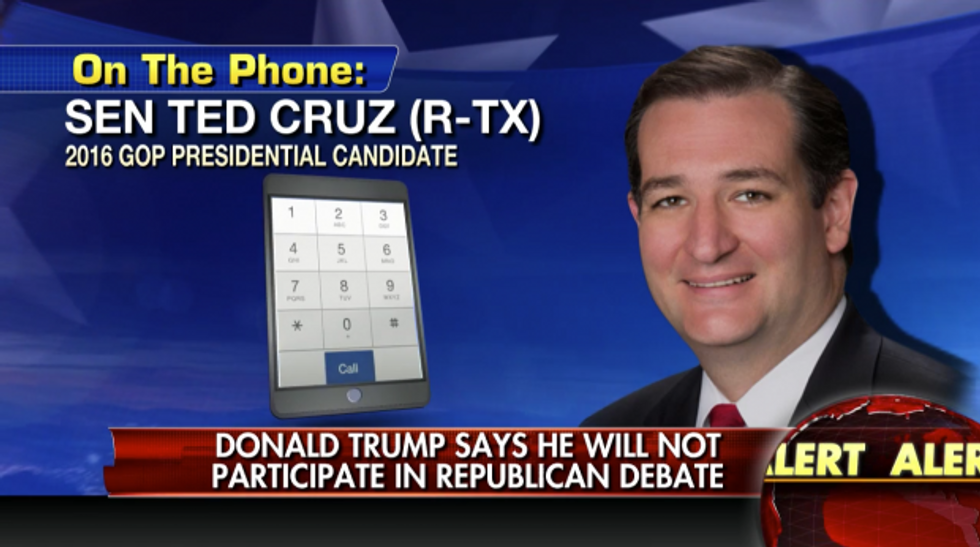 Image source: YouTube
"I think it's because he's afraid to defend his record, that he knows he can't defend his record, and he's trying to hide from the voters of Iowa," Cruz said. "He's not willing to stand up and explain why he supports Bernie Sanders-style, full-on socialized medicine, expanding ObamaCare so the federal government is in charge of our healthcare."
"He can't explain why today he supports taxpayer funding for Planned Parenthood," he continued. "He can't explain why he supported Obama's stimulus plan and supported Obama's TARP bail-out of the big banks."
Cruz added that Trump doesn't "want to answer those questions," which is why he's "refusing" to show up. He went on to tell Hannity that Trump's running away from Kelly proves that he would likely do the same when face-to-face with other powerful world leaders.
"If you're afraid of Megyn Kelly, then you're going to be afraid of Hillary Clinton and you're going to be afraid of Vladimir Putin," Cruz said. "If you're afraid to have anyone ask a question, that does not bode well for what kind of commander in chief you'd make."
Trump announced Tuesday afternoon that he would be boycotting Thursday's debate, citing Kelly's alleged bias. In reaction, Cruz quickly issued a challenge to Trump that he would debate him any time, any place and with the moderator of Trump's choice.
Trump has yet to respond to Cruz's challenge.
Listen to Cruz's comments below:
—
Follow the author of this story on Twitter and Facebook:
[facebook //www.facebook.com/plugins/like.php?href=