When the white president of an Arizona chapter of the NAACP entered a school district meeting Tuesday, it was to discuss a controversial, viral photo of six Phoenix high school girls whose shirts spelled out the N-word.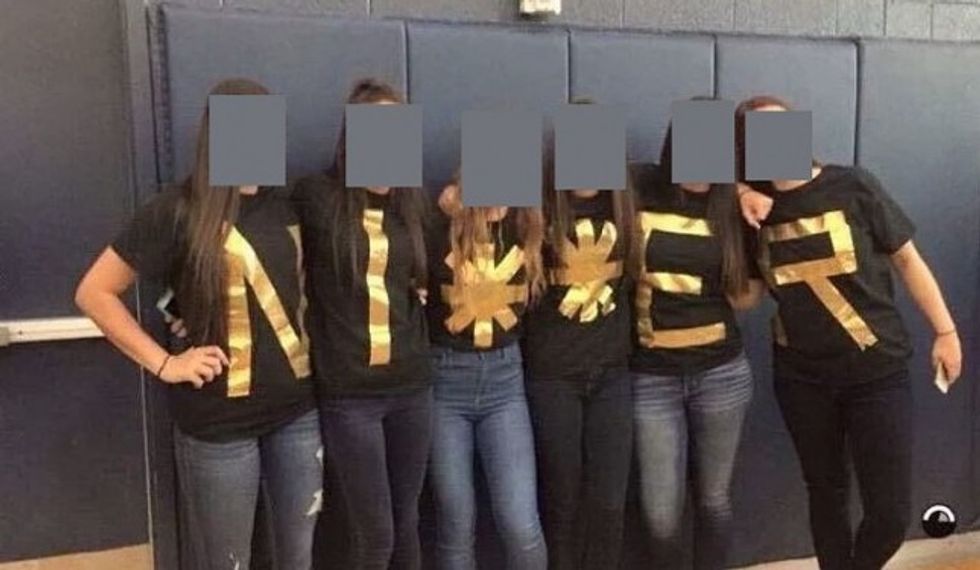 Image source: Phoenix New Times
But after Don Harris exited the meeting, the longtime civil rights activist was caught on tape making a lewd remark about a TV news reporter — and now he's in hot water.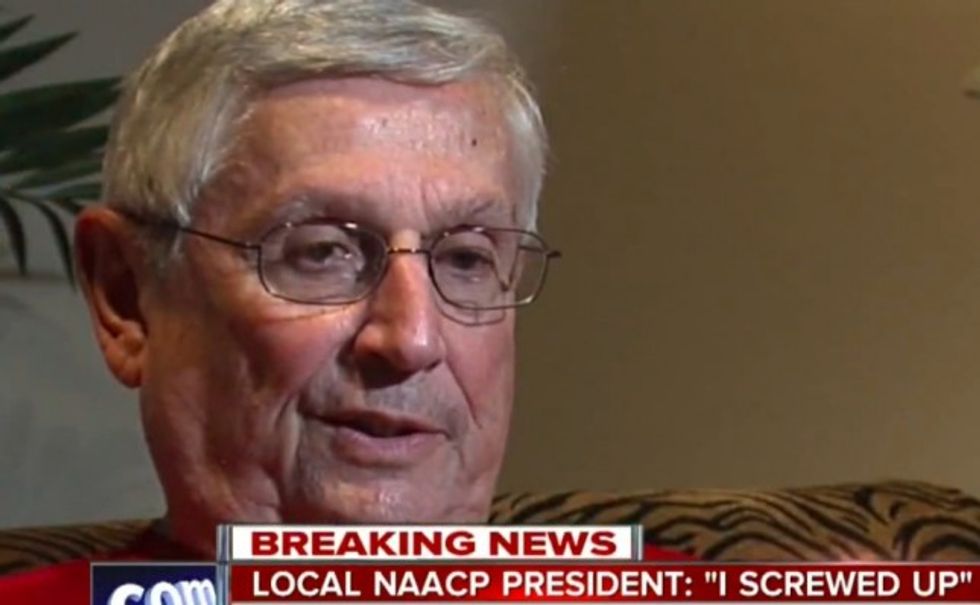 Don Harris (Image source: KNXV-TV)
Harris, 77, told reporters after the meeting he'd donated $5,000 toward stamping out the N-word, the Phoenix New Times said. Regarding the students in the photo depicting the slur, Harris told KPNX-TV the situation has "not been blown out of proportion because it was an ugly, ugly incident."
But after speaking to Monique Griego of KPNX, Harris turned to a New Times reporter and commented, "Nice tits," in reference to Griego, the paper said.
The New Times said Harris repeated the phrase before answering more questions about the meeting. When the paper contacted Harris about what he said, he wasn't happy about his words becoming a story.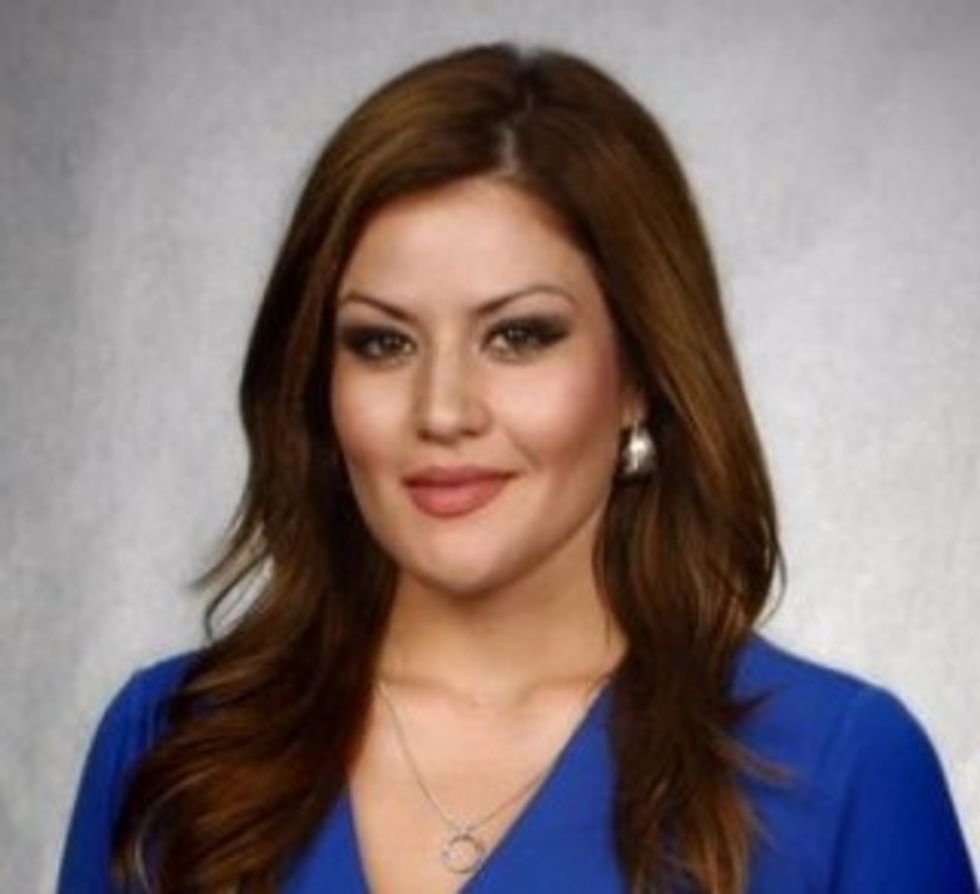 Monique Griego (Image source: KPNX-TV)
"The meeting was over," he told the New Times. "I apologize if anyone was offended. I could have said nothing. ... I'm really f***ing sorry."
Later he commented, "I'm going to slash my wrists. Better yet, I'm going to throw myself out of a f***ing window, except I'm on the first floor ... I'm one of the best goddamned people in the state."
Harris added to the New Times that he took flack for taking on the Maricopa County chapter presidency 13 months ago because "I was the wrong flavor."
"They've seen me now, they've seen what I've done. I've given up my law practice. I'm down here six, seven days a week. That's what my commitment is," Harris told the paper. "I support NOW, the women's organization — goddamn! — are you s**tting me? Are you going to write this up?"
After the paper published its story on Harris' utterance, calls for his resignation came in.
"I am a life member of the NAACP. The local president has embarrassed and disgraced the organization," Phoenix civil rights activist Jarrett Maupin said in a statement. "I don't know if it was stupidity or white privilege that caused this white man to say such a sexist and misogynistic thing to or about any woman, particularly a woman of color."
Chapter board member Benjamin Taylor told the Arizona Republic that he spoke to Harris and that he's sorry.
"Don has been a member of the NAACP since the '80s," Taylor told the Republic. "This is an unfortunate incident that happened and Don feels terrible. I have spoken to him personally and he regrets what happened and he apologizes tremendously."
Ann Hart, first vice president of the NAACP chapter, told the New Times she recommended that Harris stay on as president because "the good things [he's done] outweigh the bad in something like this."
[sharequote align="center"]"Am I sorry? You bet I'm sorry."[/sharequote]
Harris told KNXV-TV he's sorry for his "inexcusable" comment, calling it a "stupid thing to say" and adding that he "screwed up."
"Am I sorry? You bet I'm sorry," he told the station over the phone, adding that it "was a guy talking to another guy. That still doesn't make it acceptable." Griego, the reporter Harris referred to, had no comment on what the NAACP president said.
There were reports that Harris resigned his post, but he told the Republic that he will resign if the local chapter asks him to do so.
"I said if they want me gone, I'm gone," Harris told the paper. "I'm not ducking from anything. I did something stupid and wrong and I'm sorry for it. I can't beat myself forever about it. I said it. And I can't be any more sincere."
Here's a report from KNXV on the incident.
(Content warning: Clip contains audio of Harris' "tits" remark)
As for the Desert Vista High School girls whose shirts spelled out the N-word in the photo, a Tempe Unified High School District official told KPNX-TV that the six students have been suspended for 10 days — five days for use of a racial slur and five more days for endangering the school community.
The station said additional discipline could come next week when the school board meets and the superintendent makes a recommendation.
This story has been updated.
(H/T: New York Daily News)