Veterans organizations are accusing Republican presidential candidate Donald Trump of using veterans as pawns in his current fight with Fox News.
Trump recently announced that he will not attend Thursday's Fox News debate and will instead host a "special event" for veterans in Iowa, a choice his spokeswoman hailed as "a business decision."
Trump said that he will not attend the debate because he believes that Megyn Kelly, host of Fox News' "The Kelly File" and one of the debate moderators, is "biased" against him.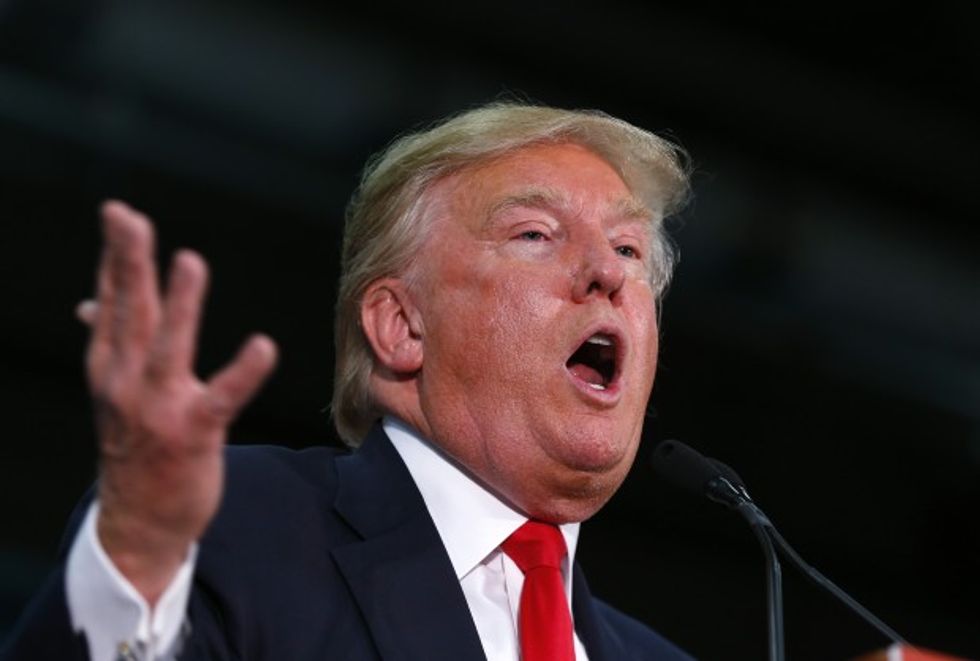 Republican presidential candidate Donald Trump speaks during a campaign event at the University of Iowa Field House in Iowa City Tuesday. (AP Photo/Paul Sancya)
Trump criticized Kelly's questions for him as unfair after the network's August debate and made personal attacks on the popular Fox host, telling CNN that "blood [was] coming out of her — wherever."
Kelly has denied bias, telling Extra Tuesday evening, "I neither like nor dislike him, I don't have any feelings about them. I study these guys as subjects — they are subjects for me to study and to help the audience get to know."
Trump said that the event will be a fundraiser for veterans, but his campaign has not made clear which organizations will receive the funds from the event.
Some groups have made clear that they don't want the funds.
Paul Rieckhoff, the founder of Iraq and Afghanistan Veterans of America, tweeted that if Trump offers his organization funds from the event, they will not accept.
Since we've gotten many questions: no, @IAVA has not heard from the Trump campaign and we have no idea what groups he's involving tomorrow.

— Paul Rieckhoff (@Paul Rieckhoff) 1453911389.0
If offered, @IAVA will decline donations from Trump's event. We need strong policies from candidates, not to be used for political stunts.

— Paul Rieckhoff (@Paul Rieckhoff) 1453911445.0
Disagree. And you (& everyone) are welcome to donate directly to @IAVA anytime at https://t.co/UZM2Syxm7e. Thanks! https://t.co/9x2EfYIpuW

— Paul Rieckhoff (@Paul Rieckhoff) 1453911974.0
Rieckhoff also criticized Sen. Ted Cruz (R-Texas) for challenging Trump to a one-on-one debate. Pro-Cruz super PACs have pledged $1.5 million to veterans charities if Trump participates.
Now it's Cruz yanking vets into the nastiness of the presidential fights before Iowa. This is not what vets need. https://t.co/xY9zwQX11n

— Paul Rieckhoff (@Paul Rieckhoff) 1453989309.0
Vets don't need political stunts. We need candidates to present smart, specific plans on VA reform, suicide: https://t.co/oDE9v5GXRq #IAVA

— Paul Rieckhoff (@Paul Rieckhoff) 1453989684.0
According to CNN, the Wounded Warrior Project said it was unaware of Trump "conducting any fundraising efforts on its behalf."
One veterans group accused Trump of "using veterans as a prop to hide behind."
"Let me put this in language Donald Trump understands," Jon Soltz, a veteran of the Iraq War and the chairman of VoteVets.org, which describes itself as the largest progressive organization of veterans in America, said in a statement. "You're a loser."
"You're a third-rate politician, who clearly doesn't understand issues, and is so scared of Megyn Kelly exposing it, that you're looking to use veterans to protect you from facing her questions," Soltz continued.
Soltz added that Trump's "so-called veterans' plan" is a "joke," and his website "refers to the agency as the 'Veterans Administration,' even though it has been called the 'Department of Veterans Affairs' for almost 30 years."
"It's pathetic," Soltz said.