Naghmeh Abedini, wife of Saeed Abedini, the Christian pastor and American citizen who was detained for more than three years in Iran, has filed for a legal separation, penning an open letter on Facebook apologizing to supporters and alleging abuse at the hands of her husband.
The letter opened by noting that her two young children — Rebekka, 9 and Jacob, 7 — had a "wonderful reunion" with their father this week, and that they will be spending more time with him in the coming days.
"I am so happy for this long waited reunion and for the joy that I see in my children and in Saeed," Abedini wrote. "Nothing can make me happier than seeing those whom I love be happy and free from the pain that they had been under for the last 3.5 years."
But she also expressed regret for concealing purported details about her marriage and apologized to her supporters.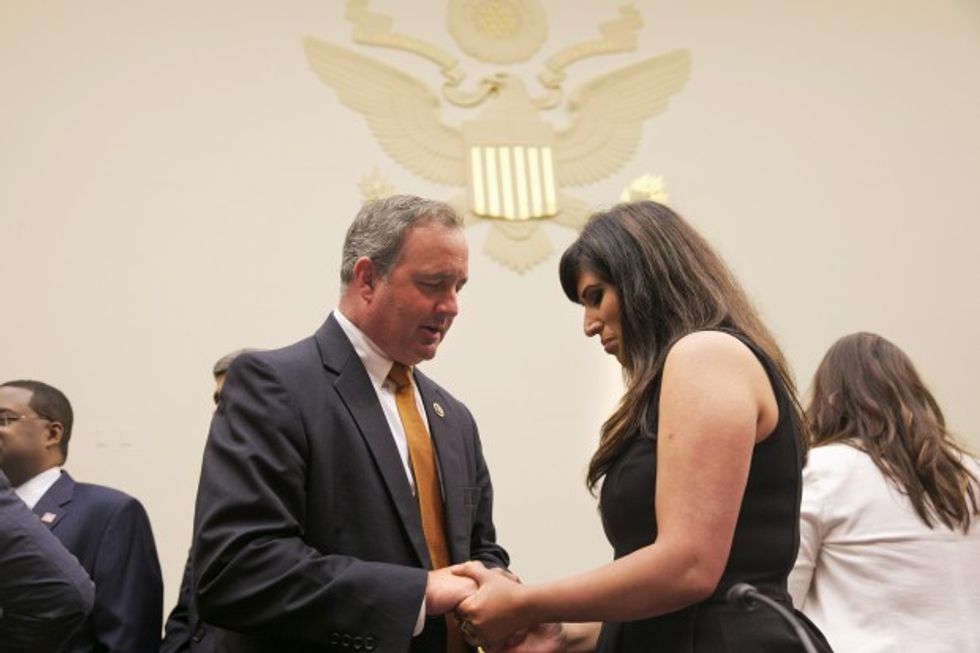 Naghmeh Abedini, wife of U.S. citizen Saeed Abedini, right, who is being held in Iran, prays with Rep. Jeff Duncan, R-S.C., on Capitol Hill in Washington, Tuesday, June 2, 2015 (AP Photo/Jacquelyn Martin)
"I do deeply regret that I hid from the public the abuse that I have lived with for most of our marriage and I ask your forgiveness," she wrote. "I sincerely had hoped that this horrible situation Saeed has had to go through would bring about the spiritual change needed in both of us to bring healing to our marriage."
In the end, though, she said that the opposite unfolded, claiming that her husband made demands that she could no longer conceal.
"Three months ago, Saeed told me things he demanded I must do to promote him in the eyes of the public that I simply could not do any longer," she wrote. "He threatened that if I did not the results would be the end of our marriage and the resulting pain this would bring to our children."
Abedini went on to say that she hopes for reconciliation that is "based on God's word" — a reunion that is achieved through counseling to "deal with the abuse."
She also said that she has taken "temporary legal action" to ensure that her kids remain in Idaho until a resolution is reached.
"I love my husband, but as some might understand, there are times when love must stop enabling something that has become a growing cancer. We cannot go on the way it has been," she said. "I hope and pray our marriage can be healed. I believe in a God who freed Saeed from the worst prisons can hear our plea and bring spiritual freedom."
Abedini, who has been a public advocate for her husband since 2012, had emailed supporters late last year, telling them that she had suffered abuse at the hands of her husband and that he has a purported porn addiction; she later said that she regretted making that information public, as she was "under great psychological and emotional distress" at the time, according to Religion News Service.
As TheBlaze has reported, Saeed Abedini was first arrested in Iran back in 2012 on charges stemming from meetings he had with other Christians inside private homes — an act that is not illegal in Iran. Abedini was among five Americans who were released earlier this month from Iranian prison, with the U.S. agreeing to pardon or drop charges against seven Iranians in exchange.
Prior to the prison exchange, Naghmeh Abedini had been very critical of the U.S. government for starting negotiations for the Iran deal while her husband, among others, remained imprisoned in the Middle Eastern country.
"From day one, we had said that even before we started negotiating with Iran on the deal, we should have — as the United States of America — have said, 'Release the American hostages, and then we can talk about the nuclear deal,'" she told The Church Boys podcast last summer, months before her husband's release. "I've never wanted Saeed part of the deal … having to think that we ever gave up anything for my husband in terms of such a big issue."
Listen to that interview from last summer below:
(H/T: Reuters)
--
Follow the author of this story on Twitter and Facebook: