At the "Consent Carnival" on the campus of the University of Southern California, students were instructed how to navigate sexual encounters without breaking the state's "yes means yes" law, which mandates involved parties' "affirmative, conscious and voluntary agreement."
And amid the games, food and prizes happening Thursday — even some brushing up on the meanings behind "transgender," "autonomy" and "pansexual" — there was a kissing booth.
But not the kind you're probably imagining.
This one offered only familiar foil-wrapped chocolates — glued to small sheets of paper containing text that tried to get to the heart of "yes means yes" for readers.
The front of the handout asked "what exactly does it mean to … 'consent' to a kiss?" the College Fix reported, setting up "yes means yes" instruction as if were happening between readers and the carnival organizers.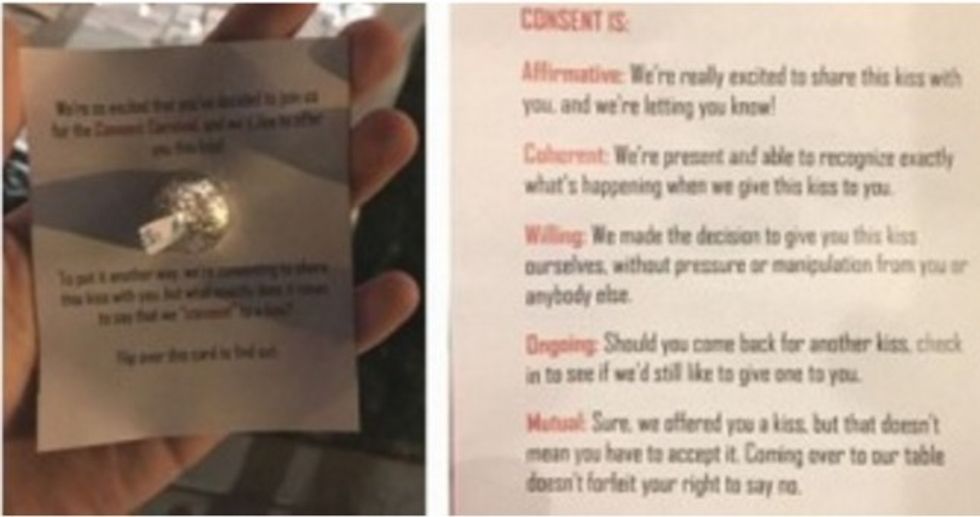 Image source: The College Fix
The back side spelled it out:
Affirmative: We're really excited to share this kiss with you, and we're letting you know!

Coherent: We're present and able to recognize exactly what's happening when we give this kiss to you.

Willing: We made the decision to give you this kiss ourselves, without pressure or manipulation from you or anybody else.

Ongoing: Should you come back for another kiss, check in to see if we'd still like to give one to you.

Mutual: Sure, we offered you a kiss, but that doesn't mean you have to accept it. Coming over to our table doesn't forfeit your right to say no.
The event was hosted by the school's Queer and Ally Student Assembly with the Women's Student Assembly, the College Fix reported.
Carnival volunteer Denise Ross, a USC student, told the outlet she hopes that through the event "folks will have a basic knowledge of different identities and that they will have ownership of their own bodies, and others will have respect for that."
The legislation says silence or lack of resistance does not constitute consent. Under the bill, someone who is drunk, drugged, unconscious or asleep cannot grant consent, the Associated Press noted
Lawmakers said consent can be nonverbal, the AP added, and universities with similar policies have outlined examples as a nod of the head or moving in closer to the person.
(H/T: The College Fix)