AMES, Iowa — Hillary Clinton on Saturday promised voters that "common-sense" restrictions on gun purchases won't violate anyone's Constitutional rights.
"The actions we can and should take can certainly be done consistent with the Constitution and the rights of gun owners," the Democratic presidential frontrunner said at a rally at Iowa State University. "That has never been in doubt, unless you're a paid lobbyist for the gun lobby. There is no doubt about that."
Clinton took aim at the Iowa legislature, which has been mulling lowering the age that children in the state can use handguns with parental supervision.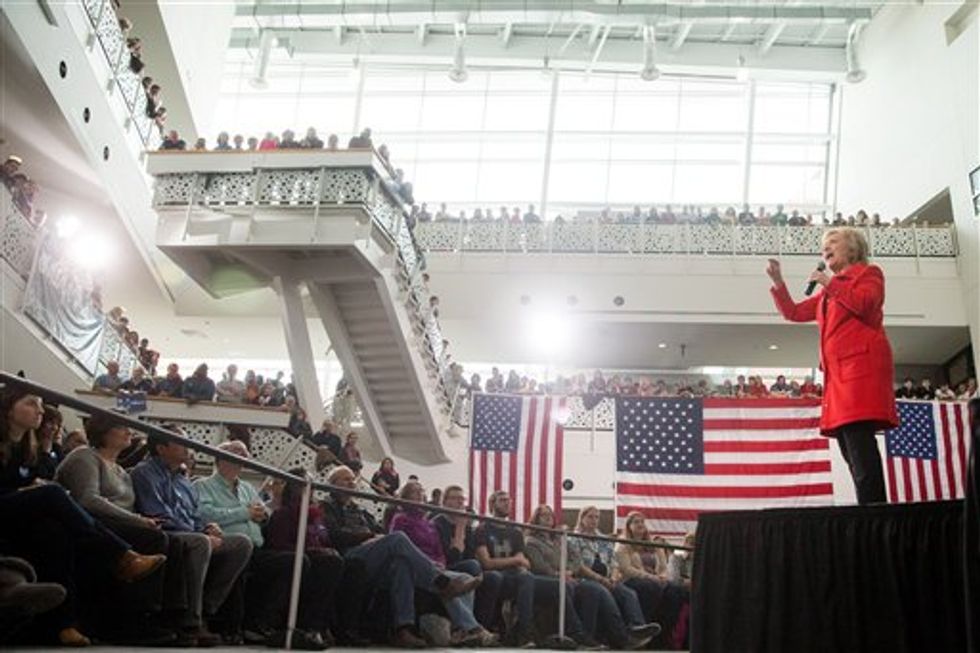 Hillary Clinton speaks at a rally at Iowa State University in Ames, Iowa Saturday. (AP/Andrew Harnik)
"What is one of their highest priorities? Lowering the age from 14 to let more children be able legally to have guns," said Clinton, prompting boos from the crowd at Howe Hall. "Now what kind of debate is that?"
Children having access to guns too often leads to fatal accidents, Clinton added.
"I have heard about and read about what happens when children — young children, toddlers, kids in elementary school — find that loaded gun in the closet or under the bed," she said. "I've heard the stories, I've seen the news reports, about the ones who are killed or injure themselves or injure others. What is wrong with us? How can we continue to ignore the toll that this is taking on our children and our country?"
Clinton was joined at the rally by former Arizona Rep. Gabby Giffords, who suffered a traumatic brain injury after being shot at a constituent event in January 2011. Her husband, astronaut Mark Kelly, made an impassioned appeal to Iowa voters to choose Clinton because of her commitment to passing common-sense gun measures.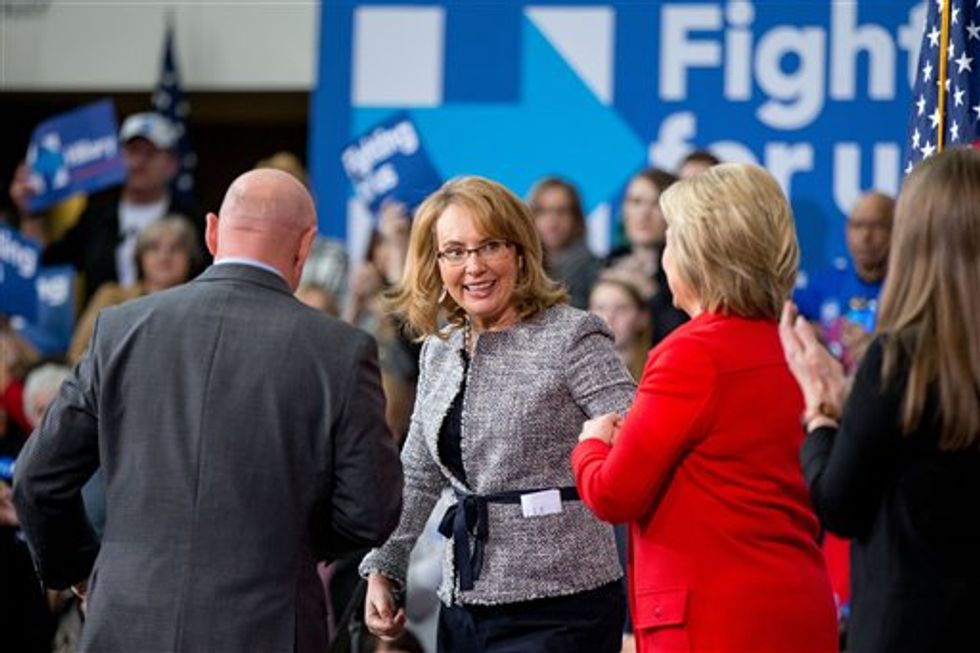 Former Arizona Rep. Gabby Giffords and her husband Mark Kelly take the stage. (AP/Andrew Harnik)
"For too long the gun lobby has had a stranglehold on Washington, D.C.," Kelly said. "We have been fighting to try and get a Congress and try and continue to have a White House that will stand up to the gun lobby. It is a really important thing."
Republican candidates have "stoked fear" about gun control and "used misinformation to support a very powerful corporate lobby," Kelly added.
Giffords, who still speaks haltingly as a result of her injury, read her statement from a piece of paper, urging Iowans to vote for Clinton because of her stance on guns.
"Speaking is hard for me," she said, "but come January I want to say these two words: 'Madam President.'"
—
Follow the author of this story on Twitter and Facebook:
[facebook //www.facebook.com/plugins/like.php?href=