Ted Hinkeldey is quick to admit that he has been a little detached from the presidential campaigns that have descended on his home state of Iowa.
However, despite his lack of active engagement in the election, he did not expect to receive a mailer marked with "voting violation" from Texas Sen. Ted Cruz's campaign.
"You are receiving this election notice because of low expected voter turnout in your area," the mailer said. "Your individual voting history as well as your neighbors' are public record. Their scores are published below, and many of them will see your score as well. Caucus on Monday to improve your score and please encourage your neighbors to caucus as well."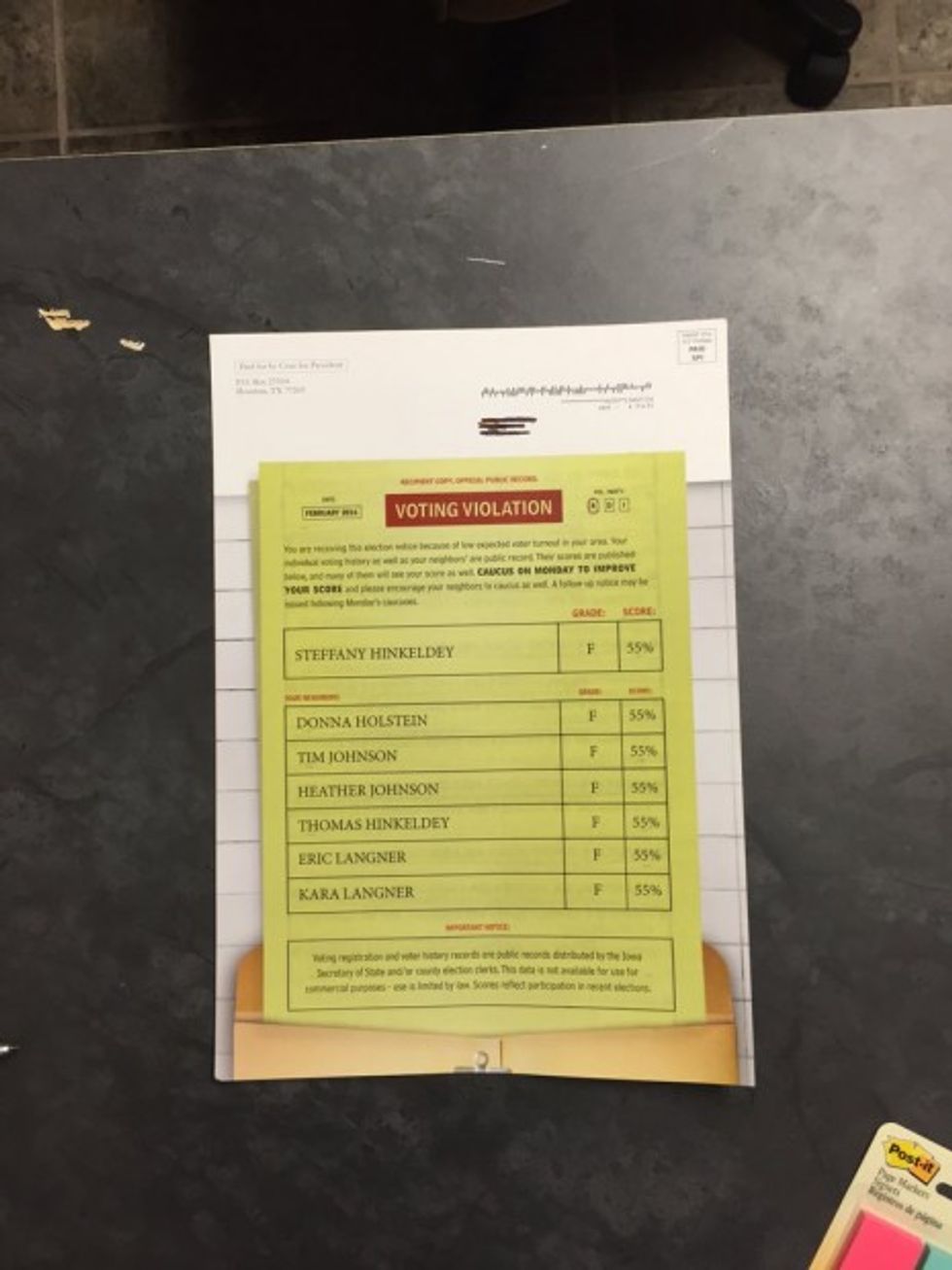 Tom Hinkeldey said he was "irked" to get this mailer from the Cruz campaign. Hinkeldey now plans to caucus in Iowa for Florida Sen. Marco Rubio. (Image provided to TheBlaze.)
In an interview with TheBlaze Saturday, Hinkeldey, 29, said the mailer worked — but not in Cruz's favor.
"I probably was not going to go caucus. I never was going to be a Ted Cruz supporter," Hinkeldey said, adding that he's followed Marco Rubio "a little bit here and there" and will caucus for the Florida senator on Monday.
On the report card-style mailer, Hinkeldey and all of his neighbors received a "F" grade. He added that his neighbors in the small town in northwest Iowa are "good people," despite the low voter score.
"I get that we're in a critical time for politicians' time in Iowa. I just felt like it's such a weird way to get voters to caucus for them," he said. "I haven't donated [money to campaigns]; I haven't done much. I do plan to caucus for Marco because Ted encouraged me to."
Rick Tyler, a spokesperson for Cruz's campaign, confirmed to TheBlaze that the mailers were indeed sent out by the campaign — despite what people on social media have claimed.
Hinkeldey said ever since he first tweeted a photo of the mailer — which he has since deleted — and accused Cruz's campaign of "public shaming," hoards of people on social media have asserted that he doctored the image or he isn't a real person. Hinkeldey denies all of those accusations.
According to Real Clear Politics' aggregated polling data, business mogul Donald Trump has a slim lead over Cruz in Iowa. Trump is polling at 31.4 percent, and Cruz is polling at 24.8 percent.
UPDATE 6:16 p.m. ET: Paul D. Pate, Iowa's secretary of state, issued a statement Saturday saying that Ted Cruz's campaign mailer "misrepresents Iowa election law."
"Today I was shown a piece of literature from the Cruz for President campaign that misrepresents the role of my office, and worse, misrepresents Iowa election law," the statement read. "Accusing citizens of Iowa of a 'voting violation' based on Iowa Caucus participation, or lack thereof, is false representation of an official act. There is no such thing as an election violation related to frequency of voting. Any insinuation or statement to the contrary is wrong and I believe it is not in keeping in the spirit of the Iowa Caucuses."
The statement continued: "Additionally, the Iowa Secretary of State's Office never 'grades' voters. Nor does the Secretary of State maintain records related to Iowa Caucus participation. Caucuses are organized and directed by the state political parties, not the Secretary of State, nor local elections officials. Also, the Iowa Secretary of State does not 'distribute' voter records. They are available for purchase for political purposes only, under Iowa Code."
Front image: Joshua Lott for The Washington Post via Getty Images