"Duck Dynasty" patriarch Phil Robertson spoke at a campaign event for Ted Cruz on Sunday, where he told Iowans that the Texas senator and 2016 presidential hopeful would help bring Christian values back to the Oval Office, specifically taking aim at gay marriage.
"When a fellow like me looks at the landscape and sees the depravity, the perversion — redefining marriage and telling us that marriage is not between a man and a woman? Come on Iowa!" Robertson said at an event in Iowa City. "It is nonsense. It is evil. It's wicked. It's sinful."
Robertson, 69, who received applause for his remarks, told the crowd that "we have to run this bunch out of Washington, D.C." and that "we have to rid the Earth of them," proclaiming that it's time to elect "Godly" people to office, CNN reported.
See some of those remarks below:
The "Duck Dynasty" star, who officially endorsed Cruz earlier this month, went on to tout the senator's credentials when it comes to the Constitution and the Christian faith, saying that Cruz loves both God and James Madison and is a "strict constitutionalist."
"You know what Ted Cruz understands. God raises these empires up. It is God who brings them down," Robertson said. "Cruz trusts God. Cruz trusts James Madison. That's why I trust Cruz. You know what Iowa, that trumps Trump."
His latter comments are notable considering that his son, Willie Robertson, parted ways to endorse businessman Donald Trump.
These comments are consistent with Robertson's past views on social and political issues. As TheBlaze extensively reported, the reality TV star found himself at the center of controversy in December 2013 after an interview with GQ during which he said that homosexuality is "not logical" and is immoral from a Biblical point of view.
He also questioned why a man would choose another man's "anus" over a woman's "vagina."
See Robertson's latest comments about gay marriage below:
Critics were once again raging in April 2014 when video of an Easter sermon at Whites Ferry Road Church in West Monroe, Louisiana, featuring the patriarch's comments about homosexuality went viral.
In video of the sermon, Robertson could be seen speaking to parishioners for more than 40 minutes about the Christian faith, while also poking fun at the media and specifically addressing the controversy that broke out in December following his controversial interview with GQ. Rather than backing away from his past comments about homosexuality and sin, Robertson doubled down.
"They were mad at me. … because instead of acknowledging their sin like you had better do, they railed against me for giving them the truth about their sin," he said of those angry about his past comments. "'Don't deceive yourself' — you want the verse? The news media didn't even know it was a verse. They thought I was just mouthing off."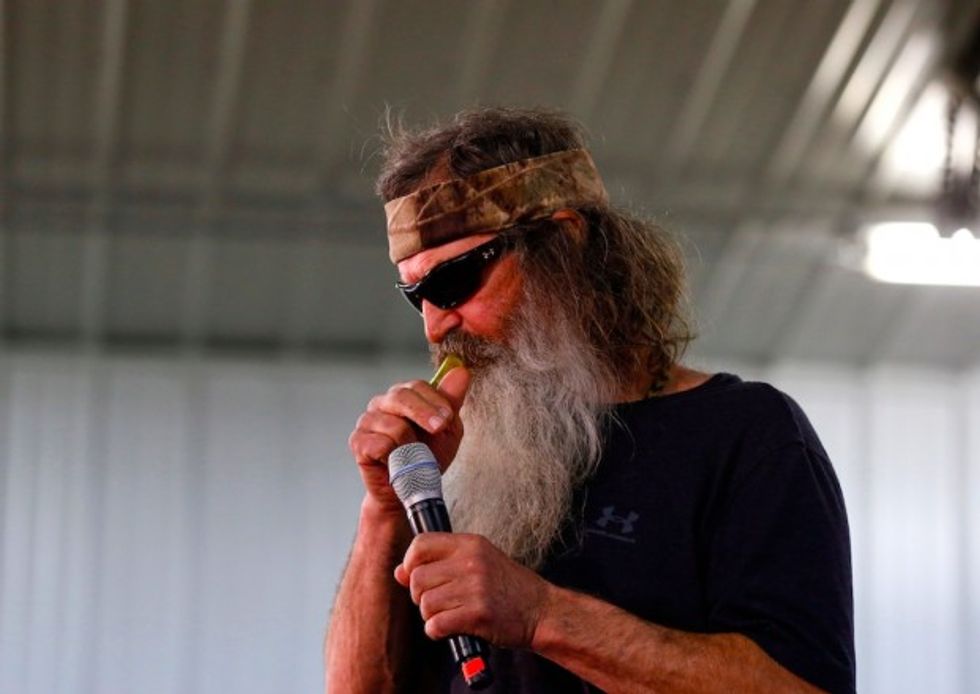 Phil Robertson, of the Duck Dynasty reality television program, uses a duck call at a Republican presidential candidate, Sen. Ted Cruz, R-Texas, campaign event at the Johnson County Fairgrounds, Sunday, Jan. 31, 2016 in Iowa City, Iowa. (AP Photo/Paul Sancya)
Robertson went on to further explain his interview with the GQ reporter, paraphrasing the Bible verse that first landed him in hot water. He said that the reporter asked him if he believes homosexual behavior is a sin.
Then, he told the congregation how he responded.
"I said, 'Do you not know that the wicked will not inherit the kingdom of God? Don't be deceived. Neither the sexual immoral, nor the idolaters, nor adulterers, nor male prostitutes, nor homosexual offenders, nor thieves, nor greedy, nor druggards, nor slanderers, nor swindlers will inherent the kingdom of God,'" Robertson recounted, reciting Paul's remarks in 1 Corinthians 6:9.
(H/T: CNN)