The Swedish minister who oversees his country's migration program has made comments suggesting some asylum seekers claiming to be unaccompanied minors may have lied about their age to gain asylum status.
The questions arose one week after a migrant, initially identified as a 15-year-old from Somalia, killed a female Swedish aid worker, 22-year-old Alexandra Mezher, in a knife attack at a center for unaccompanied migrant teens.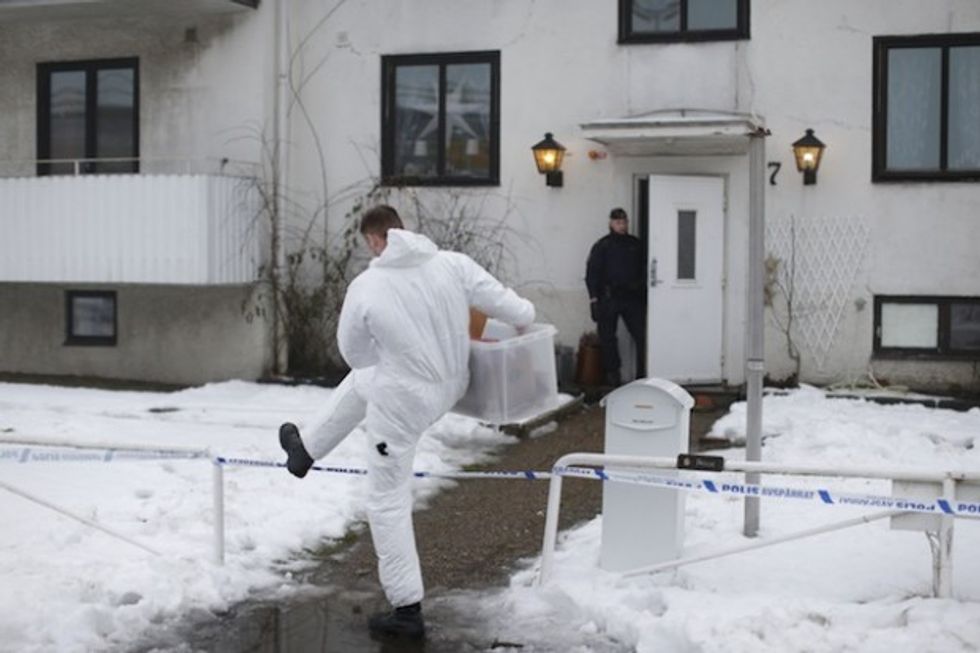 A forensic police officer carries a box of evidence following a search in front of a migrant center in Molndal outside Goteborg, Sweden, Jan. 25. A female employee was killed in a knife attack inside the center. (Adam Ihse/AP Photo)
The suspect in the killing — named in the media as Youssaf Khaliif Nuur — was brought to court last week, revealing his 6-foot stature.
The British newspaper The Sun observed, "When her alleged attacker, 6 ft-tall Youssaf Khaliif Nuur, appeared in court on Thursday, onlookers said the Somalian had a faint beard and moustache and could have passed for as old as 20."
Others voiced suspicions about his age on social media:
This ID-lacking "15 year old" Somali who killed Alexandra, 22 – he looks quite well developed for his age… https://t.co/xevQIicgPw

— Erik Almqvist (@Erik Almqvist) 1454001224.0
Morgan Johansson, Sweden's minister of justice and migration told the TT news agency that the government wants the Swedish Migration Agency "to develop new methods to better judge age."
"We are not pointing specifically at medical age assessment," he said according to the English-language website The Local.
"There are other ways" to assess age, he said, suggesting via "discussions for example."
The Local reported that in his annual letter to the Migration Agency, which sets out the goals for the coming year, Johansson requested the agency exhibit "a raised level of ambition" to better ascertain the true age of those claiming to be younger than 18 who are suspected of being adults.
The Local reported that hundreds in recent years have been ruled as adults in Sweden:
In 2014 the Migration Agency raised the age of just 363 asylum seekers, after judging that they were either ignorant of their age or not telling the truth. In 161 cases, this was done as a result of medical assessment.

In 2013, the agency raised the age of 342 people. Figures for 2015 are not yet available.
Right-wing politicians have called on the government to recruit doctors to offer their medical assessment on the age of migrants claiming to be teens.
Britain's Telegraph reported that at least 35,000 migrants claiming to be "unaccompanied refugee children" arrived in Sweden in 2015 alone.
The Telegraph cited a Swedish newspaper that reported Friday that there have been 5,000 incidents since October involving migrants that required police involvement, including 559 assaults, 450 fights and four rapes.
"I fear that there may be even more trouble," Swedish police commissioner Dan Eliasson told SvD following the report on those figures.