The city of Lima, Peru, is a bustling South American metropolis known for its colonial museums and vibrant food scene. But there's a grimmer, less flattering side of the city local residents prefer to ignore for the most part: widespread poverty and pollution.
But thanks to environmental authorities, Lima natives will be forced to grapple with the filthy reality of their neglect. Officials released 10 vultures fitted with video cameras and satellite trackers to survey Peru's capital.
Some cities have used the same approach, only with pigeons. Lima has black vultures known as "gallinazos," who hover above some of the city's colonial-era churches and dilapidated 18th-century buildings.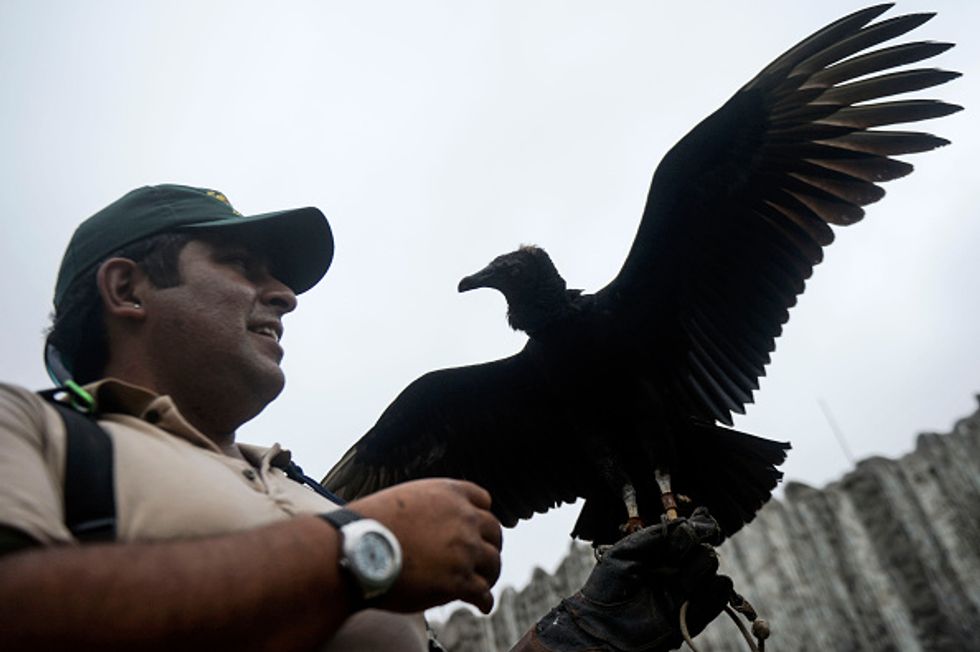 A falconer trains a black-headed vulture in Lima Jan. 9. (Ernesto Benavides/AFP/Getty Images)
Officials hope the beady-eyed carrion eaters will serve to expose the grave environmental circumstances that many have chosen not to address.
The initiative known as Gallinazo Avisa was set up by the United States Agency for International Development and the Ministry of Environment to track, identify and report contaminated areas throughout the city. In addition to presenting pressing environmental problems to residents, the project aims to expose fly-tipping and illegal dumping.
Samuel, one of the 10 certified disease-free gallinazos, flies around the city with his own GPS tracker and GoPro camera, revealing obscure dump locations while the tracker registers coordinates on a live map.
The other vultures have names like Capitan Fenix (after the mythological phoenix) and Capitana Aella ("Whirlwind").
The idea was drafted at the 2014 United Nations Climate Change Conference, or COP20, which took place in Lima.
"We were looking for ways to involve not just the authorities but also citizens to generate environmental awareness," Javier Hernandez, the project director, told the Guardian.
Gallinazo Avisa released a melodramatic video advertising its efforts earlier last month. In the movie-trailer-like video, the vultures are shown fighting the war against decay and disease, while "humanity is placidly ignoring the danger."
But the video calls attention to serious real-life concerns: with only four landfills and nearly 10 million inhabitants, Lima has countless illegal dumps.
A major cause of the problem is the fact that many residents just don't pay taxes. That means Lima's 43 district municipalities lack the financial resources for basic services such as trash collection.
It also means that even when the vultures identify illegal trash, nobody is necessarily going to clean it up.
"We share the vulture's GPS coordinates with the municipalities," Hernandez said. "It's their job to collect the rubbish and to try and change the habits of their residents."
The project exhorts citizens to be "vultures on the ground": to report environmental crimes, cut back on their own waste and recycle. Some residents have responded by posting photos of clandestine dumps on Gallinazo Avisa's Twitter feed and Facebook page.
(H/T: Guardian)