Saeed Abedini, the 35-year-old American pastor who was detained for more than three years in Iran before being released in a recent prisoner swap, called his estranged wife, Naghmeh Abedini, a "hero," and said he plans to work on their marriage just days after she filed for separation.
"Naghmeh has been a hero to me and suffered enormously as a result of being 7,000 miles away from me and being a single parent to our two precious children while traveling and leading a crusade on my behalf," Abedini wrote in a statement to the Idaho Statesman over the weekend. "I will always love her for her sacrifice."
Abedini's letter to the outlet came after his wife penned an open statement on Facebook last week, apologizing to supporters and alleging abuse at the hands of her husband.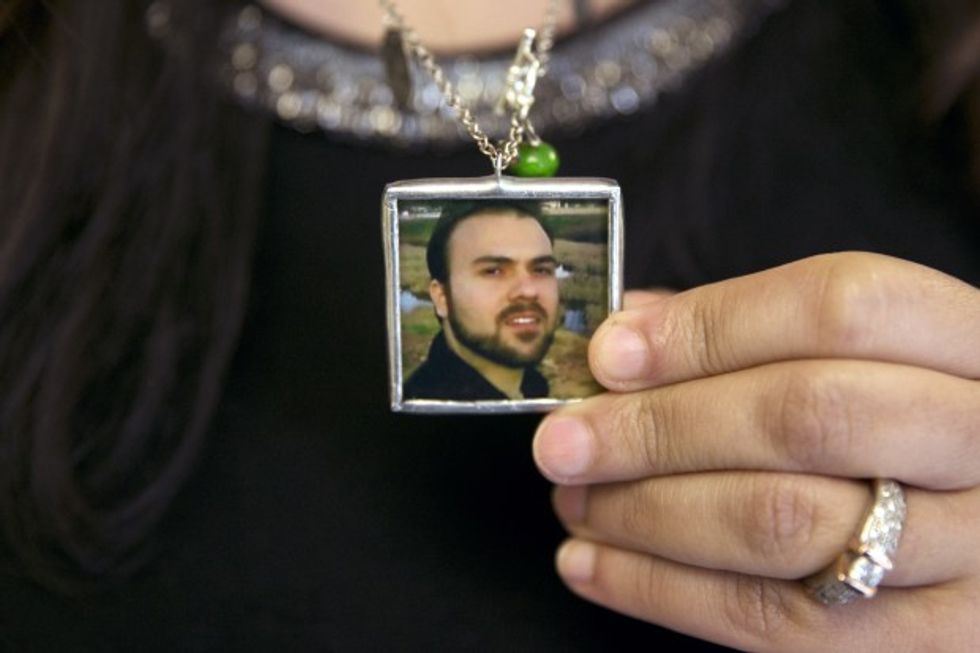 Naghmeh Abedini, holds a necklace with a photograph of her husband, Saeed Abedini, on Capitol Hill in Washington, Tuesday, June 2, 2015, during a House Foreign Affairs Committee hearing. (AP Photo/Jacquelyn Martin)
"I do deeply regret that I hid from the public the abuse that I have lived with for most of our marriage and I ask your forgiveness," she wrote. "I sincerely had hoped that this horrible situation Saeed has had to go through would bring about the spiritual change needed in both of us to bring healing to our marriage."
In the end, though, Naghmeh Abedini said that the opposite unfolded, claiming that her husband made demands that she could no longer conceal.
"Three months ago, Saeed told me things he demanded I must do to promote him in the eyes of the public that I simply could not do any longer," she wrote. "He threatened that if I did not the results would be the end of our marriage and the resulting pain this would bring to our children."
Abedini went on to say in her open letter that she hopes for reconciliation that is "based on God's word" — a reunion that is achieved through counseling to "deal with the abuse."
According to the Idaho Statesman, Saeed Abedini pleaded guilty to misdemeanor domestic assault 2007 and was allegedly sentenced to 90 days in jail; that sentence was suspended and he was placed on a year-long probation.
The pastor said in his statement to the outlet that he learned that his wife had "filed a domestic relations case, apparently in order to ensure our children could remain in the state" after his return to the U.S. last month, adding that he had no intention of taking the kids out of their home.
Naghmeh and Saeed Abedini (ACLJ)
Abedini said that he plans to work privately with his wife to remedy their marriage, and that much of what he has read in her "posts and subsequent media reports" is simply untrue.
"Last November, Naghmeh began to write about our marriage on her Facebook page and suspended her public advocacy for me. Her Facebook reports have been widely reported in other media outlets, raising questions about me, and the state of our marriage," Abedini wrote. "As a prisoner in Iran I was not able to respond to her comments and accusations."
He continued, "I have chosen not to respond in the two weeks I have been back in America because I believe personal issues are best dealt with personally."
Read the statement in its entirety
here
.
(H/T: Idaho Statesman via Charisma News)
--
Follow the author of this story on Twitter and Facebook: