© 2023 Blaze Media LLC. All rights reserved.
Glenn Beck Says Bernie Sanders Is Right About This Problem — But Wrong on the Solution
"He's right, the first sentence he said is right."
Glenn Beck made the case Tuesday night that Democratic presidential candidate Bernie Sanders, a self-avowed Democratic socialist, is right about the capitalist system being rigged — but says he's wrong on the solution.
Though he claimed the Vermont senator is "out-right channeling Karl Marx" when it comes to class warfare, Beck said Sanders was right Monday night when he said, "The American people are saying, 'No,' to a rigged economy."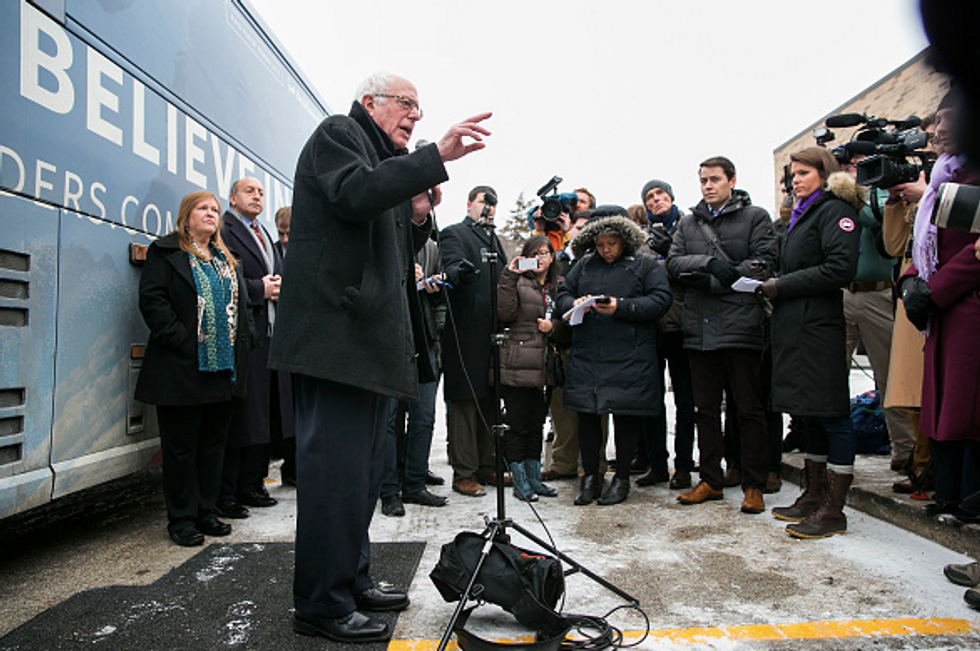 Democratic presidential candidate Sen. Bernie Sanders speaks during a media gaggle after speaking with workers from the United Steelworkers Local 310L in Des Moines, Iowa, Tuesday, Jan. 26, 2016. (Al Drago/CQ Roll Call)
"He's right, the first sentence he said is right, people are tired of this rigged system. We have a corrupt capitalist system right now," Beck said on The Glenn Beck Program.
Beck went on to say that he believes the reason the capitalist system is "not working" is because the "government is helping fund those corrupt bankers and everything else to help make up for their mistakes."
According to Beck, the solution would be for people, banks and corporations to "play by the rules" and be accountable for their own decisions, rather than being bailed out by the federal government.
"You want fair? If you succeed, you succeed. You build, you create, you get to keep it — as long as you're playing by the rules. The minute you fail, it's your loss — nobody else's, just like it's nobody else's if you win," Beck said.
The conservative show host then compared the U.S.'s "rigged" capitalist system to a game of blackjack, saying he's not "bailing somebody out at the blackjack table" and he doesn't "want somebody in with the casino getting a better chance at the table than I do."
"That's what we have. We have a rigged casino system," Beck charged. "It's not fair at all."
Complimentary Clip from TheBlaze TV The full episode of The Glenn Beck Program, along with many other live-streaming shows and thousands of hours of on-demand content, is available on just about any digital device. Click here to watch every Glenn Beck episode from the past 30 days for just $1!
—
Follow the author of this story on Twitter:
Want to leave a tip?
We answer to you. Help keep our content free of advertisers and big tech censorship by leaving a tip today.
more stories
Sign up for the Blaze newsletter
By signing up, you agree to our
Privacy Policy
and
Terms of Use
, and agree to receive content that may sometimes include advertisements. You may opt out at any time.