A survey examining attitudes toward minorities published over the weekend sparked outrage in France. The survey included extremely blunt questions, such as, "How would you react if … your daughter married a Muslim?"
The study, published in Le Journal du Dimanche, aimed to learn about French attitudes toward ethnic and religious minorities, including blacks, Roma, Jews and Muslims.
Of the 1,000 people  surveyed, 56 percent said they would react badly if their daughter married a Muslim.
As to Catholic suitors, only 8 percent said they would react poorly; and 13 percent would have a problem with an atheist son-in-law. Also, 29 percent would be unhappy with a Jewish son-in-law; 43 percent would react negatively to their daughter entering a same-sex marriage; and 34 percent would react badly to their daughter marrying a black man.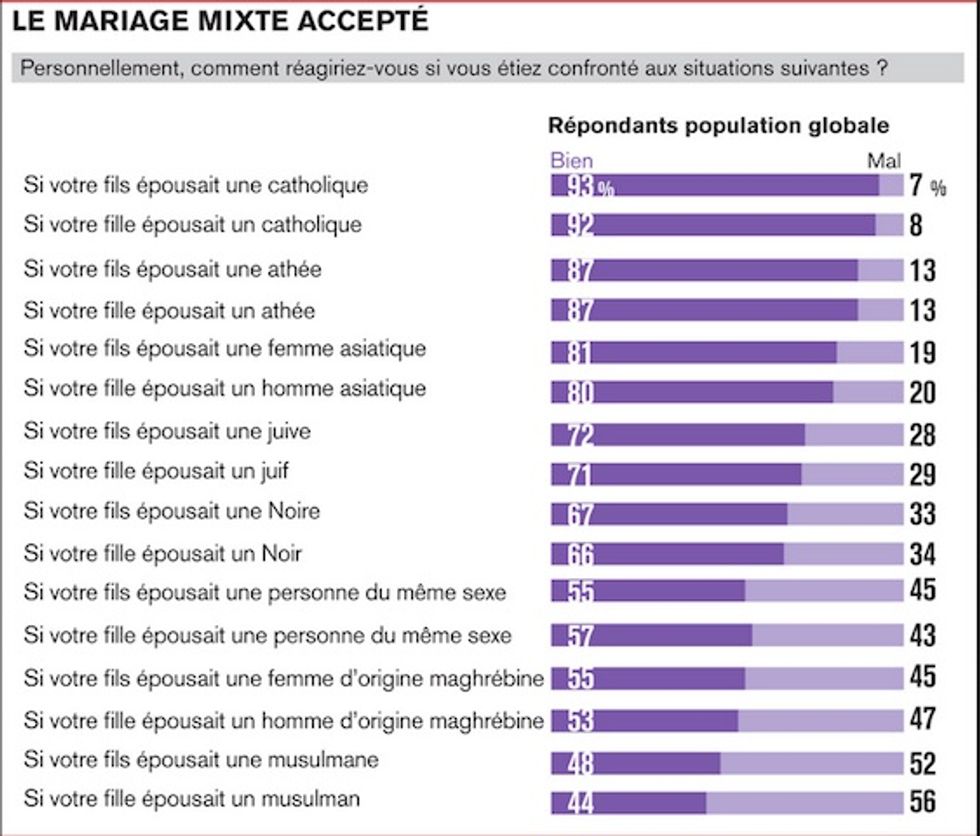 The poll asked respondents how they would react if their son or daughter married members of various religious and ethnic groups. (Image source: Le Journal du Dimanche)
The poll was conducted by Ipsos and was commissioned by the French Judaism Foundation, France 24 reported.
Angry responses to the poll were posted on Twitter, questioning the methodology of the polling and its inclusion of another question asking respondents if they had "ever personally encountered problems" like an insult or aggression from a variety of minorities including Roma, Muslims, North Africans and Jews.
Topping the answers to that question were people from the Maghreb, or North Africa, with 29 percent of respondents saying they had encountered problems with that group; 27 percent noted Roma, a large ethnic minority in Europe; and 26 percent pointed to people of the Muslim faith.
France 24 summarized other questions from the survey:
To the question "Do you think a racist reaction can be justified," 30 percent said yes, some 91 percent of people said that Jews in France "are very insular" and 56 percent that they "have a lot of power".

Nearly a quarter (23 percent) said they had witnessed violence or aggressive behavior towards someone because of their religion, while 54 percent believe that immigration does not benefit France.
France 24 reported that several French politicians protested the poll, including the center-right Gerald Darmanin who wrote, "How can you publish such a poll? Being Muslim, Jewish or Catholic is not a 'type of person,' it's a belief!"
French Sen. Nathalie Goulet, vice chairwoman of the Foreign Affairs Committee, called on the Justice Ministry to investigate the newspaper that published the poll, which she referred to as "odious," The Local reported. In a Twitter post, she attached the question asking about negative experiences with various minority groups.
Cher Ministre de la Justice , @JJUrvoas cher ami peux tu immédiatement engager une procedure contre @leJDD #ODIEUX https://t.co/2XGuOvT9VH

— Nathalie Goulet 🐝 (@Nathalie Goulet 🐝)1454255423.0
Another Twitter post quoted by France 24 asked, "How does that work? After being insulted/assaulted by someone, we ask for their religion?"
Ariel Goldmann, president of the French Judaism Foundation, defended the poll, calling it a "serious study" whose goal was to "raise the alarm," France 24 quoted him as telling Le Journal du Dimanche.
However, he also said his group had hesitated before releasing the findings.
"It is addressed to all those that want to fight against prejudices," he said.