The Palestinian terrorist group Hamas has suffered its second tunnel collapse in just one week, in which two more fighters — including a field commander — were buried alive following a similar fate that struck seven of their comrades-in-arms last week.
Hamas announced the latest casualties in a statement Wednesday that noted that the tunnel "belonged to [the] resistance."
"Resistance" is a euphemism widely used by Palestinians to refer to violent attacks against Israelis.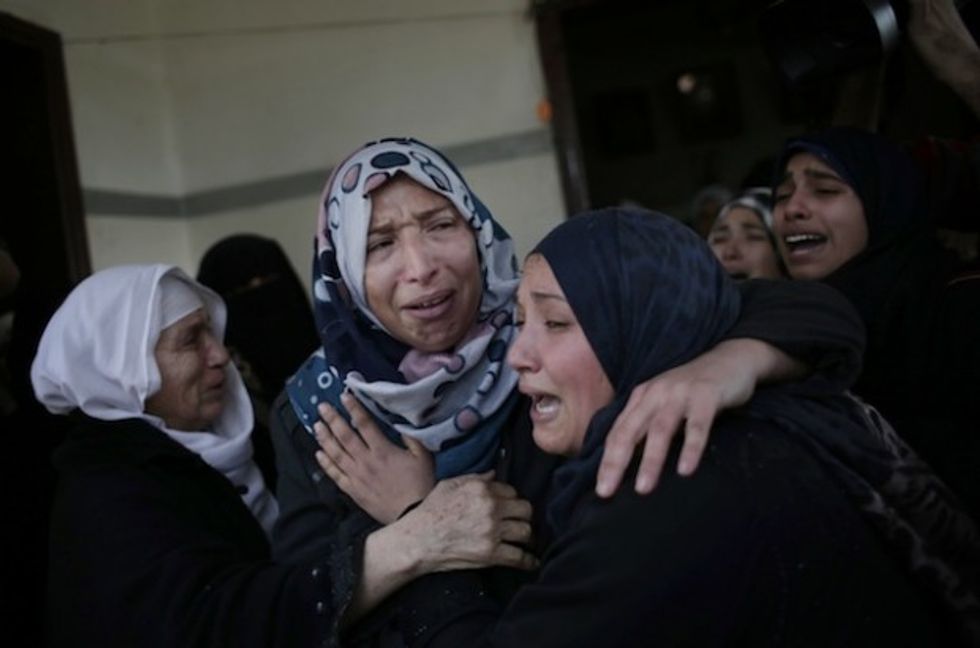 Palestinian women weep during the funeral of Ahmed Al-Zahar, at his family home, south of Gaza City Wednesday. Hamas said two of its men were killed after a tunnel they were digging from Gaza into Israel collapsed. Hamas identified the men as members of its militant wing. The incident marks the second deadly tunnel accident in a week. (AP Photo/Khalil Hamra)
Hamas' military wing, the Izzedin Al-Qassam Brigades, reported that eight others were missing after the tunnel they were in Tuesday caved in.
Hamas has built dozens of tunnels connecting Gaza to Egypt and Israel that have been used to smuggle goods and weapons as well as to launch armed attacks on southern Israeli communities over the border.
The Jerusalem Post noted that along with the statement on the fighters' deaths, Hamas released a propaganda video Wednesday dramatizing how its fighters live and pray in the tunnels from which they then aim to sneak out in camoflage to attack Israelis:
The Israeli news site NRG quoted residents of Gaza who described a virtual underworld teeming with activity under their feet that nobody dares talk about publicly.
"Everyone knows that we have a city under our feet and after extreme weather these tunnels are collapsing. It has become a sensitive issue," said one resident who wasn't named.
NRG reported that Tuesday's tunnel cave-in was the third such accident in the past month.
"We know we have an underground city under our feet and that Hamas is restoring tunnels destroyed during the last war [2014]," the resident of Gaza told NRG.
"After extreme weather, the tunnels under our feet collapse and leave huge holes. It's a crazy situation. Everybody knows there are tunnels, but it's become a sensitive topic that's taboo to talk about," the resident said.
Senior Hamas leader Ismail Haniyeh on Friday threatened Israel that Hamas was continuing investing in building tunnels and developing rockets with which to strike Israel during the next round of fighting.
In response, Israeli Prime Minister Benjamin Netanyahu warned Sunday that Israel would strike Hamas even harder if that were to happen.
"Of course, if we are attacked from tunnels from the Gaza Strip, we will take very strong action against Hamas, much stronger than we took in Operation Protective Edge," the Israeli leader said, referring to the fighting between Israel and Hamas two years ago, adding, "I do not suggest that anyone test us."
The independent Palestinian news agency Ma'an quoted a 2012 report from the Institute for Palestine Studies which stated that that Hamas has counted 160 deaths inside the tunnels since 2007. In August 2014, Al Jazeera reported the number of tunnel-digger casualties was as high as 400.