Eight Hamas fighters were buried alive Wednesday when the secret tunnel they were in collapsed in Gaza, prompting concern in Israel that the Islamist group is planning for a new offensive against the Jewish state.
After initially saying nothing about the event, Hamas' military wing confirmed the tunnel collapse, but did not reveal the purpose of the underground tunnel. Hamas has had a history of using tunnels for smuggling goods and weapons and for armed attacks against southern Israeli communities on the other side of the fenced-in border.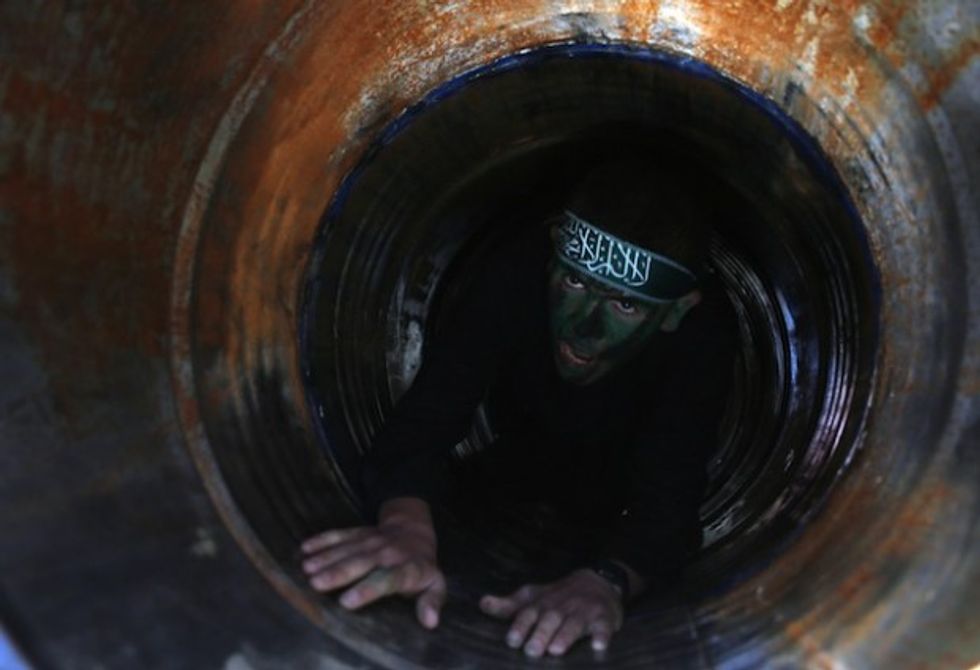 A Palestinian youth crawls in a tunnel during a graduation ceremony for a training camp run by the Hamas movement Jan. 29, 2015, in Khan Yunis in the southern Gaza Strip. (Said Khatib/AFP/Getty Images)
Hamas also did not say what the men were doing inside the tunnel; however, various media reports suggested they were involved in digging the secret passage — a theory bolstered by Israelis living on the Gaza border who told Israel's Channel 10 that they have been hearing loud underground drilling sounds. The residents said that they have been hearing the noises during overnight hours until 4:00 a.m.
"We started hearing things like concrete cracking, we felt that the concrete was rising up. We heard booms and bangs from the kitchen," resident Esther Naim told Channel 10.
Israel's Channel 2 television Wednesday night quoted Hamas' military wing, which said it had "lost contact with the team of warriors who were in the tunnel when it collapsed due to weather conditions. … The search for them continues."
An unnamed Hamas security source told Agence France-Presse, "The resistance tunnel collapsed last night due to the weather and flooding."
"There were 11 resistance men inside. Three of them escaped in the first hour after the accident," he said, using the "resistance" euphemism frequently invoked to describe what westerners would view as terrorism.
The Times of Israel noted that Hamas tried to "keep a lid on the disaster" by preventing local media from initially reporting on the incident and by at first accusing Israel of intentionally flooding the tunnel.
The Israeli military checked into the residents' reports of overnight banging noises but determined that there were no underground tunnels in that area, Channel 10 reported.
During the 2014 fighting with Israel, Hamas sent heavily-armed fighters into Israel via attack tunnels.
AFP noted that 14 Palestinians were rescued last month after being stranded for hours in a flooded and partially collapsed tunnel.
In the fight against Islamist militants, both Israel and Egypt have destroyed the tunnels that they have found, but given the latest development, Hamas is working to dig new ones.